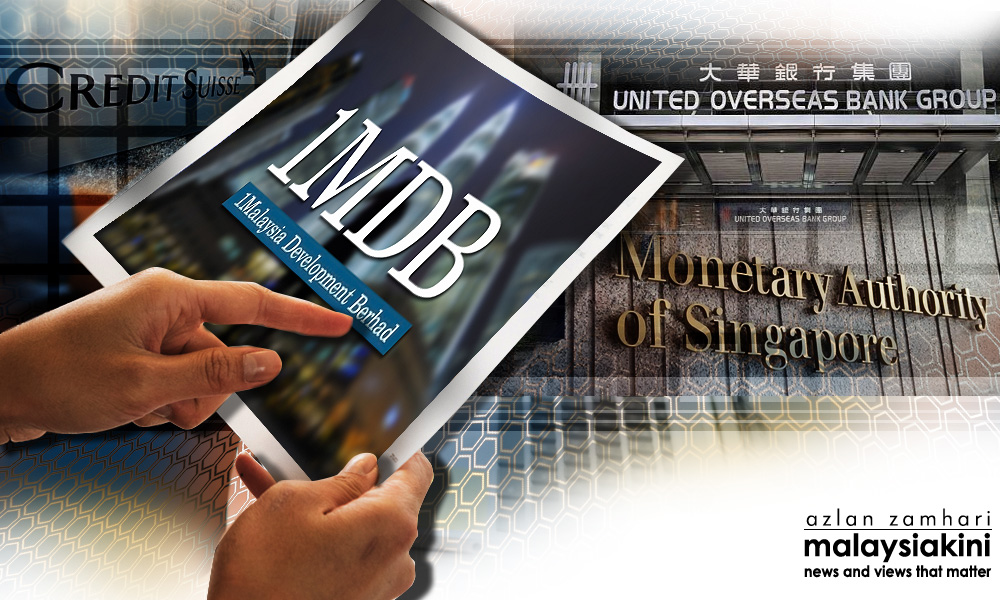 The Monetary Authority of Singapore (MAS) today announced that it has imposed financial penalties on two banks - Credit Suisse and United Overseas Bank (UOB) - for involvement in transactions linked to Malaysian state-investor 1MDB.
In a statement, MAS said Credit Suisse was fined S$0.7 million (RM2.16 million) while UOB was slapped with a S$0.9 million (RM2.78 million) fine for breaches of MAS Notice 626 - Prevention of Money Laundering and Countering the Financing of Terrorism.
The fines were imposed following completion of its two-year review of banks involved in 1MDB-related transactions known to-date.
"The latest inspections of Credit Suisse and UOB revealed several breaches of anti-money laundering (AML) requirements and control lapses.
"These include weaknesses in conducting due diligence on customers and inadequate security of customers' transactions and activities," it said.
Apart from the fines, MAS said it has also directed the banks to appoint independent parties to assess and confirm that rectification measures have been effectively implemented.
"MAS has also instructed the management of Credit Suisse and UOB to take disciplinary measures, where appropriate, against errant staff," it added.
Prohibition Orders against convicted bank employees
At the same time, MAS also announced that three former bank employees convicted of 1MDB-linked charges has been issued with a lifetime ban from working in Singapore's financial industry.
"Further to its announcement on March 13, MAS has issued lifetime Prohibition Orders (POs) against Mr Jens Fred Sturzenegger and Mr Yak Yew Chee, as well as a 15-year PO against Ms Seah Mei Ying 1 with effect from 29 May 2017," it said.
Yak, a former managing director of Swiss bank BSI, was
sentenced
to an 18-week jail term and a fine of S$24,000 (approximately RM75,000) after pleading guilty to four criminal charges last November.
He used to serve as a a bank relationship manager for businessman Low Taek Jho and at the time pleaded guilty for forgery and failure to flag suspicious transactions in the investigations related to 1MDB.
Sturzenegger, a Swiss national, had in January
pleaded guilty
to six 1MDB-linked charges and sentenced to 28 weeks jail and fined S$128,000.
Among others, he was charged for failing to report potentially criminal transactions involving billions of dollars and for lying to authorities to protect Low's financial interest.
Seah, meanwhile, was sentenced to
two weeks
in prison last December and fined S$10,000 after pleading guilty to three charges including forgery and failure to disclose suspicious transactions involving Low.
MAS said it is also still in the process of issuing prohibition orders to three others for involvement in related offences.
As a part of its crackdown, MAS had last year shut down two merchant banks - BSI Bank and Falcon Bank - due to failures of adhering to Anti-Money Laundering controls and improper conduct by senior management.
This was on top financial penalties of S$29.1 million (RM89.83 million) imposed on eight banks for various breaches of AML requirements.
Describing the process as its most extensive review to date, MAS concluded that it had uncovered a web of transactions involving numerous shell companies and individuals operating in multiple jurisdictions, including the US, Switzerland, Hong Kong, Luxembourg and Malaysia.


Read more: https://www.malaysiakini.com/news/383925#ixzz4iX49yHKe