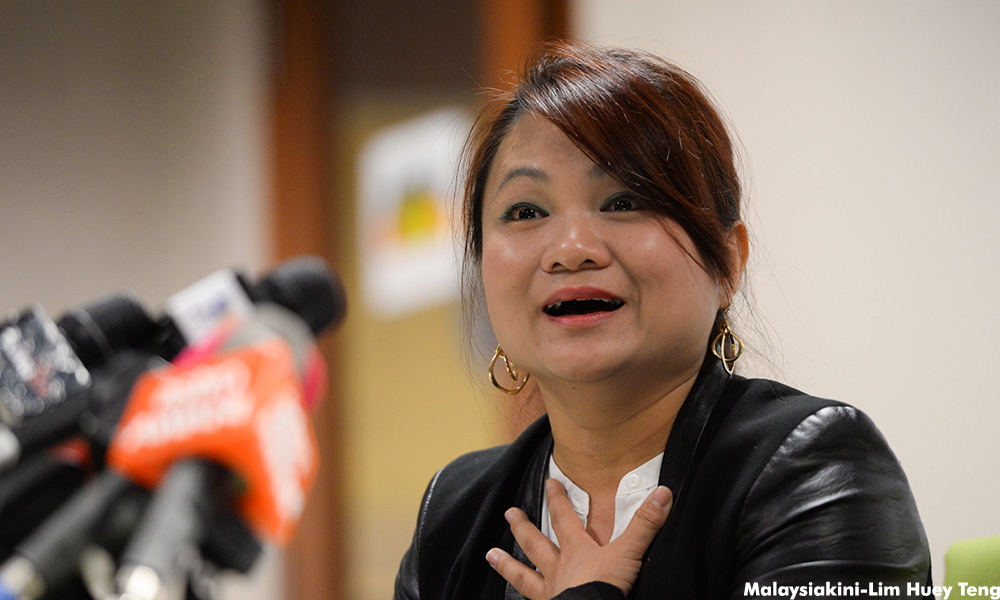 A woman named Florence Goh Siew Boey has denied being the woman named by PKR vice-president Rafizi Ramli in an exposé involving Putrajaya appointing a US lobbyist.
Siew Boey said she was the owner of CRT Insight Technologies named in Rafizi's exposé, but had no relations to the firm Godfrey Group, nor was she the head of a Johor Bahru NGO identified by Rafizi.
"I'm not this person and I am not related to any party that is reported in the articles," Siew Boey said at a press conference in Putrajaya today.
She also denied engaging any US lobbyist.
The press conference was organised by Minister in the Prime Minister's Department Wee Ka Siong.
Wee oversees the Malaysian Entrepreneur Development Secretariat (Same), which Goh had reached out to when she learned of Rafizi's allegations from an email enquiry sent by Malaysiakini.
Last Thursday, a US news portal claimed that Putrajaya had hired a former aide to US President Donald Trump, Healy Baumgardner-Nardone, to carry out lobbying activities.
Then on Saturday, Rafizi claimed Baumgardner-Nardone was hired through Godfrey Group - whose director is named Florence Goh - based on US Department of Justice (DOJ) documents.
The DOJ filings, Rafizi said, showed that Godfrey Group had the same commercial address in Johor Bahru as Siew Boey's CRT Insight Technologies.
However, Siew Boey said her office was located at 42, Jalan Molek 2/1, and not 42, Jalan Molek 2/3, as alleged by Rafizi.
Wee furnished a Companies Commission of Malaysia (CCM) report showing that a different company is operating at 42, Jalan Molek 2/3, and it does have a director named Florence Goh.
Additionally, the Florence Goh operating at 42, Jalan Molek 2/3, has a different Chinese name from that of Siew Boey.
Siew Boey said she does not know what the other company does.
Siew Boey demanded that Rafizi publicly apologises over the matter.
"I want him to clear my name. Vindicate me from this. Apologise and make a public statement because he made these allegations public," she said.
She has lodged a police report on the matter, and reserved the right to take further legal action against the Pandan MP.
Meanwhile Wee chastised Rafizi for jumping to conclusions without making proper checks.
"Before you make any wild allegation you must have proper checks.
"How can you just make such mistakes, you can't simply accuse a person and put up the CCM details," Wee, who is MCA deputy president, said.
He also reiterated the Prime Minister's Office statement that Putrajaya had not engaged Baumgardner-Nardone.
Malaysiakini is still attempting to contact Florence Goh of 42, Jalan Molek 2/3.- Mkini