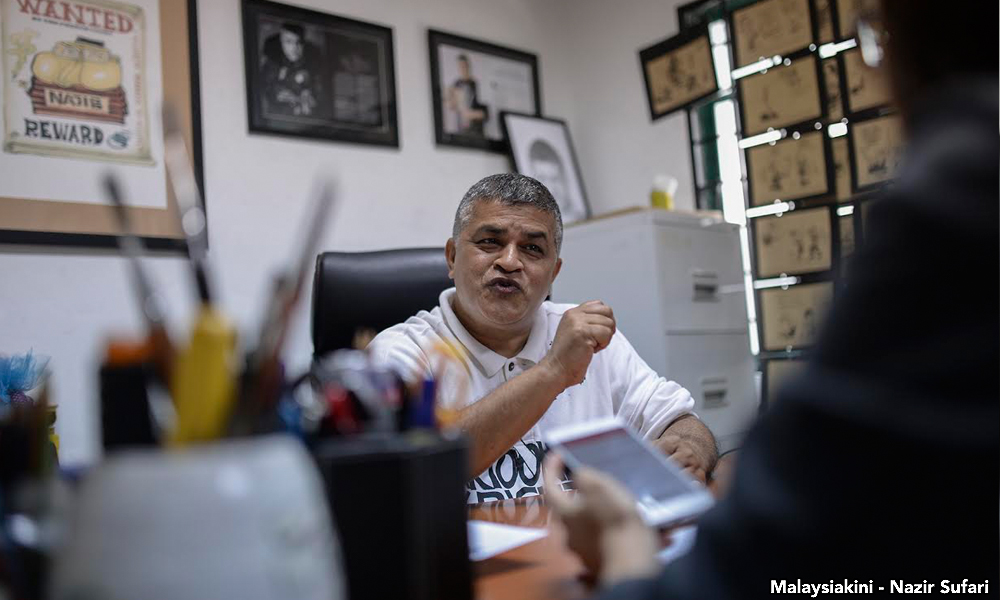 Political cartoonist Zunar will only be selling photocopied covers of his latest book of cartoons entitled "Twit-Twit, Cin Cin" at its launch on June 3.
"Only photocopied copies of the 'Twit-Twit, Cin Cin' front cover will be sold at the launch this time around. And then I will send the (full) book to buyers after the event.
"For the police, they can seize as many copies as they want, I have no problems with that," said the cartoonist, who had more than 1,300 of his books
confiscated
by plainclothes police last December.
Zunar, whose full name is Zulkiflee SM Anwar Ul-Haque, explained the two characters named in the title of the book are symbols of entrenched problems in Malaysian politics.
"Twit-Twit and Cin Cin are two unique, prominent extra characters that appear in my cartoons everyday.
"Twit-Twit is a symbol of abuse of power, whereas Cin Cin is a symbol of wastage of public funds. Even though they are small in size, but they carry strong reminders to the people in a country dubbed as Kangkong Land," Zunar said in a statement on his official website.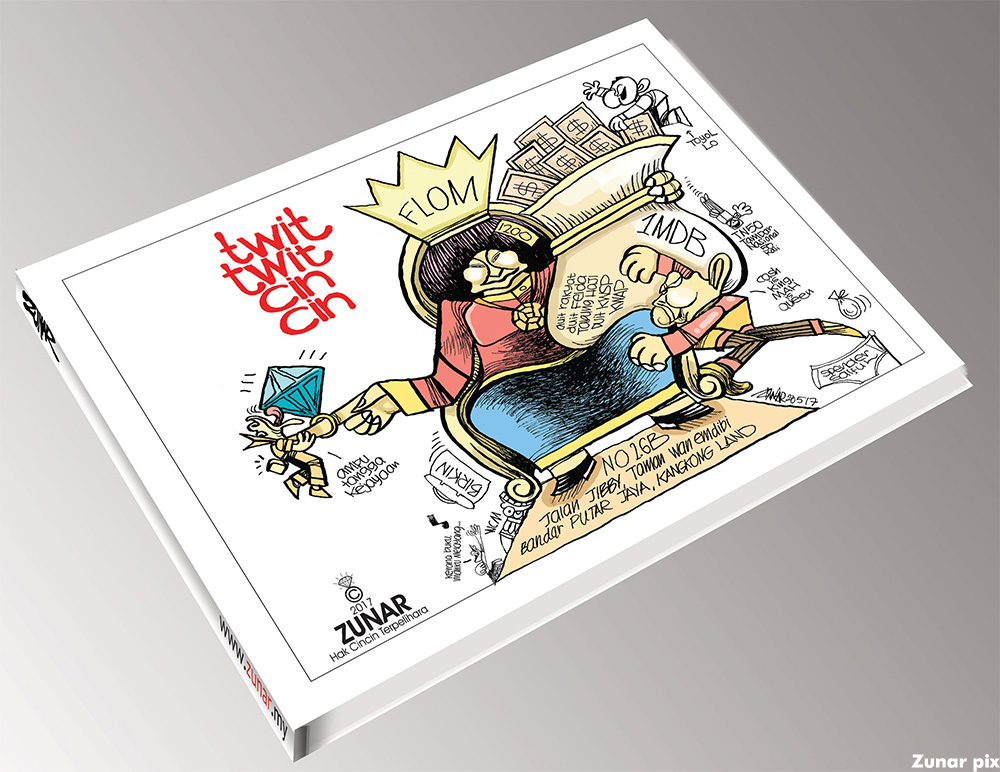 He elaborated that his new book consists of 186 cartoons on Malaysia's controversial sovereign wealth fund 1Malaysia Development Berhad (1MDB) and corruption in the country.
"More importantly, the artworks are a visual language showing the connection between corruption and the rising cost of living (for the people)," he added.
The book is priced at RM26, "to mark the RM2.6 billion that (allegedly) went into Prime Minister's personal bank account," said Zunar.
Apart from having his books confiscated at the event in December, Zunar was arrested along with civil activist Lawrence Jayaraj, DAP member Jimmy Wong and two other guests.
He had also been
arrested
a month before that in November 2016, for holding a cartoon exhibition in Komtar, Penang that allegedly 'insulted' Prime Minister Najib Abdul Razak.
Zunar currently faces a record nine sedition charges for his tweets on PKR de facto leader Anwar Ibrahim's 2015 sodomy conviction. He could face 43 years' jail, if convicted.
The internationally-recognised cartoonist was awarded the
Cartooning for Peace Award
in Geneva last May. He has also received the Human Rights Watch Hellman/Hammett Award and the International Press Freedom Award, the latter given by the New York-based Committee to Protect Journalists (CPJ).
The launch of "Twit-Twit, Cin Cin" will be held on June 3 at 2pm, at the Kuala Lumpur-Selangor Chinese Assembly Hall (KLSCAH) in Kuala Lumpur. - Mkini