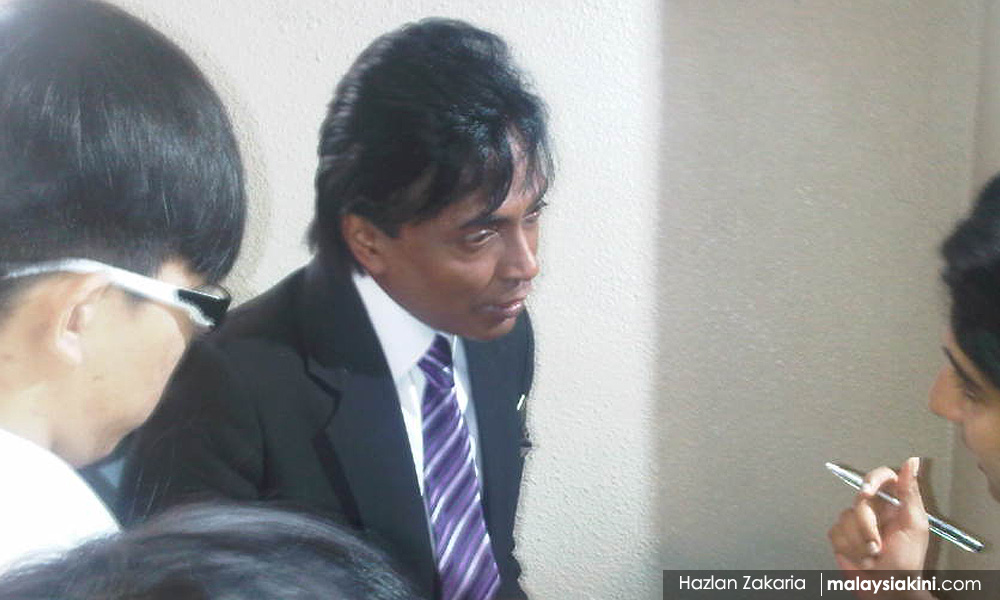 The seventh accused in the murder of deputy public prosecutor Anthony Kevin Morais told the Kuala Lumpur High Court today that he assisted the former second accused to erase the chassis and engine numbers of the victim's Proton Perdana V6 car.
S Ravi Chandaran, 47, said he and G Gunasekaran – also known as Jay, and who has been released – erased the numbers on Sept 4, 2015, the day Morais was reported missing.
Ravi Chandaran said this was done in a workshop in Sunway Mentari after the car, with Morais at the wheel, was involved in an accident at Jalan Dutamas Raya.
"Jay (Gunasekaran) asked me how to eliminate identification of the car, I told him if it could be done by removing the car chassis and engine numbers.
"I asked him why, and Jay said it was to eliminate identification of this (Proton Perdana V6) car," Ravi Chandaran said during examination by lawyer V Rajehgopal on the 18th day trial of the murder case.
Ravi Chandaran, the sixth defence witness, said Gunasekaran's response shocked him, as to his knowledge, eliminating identification was only done for stolen vehicles.
He added that the Perdana V6 car was supposed to be sent to the workshop for repair following an accident with a Mitsubishi Triton driven by S Nimalan, the sixth accused in the case.
"Jay pushed me to remove the chassis and engine numbers. When I asked him why, he said he is my friend and there must be a reason for it," he added.
Ravi Chandaran said he became suspicious of Gunasekaran, and then went to an office in Berkeley, Klang, to meet a doctor to ask him about the removal of the chassis and engine numbers from Morais' car.
He said the doctor was Dr R Kunaseegaran, the first accused in the murder case.
Ravi Chandaran also told the court that he had known Kunaseegaran for some time, and had introduced Gunasekaran to the doctor, who had also asked him about removing a car chassis and engine numbers.
"I had a conversation with the doctor and asked him whether he had done anything with Jay without my knowledge. The doctor said they had done nothing. I told him to tell me the truth, and I put Morais' car keys on a table in his office.
"He asked me what it was about, and I told him those were the car keys Morais, the DPP who handled his case."
When questioned by Rajehgopal on Kunaseegaran's reaction, Ravi Chandaran said "he looked normal."
Ravi Chandaran said he also told Kunaseegaran about the crash between Morais' car and the Mitsubishi Triton, but did not get any response from the doctor.
R Dinishwaran, AK Thinesh Kumar, M Vishwanath, S Nimalan, Ravi Chandaran and Kunaseegaran, 55, had pleaded not guilty to the charge of murdering Morais between 7am and 8pm on Sept 4, 2015, while the deputy public prosecutor was on his way from Jalan Dutamas 1, Kuala Lumpur to No 1, Jalan USJ1/6D, Subang Jaya.
They were charged under Section 302 of the Penal Code and face the mandatory death sentence upon conviction.
Dinishwaran, 26, Thinesh Kumar, 25, Vishwanath; 28, Nimalan and Ravi Chandaran are being represented by Rajehgopal, while Kunaseegaran, 55, is represented by lawyer N Sivananthan.
The prosecution team was led by deputy public prosecutor Saiful Edris Zainuddin.
The hearing before judge Azman Abdullah continues on Aug 10.
- Bernama