Dr M and Siti Hasmah leave granddaughter's wedding reception
3pm - Shangrila Hotel, Kuala Lumpur -
Interim Prime Minister Dr Mahathir Mohamad is accompanied by wife Siti Hasmah Mohd Ali as they leave their granddaughter's wedding reception.
An aide tells Malaysiakini that he is scheduled to head home to The Mines and has no other events planned for today.
Dressed in a grey suit, Mahathir declines questions from the media.
---
Anwar on giving way to Dr M: National interest supersedes my own
2.30pm -
PKR president Anwar Ibrahim's presence at Istana Negara earlier was to nominate Dr Mahathir Mohamad as prime minister, according to a
Sin Chew Daily
report.
The report says Anwar wanted to inform the ruler that Harapan will now switch its support from Anwar to Mahathir as a candidate for prime minister.
"I am very touched by the support for me but I choose to look at the national interest over personal agenda.
"So, I hope my friends will not be disappointed. We need to think about national interest and how we can develop the country," he was quoted as saying.
---
'Difficult to say anything' - Constant plot twists leave Umno veep speechless
2.05pm -
Muhyiddin Yassin's house, Kuala Lumpur
- Umno vice-president Ismail Sabri hopes that Prime Minister Dr Mahathir Mohamad will do what's best for the country and avoid instability.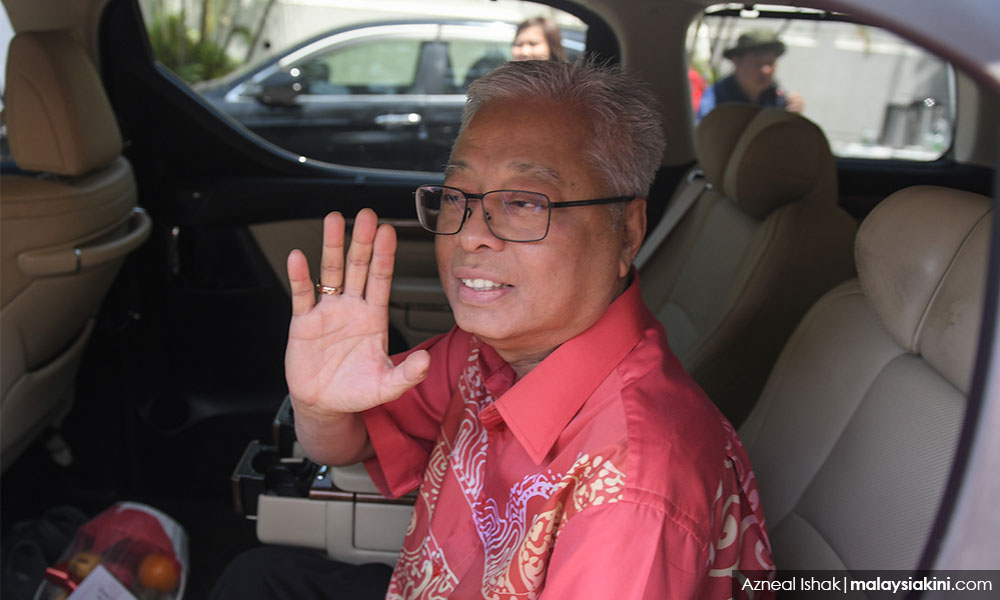 Ismail (above) says he is unable to comment on Mahathir's latest decision to ally himself with Pakatan Harapan because the latter's position kept changing.
"At first he wanted (to be PM), then he quit, then when Muhyiddin Yassin agreed, he (Mahathir) came back, then he agreed that Muhyiddin is the candidate. Now he doesn't agree.
"It's difficult to say anything. If I say something in the morning, it might change in the evening," he says.
---
Respite from politics: Dr M attends granddaughter's wedding reception
2pm - Shangri-La Hotel, Kuala Lumpur -
Interim prime minister Dr Mahathir Mohamad takes a respite from the political turmoil to attend his granddaughter Meera Alyana Mukhriz's wedding reception.
Malaysiakini was informed that Mahathir arrived at the Shangrila Hotel in Kuala Lumpur an hour ago for the reception.
Special Action Unit (UTK) bodyguards are present at the venue.
There are reports that Mahathir may head to Istana Negara later in the day.
However, his aide tells Malaysiakini that this is not yet confirmed. - Mkini