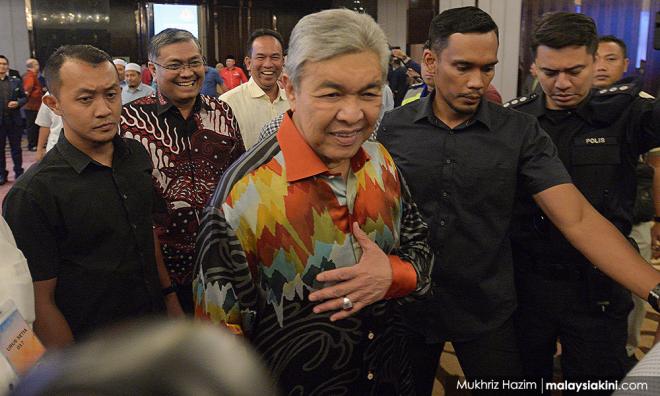 Umno throwing its support behind Bersatu president Muhyiddin Yassin as its prime minister candidate is not a U-turn, said Ahmad Zahid Hamidi.
"It is not a U-turn. The Council of Rulers and the Yang di-Pertuan Agong decided that there will be no snap elections," the Umno president told Malaysiakini when contacted this evening.
Zahid (photo) was responding to a decision by Muafakat Nasional, which Umno is a part of, to support Muhyiddin to be the eighth premier.
Muafakat Nasional is a political pact between Umno and PAS. Umno is also part of the BN coalition with MCA and MIC.
The coalition had in a statement earlier today stated their support for Muhyiddin, contrary to Muafakat Nasional's stand previously that they wanted snap elections to be conducted.
MCA and MIC, which have three parliamentary seats in total, had also since stated they are backing Muhyiddin.
Earlier today, Muhyiddin was announced as Bersatu's prime minister candidate. Currently, the party doesn't have any coalition, after exiting the Pakatan Harapan ruling coalition on Monday.
Meanwhile, Zahid could not confirm if Sabah and Sarawak parties were also on board to make Muhyiddin the next PM. - Mkini