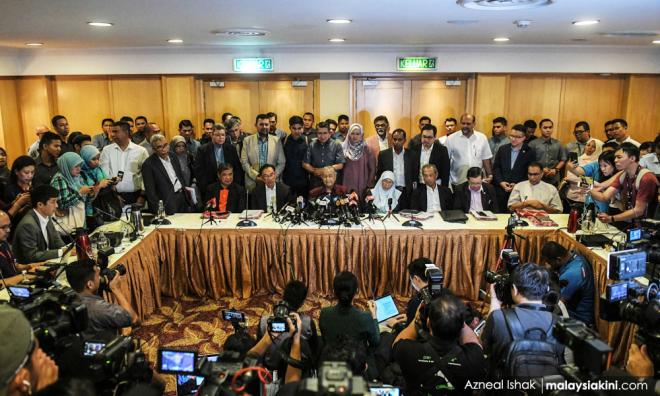 ANALYSIS
| Barely two years ago, jubilant cries of Malaysia Baru or "New Malaysia" resounded throughout the nation but now, the country is in a mood of grief, confusion and a messed up depressing state.
In the days building up to this political impasse, I was in a state of shock and watching the train wreck from the front seat, I could not comprehend the fall of the government today where the people sacrificed so much in 2018 to see the ousting of a kleptocratic administration.
From last Friday's Pakatan Harapan presidential council meeting to Sunday's "Sheraton Move" and Monday's resignation of Mahathir - there is no end in sight just yet.
On Friday, there was a sudden change of allegiance within Bersatu, moving from chairperson Dr Mahathir Mohamad to the nomination of president Muhyiddin Yassin as prime minister instead.
Mahathir's close confidant and former media adviser Abdul Kadir Jasin aptly pointed out in his social media post about a plot by three Roman senators namely Marcus Junius Brutus, Cassius Longinus and Decimus Junius Brutus against Julius Caesar in 44 BC.
Ultimately, Caesar was assassinated by the three Roman senators over power.
An irony of the turn of events, in the context of Malaysia's "Hikayat PM ke-8" (the story of the eighth prime minister).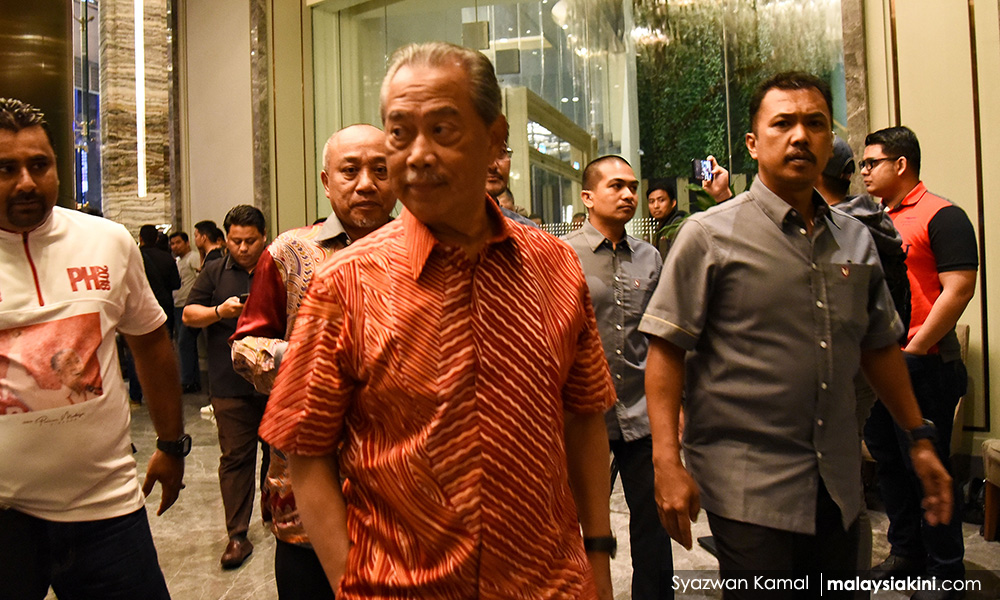 With Muafakat Nasional pledging their support for Muhyiddin, the once former deputy prime minister is now a step away from the coveted seat. Or, will they rescind their support again like what they did previously for Mahathir?
The Muafakat Nasional lot tends to switch sides very easily as well.
In another shocking announcement, Attorney-General Tommy Thomas tendered his resignation to the interim Prime Minister. He is the current lead prosecutor of the SRC International and 1MDB corruption cases.
These high profile cases involving former prime minister Najib Abdul Razak and his wife Rosmah Mansor may be affected by this upsetting coup.
The politics of greed, betrayal and hatred. Sounds dramatic, doesn't it? What is Malaysia Baru then?
Was it our mea culpa after all? Who is to blame? Is it really a New Malaysia after GE14?
One word that I can describe very well of the whole drama this week - nauseating.
The same treatment to those who turned their backs on the mandate of the electorate and succumbed to the vile moves of the slithering defeated politicians who fell apart due to their corrupted and power-crazy principles.
The current political impasse is becoming very fluid but as the dust starts to settle, the odds are not on the side of an Anwar Ibrahim-led Harapan.
The chance of him becoming the eighth prime minister may not be encouraging. Another long wait to nought.
An avoidable or unavoidable snap general election?
We have seen state governments switching powers from Harapan to Umno-led Muafakat Nasional in Johor state yesterday after Bersatu's exit from Harapan.
Other state governments which may fall include Malacca and Negeri Sembilan, which will result in Harapan losing up to three states.
Some will say this is an absolute "backdoor government" sidelining the people's mandate in the last general election held in 2018. Unfortunately, these actions are permissible according to the law, nevertheless via "immoral" way.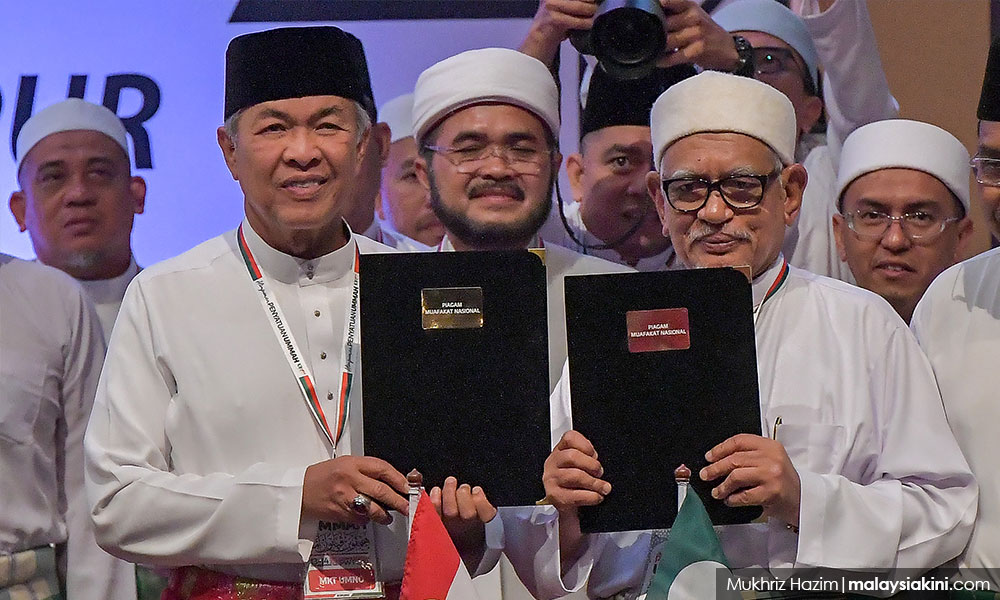 Muafakat Nasional has long called for a dissolution of the Parliament to have a snap general election, knowing the fact that Harapan is at its all-time low of public approval, especially in the conservative Malay and Muslim communities.
According to Merdeka Centre's survey last month, with a low approval rating of the government below 50 percent and narrowing support of the Malay conservative areas, the findings have definitely shaken Harapan's party leadership.
Thus, the tussle and consistent call for Mahathir to set a date for transition to Anwar by senior leaders of PKR have agitated many Bersatu leaders. The continuous spat from open statements to statements has carved a wide fissure of distrust between parties within the Harapan coalition.
The last Harapan Presidential Council
meeting
held on Feb 21 was the pivotal meeting that landed the final blow. Despite the "unanimous" consensus allowing Mahathir to decide the date of transition, the meeting was never a pretty sight over the course of two hours and forty minutes.
I was watching a train wreck as senior leaders traded barbs and defending their arguments in a tense atmosphere. I saw leaders glaring at each other, without any consensus after more than two hours of debate. It was the start of a point of no return for Harapan.
From the downward trend reports from Merdeka Centre to the infighting within PKR and Harapan, these were the recipe for disaster. Fingers were pointing at each other, knives were out to place the blame over the low figures from the reports.
Repeated jeers of a "one-term government" being called out during meetings, blaming each other for the poor performance of the government.
Umno and PAS knew that they had to come to a new platform together. Umno acknowledges the need for survival by cosying up to PAS to paint a more "Islamic" image of themselves to be relevant to the conservative Malay voters.
PAS is a formidable foe, and they have strong political machinery and coordinated grassroots to mobilise masses compared to the defeated Umno. Over a year, Umno slowly regained its strength and joined hands with PAS to exert more influence among the Malay-majority constituencies.
Muafakat Nasional knew that they had to seize the right time and pressure the Harapan government to call for a dissolution of parliament to earn the new mandate. Any snap polls will turn the votes into the hands of Muafakat Nasional and forming a majority to form the new government with bumiputera majority.
Unfortunately, electorates will be divided and polarised beyond repair. The nation will eventually take decades to repair itself. Sectarian clashes, the return of kleptocratic and corrupt practices among politicians will destroy the nation in no time.
It is a classic divide and rule strategy to win elections.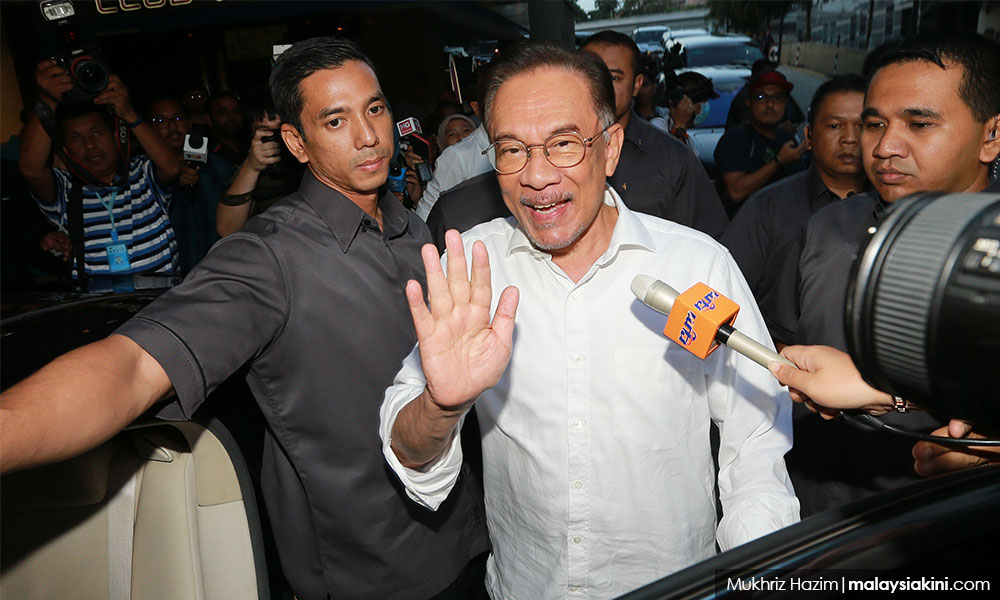 Harapan did not see this coming, they were too busy fighting for power and position. In the current scenario of Muhyiddin versus Anwar as the nominee for prime minister, the possibility of a snap election will decimate many Harapan coalition parties, including Bersatu.
The next few days before the final appointment of a new prime minister will be a crucial one to avoid a snap poll or eventually anointing Muhyiddin as the eighth prime minister with support from Umno and PAS.
From another perspective, a fresh general election returns the power of mandate to the people. Although difficult, there are chances for Harapan to redeem itself and stamp a new mandate with Anwar at the helm.
On this matter, the
Merdeka Centre
report noted that Anwar's popularity among Malays suffered a downward spiral from 31 percent in October 2018, to 13 percent in November last year.
Mahathir's support among Malays saw an increase from 42 percent in October 2018 to 58 percent in November last year.
Either way, for Harapan to continue helming the government, they must have both Mahathir and Anwar as the front-runners to keep in power in Putrajaya.
How will Malaysia pull through these uncertain times?
Malaysians have relatively high expectations towards the Harapan government and want reforms and actions as quickly as possible. At what cost, some might say.
The Buku Harapan manifesto was the first of its kind to incorporate many ideal reforms and programs for the people. Some of them, however, are difficult to implement due to the legacy structural and financial issues from the previous BN-led administration.
The manifesto should not be seen as a stumbling block, and Harapan must admit that there are some promises and plans to be adjusted accordingly.
The perception of slow response and reforms was further aggravated with slow economic development in the country.
The current political impasse stemmed from PKR's party infighting that resulted in Bersatu's distrust towards the coalition.
It is not exactly an end game similar to Avengers' End Game movie when the villain Thanos snapped his fingers and decimated half of the universe.
Malaysians are very resilient people, and they know how to exercise their democratic power when they see fit.
Come what may, be it a snap general election or probably a newly-formed coup government, the people will always seek to correct the wrong in the country.
---
NORMAN GOH is a former journalist. - Mkini