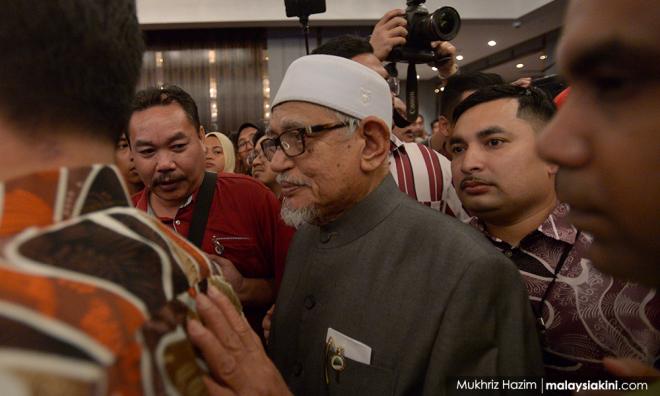 PAS president Abdul Hadi Awang has claimed there are attempts to "buy" the support of federal lawmakers in light of the current political impasse.
Therefore, he said the best option is to dissolve Parliament and hold a snap general election.
"This is what I was told (about MPs are being bought). So it is best to leave the decision to the people. If you want to buy, buy the rakyat, not the 'wakil rakyat' (MPs).
"If people want to sell themselves, that is their choice. Dissolve parliament," he told a press conference in Rusila, Terengganu this morning.
Yesterday, interim Prime Minister Dr Mahathir Mohamad said Yang di-Pertuan Agong Sultan Abdullah Sultan Ahmad Shah would leave it to parliament to decide on who had the support to be the next prime minister.
"And because there is no distinct majority, he (the King) says the right forum is the Dewan Rakyat.
"So Parliament will be called on the second of next month (next Monday) to determine who gets majority support in the Dewan Rakyat to become the next prime minister.
"However, if the Dewan rakyat fails to find a person with a majority, we will have to go for snap elections," he had said.
Commenting on this, Hadi said PAS wanted to table a vote of confidence for Mahathir during the coming Parliament sitting but this met with opposition from various quarters.
Therefore, the Marang MP reiterated that the issue should be resolved through the ballot box.
PAS and Umno, who are allies in Muaafakat Nasional, had initially pledged their support for Mahathir when the political crisis erupted.
However, both parties retracted their support when the 94-year-old leader announced that he wanted to form a unity government, which cuts across the political divide.
Umno has 39 seats whereas PAS, 18. Together with BN parties MCA, MIC and PBRS, Muaafakat Nasional has a total of 61 seats. - Mkini