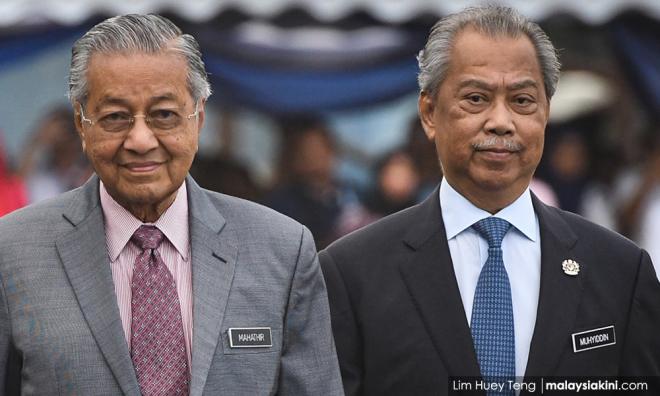 A Bersatu senior leader today hoped that the party's meeting today presided by its chairperson Dr Mahathir Mohamad will make a decision that will put the country back on its course to prosperity.
He said they must put a stop to the political impasse which dragged on for five days and put the country back on its feet.
While noting he has no idea what is the meeting agenda for today, he said the Umno splinter party must decide its premiership candidate.
"We need to sort things out before we go through the process of selecting in the special sitting in Dewan Rakyat next Monday," the source told Malaysiakini on the condition of anonymity.
To resolve the problem, the source said Bersatu needs to decide on its choice of prime minister candidate between Mahathir and Bersatu president Muhyiddin Yassin.
Yesterday,
Malaysiakini
reported that Mahathir
would meet
all Bersatu MPs this morning. The party would likely discuss the premiership candidate.
However, he said Mahathir being a man with principle, appeared not to soften his stance on forming a unity government with Umno en bloc.
As such, he said Muhyiddin appeared to be more acceptable by Umno/BN and PAS than Mahathir himself.
He said Bersatu can negotiate with other political parties like Umno/BN, PAS, GPS and Warisan to form the new government.
While noting Muhyiddin's stance in accepting Umno en bloc, the source said this does not show Bersatu will accept the Umno leaders who are under the scrutiny of law, particularly former Prime Minister Najib Razak.
In the early stages of the political impasse which started last Sunday, political parties from both sides of the divide expressed their support for Mahathir as the next prime minister.
On Monday, the Pakatan Harapan government fell after Bersatu left the ruling coalition and Mahathir resigned as the premier.
BN and PAS then retracted their support for Mahathir on Feb 26 while Pakatan Harapan parties nominated PKR president Anwar Ibrahim as the next premier to form a minority government.
After an audience with Yang di-Pertuan Agong, Mahathir then said the king found that there was no clear majority and the
Dewan Rakyat
is the right forum to decide the new government.
Mahathir also said
Muhyiddin
might be the prime minister candidate that would be fielded by Bersatu.
Lately, Bersatu leaders and MPs, particularly those who quit Umno/BN, have been gathering at Muhyiddin's house.
The change of scenario has put Muhyiddin in the political limelight. - Mkini