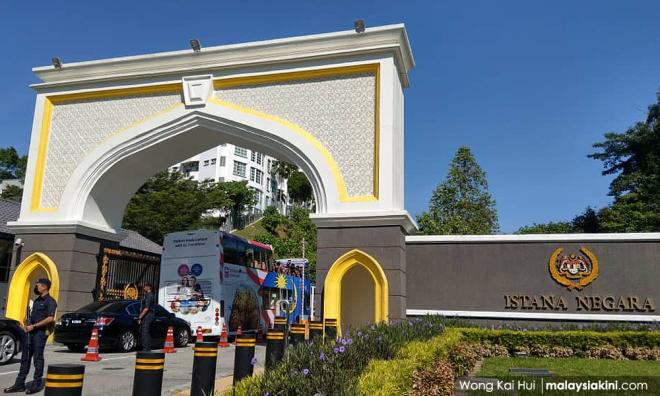 The Yang di-Pertuan Agong Sultan Abdullah Sultan Ahmad Shah is still unable to determine which MP commands the majority support of the Dewan Rakyat to become the next prime minister.
In a statement this evening, Comptroller of the Royal Household Ahmad Fadli Shamsuddin said the next step for the palace is to reach out to the leaders of political parties and MPs for them to nominate other candidates.
"Based on the interviews (with the MPs), His Majesty was still unable to confidently state which member of the Dewan Rakyat, in his opinion, had the confidence of the majority to form a new government," he added.
This development could potentially spark off another round of nominations and interviews.
The Agong had interviewed all MPs on Tuesday and Wednesday following the collapse of the Pakatan Harapan federal government.
The demise of the 22-month-old government was triggered by Dr Mahathir Mahathir's shock resignation as prime minister and the withdrawal of 37 MPs from Harapan.
When the interviews took place, there were two main candidates — Bersatu's Dr Mahathir Mohamad and Harapan's Anwar Ibrahim.
However, Bersatu, whose chairperson is Mahathir, has nominated its president Muhyiddin Yassin for the top post instead.
Previously, Mahathir looked set to return as prime minister for the third time with the support of Umno and PAS as well as East Malaysian parties.
This hit a brick wall when Mahathir revealed his proposal to form a unity government which cuts across political lines as well as his refusal to work with Umno en bloc.
Following this, Umno and PAS retracted their support for Mahathir, resulting in him losing a total of 61 seats, including MCA's two as well as MIC and PBRS' one each.
Unlike him, Mahathir claimed that Muhyiddin has no qualms working with Umno.
Anwar, on the other hand, has the support of Harapan's 92 MPs. The coalition also claims he has the support of other lawmakers. - Mkini