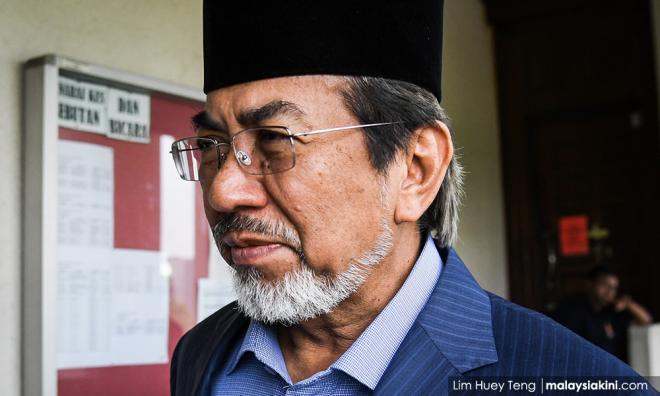 Former Sabah chief minister Musa Aman has filed an application to strike out his 46 counts of corruption and money laundering charges linked to timber concessions.
The application is being made on the basis of the charges being groundless.
The accused's counsel Francis Ng informed Kuala Lumpur High Court judge Muhammad Jamil Hussin during the mention of the case this morning.
Jamil then fixed 22 and 23 April to hear Musa's striking out application.
The judge then vacated the previously set trial dates of the charges in 8 to 11 June, 15 to 18 June, 6 to 7 July, 13 to 16 July and 20 to 23 July.
Jamil fixed new trial dates for the main criminal case on 14 to 18 Sept, 21 to 24 Sept, 26 to 30 Oct, and 10 to 27 Nov this year.
It is understood that the trial dates are fixed in the event that the court dismisses Musa's striking-out application.
When met after proceedings, lead DPP Umar Saifuddin Jaafar confirmed to the media about Musa's bid to strike out the charges, adding that the application was made under Section 173(g) of the Criminal Procedure Code.
Section 173(g) states that the court has the power to discharge the accused if it finds that the accused's charges are groundless.
Umar adds that Musa's defence team has also filed a constitutional challenge against the accused's case under Section 82 of the Anti-Money Laundering Anti-Terrorism Financing and Proceeds of Unlawful Activities Act 2001 (AMLATFPUA).
Section 82 deals with the charging of an accused for an offence under AMLATFPUA if the said offence was committed on foreign soil outside Malaysia.
Umar explained that Musa's defence is contending that the criminal case against him (Musa) is unconstitutional as only the attorney-general has the power to institute criminal proceedings rather than Malaysia's diplomatic officer in Hong Kong.
Section 82(2) states that notwithstanding anything in the Act, no charge as to any offence shall be inquired into in Malaysia unless a diplomatic officer of Malaysia, if there is one, in the territory in which the offence is alleged to have been committed certifies that, in his opinion, the charge ought to be brought in Malaysia; and where there is no such diplomatic officer, the sanction of the Public Prosecutor shall be required.
"The court today has also fixed April 22 and 23 to hear the constitutional challenge," Umar said.
Musa's 30 corruption charges allegedly involved offences committed in Hong Kong, among other countries.
The accused, 69, faces
30 corruption charges
involving US$50.1 million and 16 money laundering charges involving more than US$37.8 million and S$2.5 million
In relation to the 30 graft charges, Musa, as then Sabah chief minister and Sabah Foundation Board of Trustees chairperson, allegedly received US$50.1 million from eight logging concessionaires, as an inducement to approve logging concessions to 16 firms.
He is alleged to have committed the offences at eight banks and financial institutions in Hong Kong, China and Singapore, between Dec 20, 2004, and Nov 6, 2008.
The charges were framed under Section 11(a) of the (then in force) Anti-Corruption Act 1997, and Section 16 of the Act carries penalties of imprisonment up to 20 years, and a fine of at least five times the amount or value of the bribe, or RM10,000, whichever is higher.
Concerning the money-laundering charges, Musa is accused of instructing one Richard Christopher Barnes, 68, to open an account at UBS AG Bank, Singapore, under the name of Richard Christopher Barnes, to receive proceeds from illegal activities.
Musa also faces alternative charges of concealing proceeds from illegal activities.
In regards to the second to ninth and 11th to 15th charges, Musa is accused of receiving US$37,845,491.60 in proceeds from illegal activities from several individuals, via an account under Barnes' name.
About the 10th charge, he is alleged to have received S$2.5 million in proceeds from illegal activities, through the same account. - Mkini