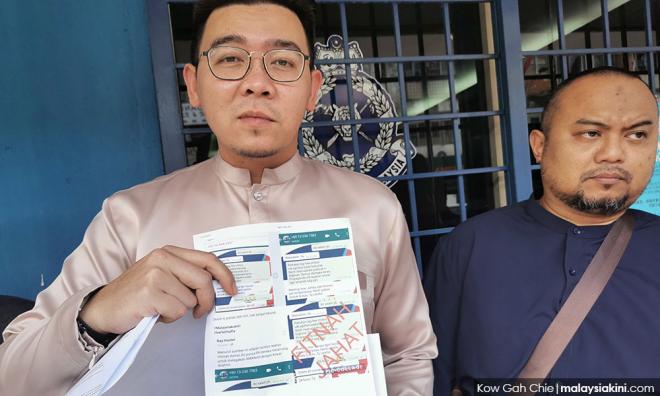 A former aide to an ex-PKR minister has lodged a police report at the Ampang Police Station over the circulation of fake conversation messages which alleged his involvement in attempting to split Anwar Ibrahim and Amanah.
In his police report, Nor Hizwan Ahmad (photo, above), former political secretary to former Housing and Local Government Minister Zuraida Kamaruddin, said the fake conversation messages implied that he had paid RM5 million to an individual to sour the relationship between Anwar and Amanah.
He said the fake conversation purportedly showed that an individual asking money from Gombak Setia state assemblyperson Hilman Idham, who later said he would meet Hizwan and obtain RM5 million first.
Hilman is also the former political secretary to former Economic Affairs Minister Azmin Ali.
Both Zuraida and Azmin
quit
PKR together with nine others on Feb 24, after PKR said the duo would be sacked over their role in orchestrating a new coalition in a bid to oust the current Pakatan Harapan government.
Hizwan said he was alerted about the print screen image of the fake text conversations which went viral on social media.
He wanted the police to probe 15 Facebook accounts and seven WhatsApp groups which spread the fake text conversations.
Hizwan said this was a form of political attack against him and Hilman.
Meanwhile, PKR member Muhammad Ghazali Zainal Abidin, 34, also lodged a police report on behalf of Hilman at Gombak police station yesterday.
Hilman also shared the police report in his social media account. - Mkini