Bringing you updates on the developing situation following the collapse of the 20-month-old Pakatan Harapan government.
---
Political party leaders summoned and a recap
8am - Istana Negara -
The Yang Di-Pertuan Agong is expected to summon the leaders of all political parties to Istana Negara at 10.30am.
The ruler had on Tuesday and Wednesday interviewed MPs on their preference for prime minister but his majesty is not satisfied that any MP commands a majority.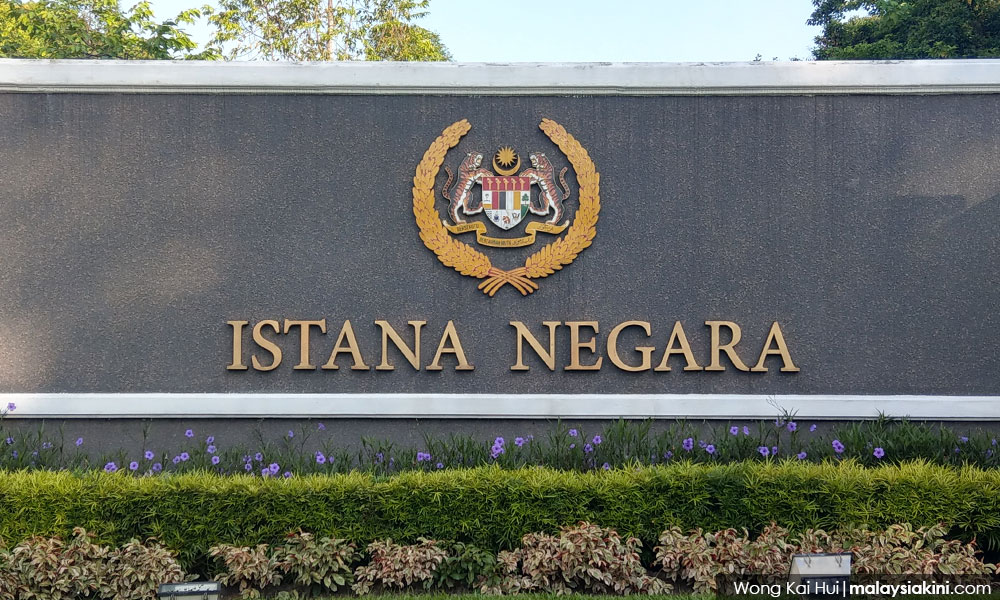 To recap, BN and PAS MPs had told the Yang Di-Pertuan Agong that they wanted the Dewan Rakyat dissolved while Pakatan Harapan leaders decided to nominate Port Dickson MP Anwar Ibrahim as prime minister after their former leader Dr Mahathir Mohamad declined to restore the previous Harapan government.
GPS, Warisan and Bersatu were believed to have nominated Mahathir, who is Bersatu chairperson, as prime minister.
However, the position of the parties has changed yet again in a matter of days.
As of last night, BN, PAS and Bersatu are now backing Bersatu president Muhyiddin Yassin as prime minister. Harapan's position remains unchanged for now and who GPS and Warisan will support is still up in the air.
The switch to Muhyiddin is due to Mahathir being adamant that he will not work with Umno.
Following party lines, this means Muhyiddin should have the support of 96 MPs while PKR president Anwar Ibrahim has 93, or at least in theory. The position of 33 more MPs is unclear.
It is unclear if the ruler can establish who has the most support by meeting the party chiefs today as not all MPs appear to be going along party lines.
Bersatu MPs, for example, appear to be split between Muhyiddin and Mahathir.
Anwar has indicated that he hopes disgruntled MPs with side with Harapan, claiming that the coalition has the numbers to form the government.
This is a continuing effort to establish who has majority support to become the prime minister after a series of interviews with MPs his majesty
---
7.30am -
It's now Day 7 of the Sheraton Move, a coup attempt to replace the Pakatan Harapan government with a new coalition called "Perikatan Nasional".
The coup plotters failed to install the new government but the Harapan government collapsed nonetheless.
After a brief attempt by Harapan leaders to restore the previous government, efforts to resume the coup appears to be gaining the upper hand.
As of last night, the front runners for prime minister now appear to be Bersatu president Muhyiddin Yassin, and his PKR counterpart Anwar Ibrahim.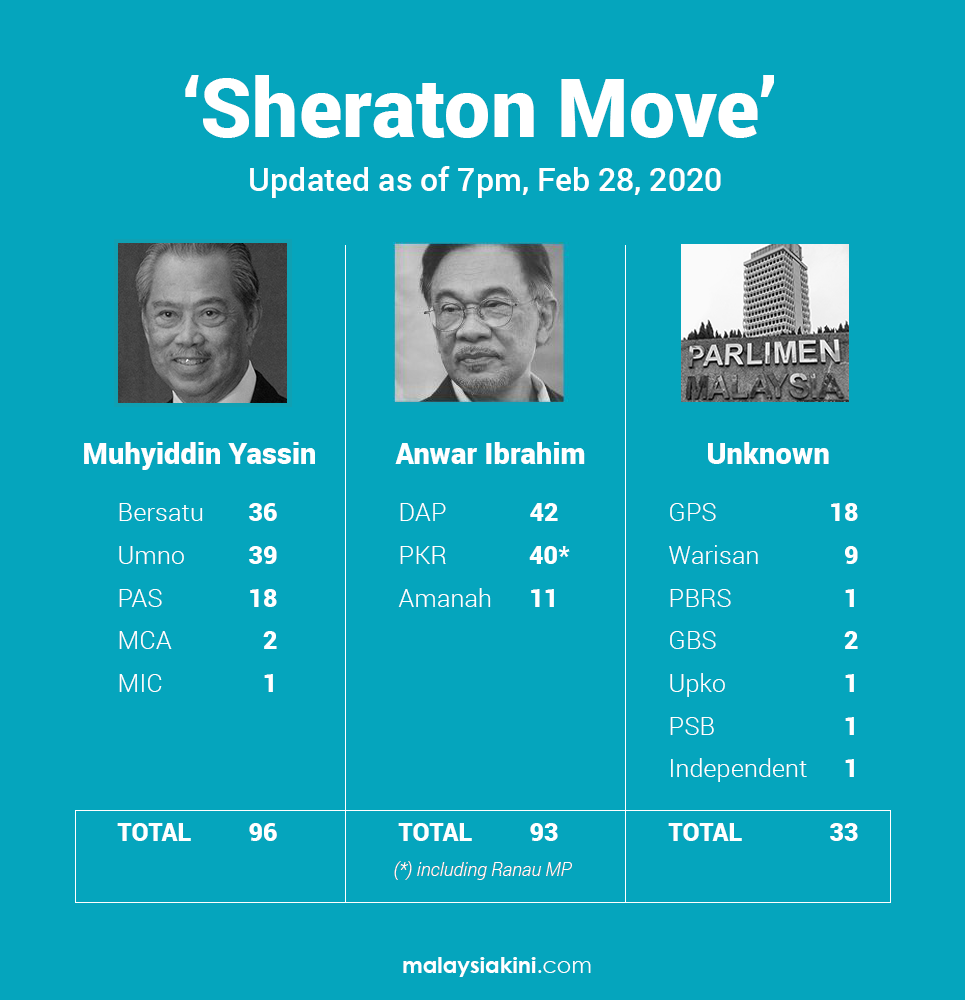 On the surface, Muhyiddin is leading with the support of 96 MPs from Umno, MCA, MIC, PAS and Bersatu which now has 36 lawmakers after 10 MPs aligned to Azmin Ali joined the party.
Anwar, meanwhile, has the support of 92 MPs from Pakatan Harapan.
The two main players that have yet to declare a side is GPS and Warisan, and both sides will be aggressively courted by Muhyiddin and Anwar's factions.
It is unclear if interim Prime Minister Dr Mahathir Mohamad still wants to pursue his unity government agenda. - Mkini