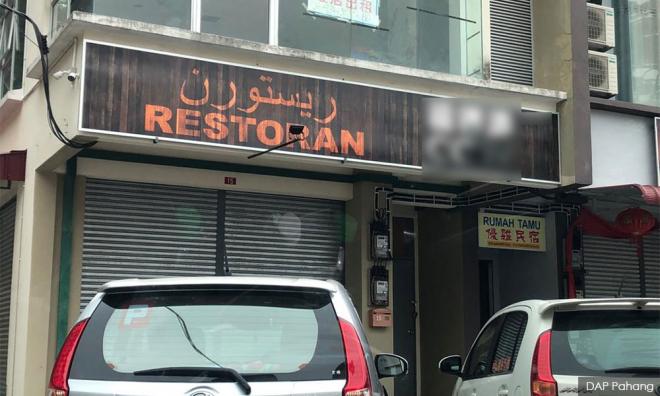 Several DAP leaders have criticised their colleague Tras assemblyperson Chow Yu Hui over the latter's lawsuit challenging the Pahang government's mandatory directive to include Jawi script on signboards in the state.
DAP assistant political education director Ong Kian Ming wrote on Twitter that the move was "totally unnecessary".
"(This was) one supposedly because of 'idealistic' reasons but in reality, it's a selfish move motivated by selfish reasons.
"These so-called 'heroes' wannabees are reasons why people see DAP as a liability," said the Bangi MP yesterday.
DAP Youth chief Howard Lee, meanwhile, wrote his response to Chow in Jawi.
"Frivolous. We should prioritise more pressing issues," he wrote on Twitter yesterday.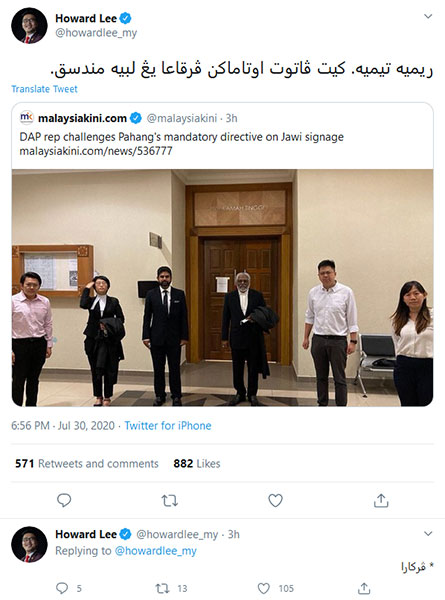 Separately, Johor DAP state committee member Mahdzir Ibrahim urged Chow to withdraw his lawsuit and take on a more diplomatic approach by helping NGOs and other stakeholders seek a solution through dialogue with the state government.
He said Chow should not have taken the "narrow-minded" view of framing the issue as a matter of freedom of choice.
"Signboards are a technical issue that can be resolved through diplomatic negotiations and mutual understanding between the state government and representatives of non-Muslim places for worship, or associations representing shops selling Buddhist or Taoist religious supplies.
"As a political party, DAP should not be a champion on the wrong platform.
"Behind the issues of using Jawi, whether on books or on signboards, are problems in cultural context, not in the context of the right and freedom of choice.
"The debates in the context of culture have a different premise compared to problems in the freedom of choice. It is broad and broaches on issues of history, heritage, demography, and the way of life of the local population," he said in a statement yesterday.
He noted that the East Coast is famous for its Malay and Islamic cultural heritage, particularly the Terengganu Inscription Stone that dated back to 1326.
"However, when an elected representative argues about freedom of choice on the issue of signboards, it sends the message that 'DAP rejection of Islam through the Jawi script'. The true message that needs to be sent is not conveyed but the wrong message reaches the people.
"Thus, the people would look on and see confirmation in Umno's assertions that DAP is anti-Islam," he said.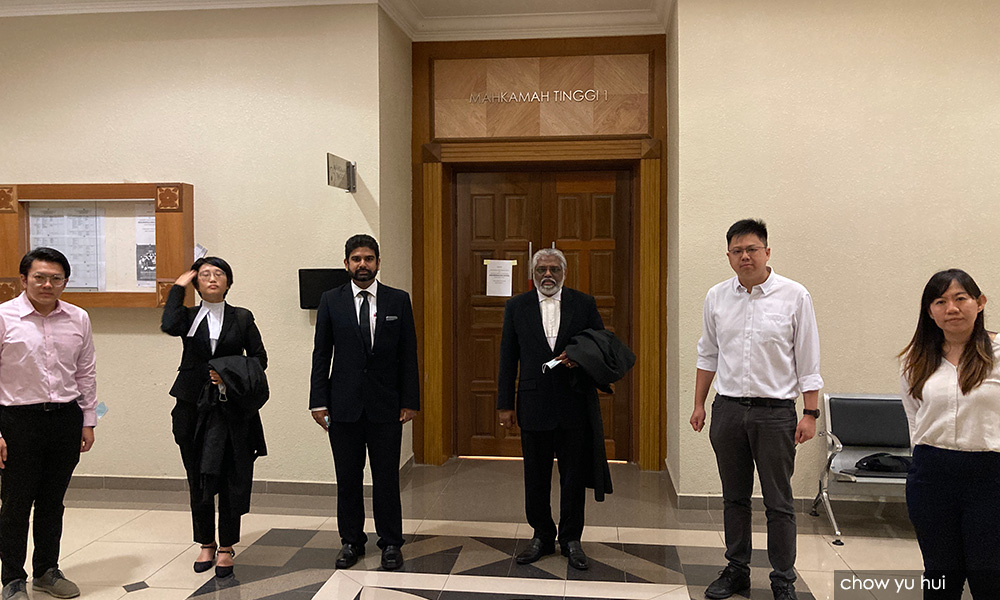 On Wednesday, Chow filed the
lawsuit
at the Kuantan High Court through his lawyers M Manogaran, Jonathan and Chong Kar Yan. Pahang DAP secretary Lee Chin Chen was present to show support.
The Pahang directive requires all business premises and road signs in the state to use Jawi writing, with the condition that the script is equal in size to the Latin alphabets.
The
policy
came into effect on Jan 1.
However, Chow argued that state government should encourage the use of Jawi, rather than to make it mandatory and thus deprive people of the freedom of choice.
"This has deprived them of their rights to choose freely. The targeted audience of different parties is different. For example, the customers of Chinese restaurants or Buddhist/Taoist religious goods stores are non-Malays who cannot read Jawi. So, what is the point of including Jawi?" he said.
On Facebook last night, Chow defended his lawsuit by highlighting challenges that NGOs and businesses face in complying with the directive or risk being unable to renew their licenses.
He reiterated that certain business and NGOs have target audiences who could not read Jawi and thus complying with the directive becomes an unnecessary burden.
"Banners of activities and promotions by businesses and NGOs are required to have Jawi writing, and this is a burden to them in terms of time, money and administration because the Jawi writing would have to be checked by certain parties before publication. This would take a longer time.
"Thus, I have filed this application so the Pahang government could be more inclusive by giving the option whether to feature Jawi text on signboards or not.
"I have raised this issue in the state assembly last year. I hope the state government would consider not making it compulsory but use encouragement as the means to promote this heritage," he said.
When contacted, Chow said his DAP colleagues may have misunderstood him and asserted that he is not anti-Jawi.
"Perhaps my party colleagues overlooked this. I am not anti-Jawi, perhaps they didn't realise that.
"Nevertheless, I respect their views and freedom of expressions.
"I'm also confident that they uphold DAP's founding principle of social democracy just as I do," he told Malaysiakini last night. - Mkini