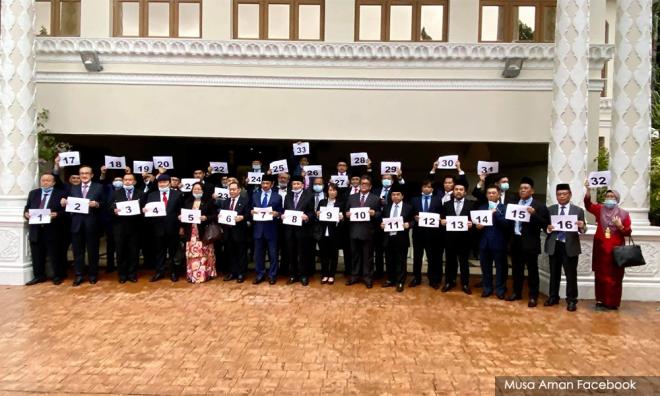 The five nominated assemblypersons in the Sabah legislative assembly have the same voting rights as their elected counterparts, say lawyers.
This comes amidst the Sabah political crisis where Chief Minister Shafie Apdal and his predecessor Musa Aman
both claim
to have a "simple majority" in the august house.
According to Shafie's team, Sabah Governor Juhar Mahiruddin has agreed to
dissolve the assembly
to pave way for a snap state election.
Even so, Musa has
continued to argue
that 33 assemblypersons are on his side and insists Juhar considers his bid to take over the state government.
The present Sabah legislative assembly has a total of 65 members comprising 60 elected representatives and five nominated representatives who were appointed by Juhar on Shafie's advice.
The five are Wilfred Madius Tangau, Terence Siambun, Loretto Padua, Jaffari Wiliam, and Ronnie Loh. The former three are believed to be supporting Shafie while Wiliam and Loh have defected to Musa's side.
Sabah is the only state with nominated assemblypersons and the numbers game in the present crisis has given rise to questions over whether their support carries the same weight as that of elected representatives.
Kota Kinabalu-based lawyer Roger Chin pointed to Article 14(1) of the Sabah Constitution which states that the legislative assembly is composed of the speaker, elected members, and nominated members.
Article 17(1), meanwhile, stipulates a list of criteria for assemblypersons to be disqualified from their position but makes one exception for nominated members.
"The only difference, if I am not wrong, is that the nominated assemblyperson can also be a person holding an office of profit (unlike an elected member) and can also be (appointed) for a specified term.
"Otherwise, (there is) no difference between a nominated assemblyperson and an elected one," Chin said.
'Nominated member can even be CM'
Given their equal status, he said a nominated member could even be made chief minister if she or he had the support.
He pointed to Article 6 which says the governor shall appoint as chief minister "a member of the legislative assembly who is in his judgment likely to command the confidence of a majority of the members of the assembly".
"This article will show you that it is, in theory, possible for the nominated assemblyperson to even be chief minister. Because nominated assemblypersons are part of the legislative assembly," he told Malaysiakini.
Kong Hong Ming, a lawyer who practices out of Tawau, similarly opined that the constitution accorded the same rights to all assemblypersons whether they were elected or nominated.
"All are assemblypersons in the House. I am more inclined to conclude all assemblypersons in the House shall be entitled to vote," he said when contacted.
Political analyst James Chin also concurred that there was "no difference" between an elected and a nominated member of the Sabah legislature.
"They have the same privileges and their votes count," the University of Tasmania academic told Malaysiakini. - Mkini