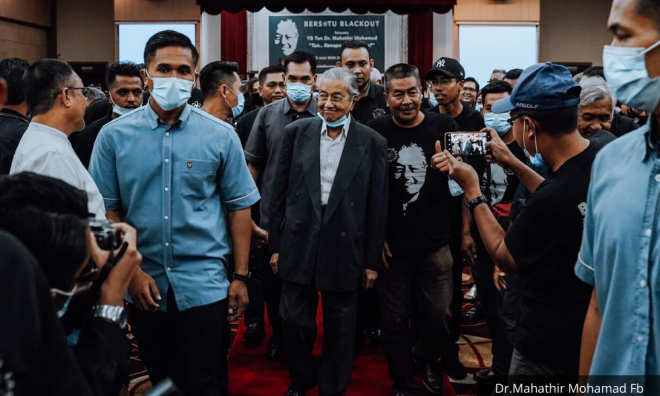 PARLIAMENT
| A BN lawmaker who attended a rally in support of Najib Abdul Razak yesterday has targeted alleged double standards by the opposition in regards to adherence to social distancing required by health standard operating procedures.
This after RSN Rayer (Harapan-Jelutong) asked if MPs who attended the Najib rally at the Kuala Lumpur Court Complex yesterday should be
quarantined
.
Those he named included Ahmad Maslan (BN-Pontian), Azeez Abdul Rahim (BN-Baling) and Noh Omar (BN-Tanjung Karang).
"I want to ask, do they need to be quarantined? Because we are now exposed (to Covid-19)," Rayer said in the Dewan Rakyat today.
"The people out there want to know, they asked me, is the SOP only for the regular people? What about MPs from the government?" he added.
In photos of him at the rally, Ahmad was seen wearing a mask while there were photos of both Azeez and Noh not wearing a mask or with it pulled down.
Responding to Rayer, speaker Azhar Azizan Harun said that until any infection is proven, MPs can't be prevented from entering the Dewan Rakyat.
However, he said MPs should be mindful and follow social distancing SOPs.
Later, Maslan stood up and pointed out that former prime minister Dr Mahathir Mohamad (IND-Langkawi), Mukhriz Mahathir (IND-Jerlun), Amiruddin Hamzah (IND-Kubang Pasu) and Mahfuz Omar (Harapan-Pokok Sena), had also attended a mass gathering where there was no social distancing.
"Do they need to be quarantined too if I am to be quarantined?" Maslan asked, referring to a "Bersatu blackout" event in Alor Setar on July 18.
Azeez chimed in to say that this showed that Rayer had double standards.
Photos from the Mahathir event show him walking through the crowd and speaking to journalists without a mask covering his face.
Starting Aug 1, the government has mandated that face masks use is mandatory for crowded spaces and when in public transport.
The number of Covid-19 cases in the country is back on the rise, with 212 active cases as of noon yesterday. - Mkini