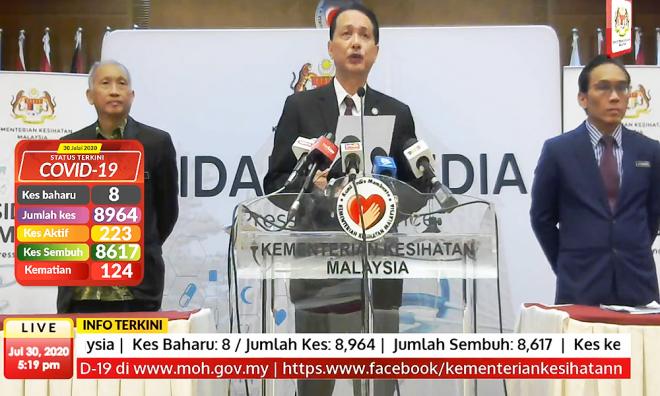 CORONAVIRUS
| Three more Covid-19 community transmission cases have been detected in Sabah as a snap election looms in the state.
Health Ministry director-general Dr Noor Hisham Abdullah said two of the cases were detected at the Queen Elizabeth Hospital in Kota Kinabalu - one patient who was referred to the hospital for testing, and another who underwent pre-surgery screening.
The third cases were detected through pre-surgery screening in Tawau Hospital.
In addition, there was one imported case in Sabah involving a Malaysian returning from the Philippines.
Overall, eight new Covid-19 cases have been detected in the country over the 24-hour period up to noon today, of which five cases were locally transmitted.
Apart from the Sabah cases, one case was detected during screening at a private healthcare facility in Kuala Lumpur, while another case was detected during pre-surgery screening at the Tengku Ampuan Afzan Hospital in Pahang. The latter case originated from Johor.
All of the locally transmitted cases involve Malaysian citizens.
Meanwhile, one Covid-19 case was detected involving a Malaysian returning from Kazakhstan and one Indonesian national who was arrested for entering Malaysia illegally and was tested prior to being detained at the Immigration Detention Facility in Kuah, Langkawi.
Five people have recovered from the disease and discharged, while no new deaths have been reported.
This brings the total of confirmed Covid-19 cases in Malaysia to 8,964, of which 8,617 have recovered and 223 are still active. The death toll remains at 124 deaths so far.
Among the active cases, three are being treated in intensive care units, and one of them required a ventilator.
Meanwhile, he shared that the ministry had stopped monitoring the Bukit Bintang cluster as no new cases had been reported in the past 14 days.
Asked if the ministry had identified the source of infection for a
patient
tested positive before being released from prison in Sabah, Noor Hisham speculated that it was a sporadic case.
He confirmed that no clusters had originated from the case.
"Maybe it's a sporadic case [...]. So far we have not been able to identify any positive cases (at the prison).
"And for the positive (case), we are not sure whether it's a fragmented old case that has actually been exposed but still detected positive, or is it actually a new incident but we have already isolated the patient and continued screening in the prison," he answered.