LIVE
| The verdict of the criminal trial of former prime minister Najib Abdul Razak involving the alleged abuse of power and money laundering of 1MDB funds will be delivered today at the High Court in Kuala Lumpur.
Malaysiakini brings you live reports of the proceedings.
Judge disallows defence's application
Najib's defence wants mitigation to be postponed
Najib guilty of all seven charges
Najib didn't send King Abdullah 'thank you' note
Accused did not confirm 'donation' with Saudis
Far-fetched to claim Najib conned by Jho Low, says judge
Najib didn't take action over non-return of RM42m, judge rules
Gathering of Najib's supporters sparks Covid-19 fears
99.9pct of money used not for Najib himself - Shafee
3.50pm - The defence team informs the court that the accused will make a statement to the court after the prosecution team replies to the defence submission for mitigation.
3.30pm - Shafee notes that 99.9 percent of the money utilised by the accused was not on himself.
"That is great mitigation," declares Shafee.
He says 45 percent of the funds were spent for political purposes, which also included welfare and other services. Charity groups received around 13.7 percent.
While noting that 0.4 percent of the funds were spent on credit card bills, the money was used to buy gifts for foreign dignitaries.
"(The accused said) the gifts were quite expensive and he could not give a basket of kain selendang (shawl)," says Shafee.
---
Najib's only at fault in trusting people, says Shafee
3.20pm - Shafee also submits that the accused is not a corporate person and expected the board of directors of SRC International and 1MDB to be professional.
"If he was at fault, he was only at fault in trusting people that ought to run the company - 1MDB as well as SRC International.
"In certain instances, he overtrusted," says Shafee (below).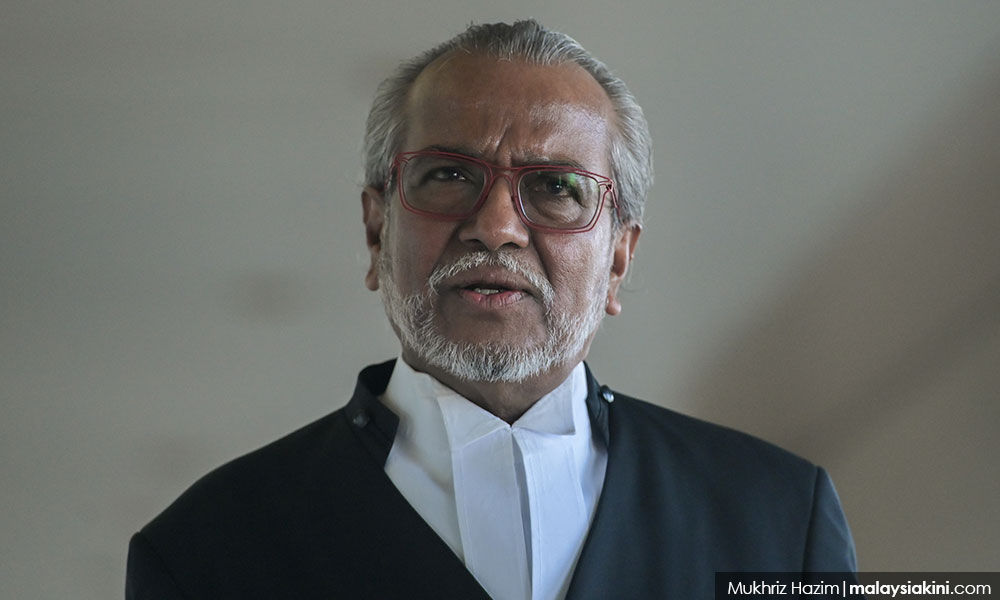 ---
Najib has cooperated with investigators since 2015 - Shafee
3.15pm - In mitigation, Shafee submits that the accused cooperated with the investigators since 2015 and initiated Public Accounts Committee investigations on 1MDB and SRC International.
"In all these investigations by a body like Parliament, not a hint of witness tampering," says Shafee.
---
Only a handful of Najib's supporters left outside court complex
3.15pm - As the SRC International case proceedings continue inside with the mitigation of sentences against Najib, only a handful of his supporters are seen in front of the Kuala Lumpur Courts Complex to show their support.
There were several thousands of them earlier in the morning but many have dispersed after being ordered to adhere to social distancing rule to prevent the spread of Covid-19.
---
Judge disallows application to postpone mitigation
3.05pm - Mohd Nazlan is not allowing the application by Najib's defence to postpone the mitigation process to Monday and wants to continue now.
Shafee puts on a record that he is "crippled" because he is unable to explain the verdict to nor take instructions from the accused.
---
Lead prosecutor: Court is duty-bound to pass sentence upon conviction
2.50pm - Lead prosecutor V Sithambaram objects to the application for an adjournment and argues that Section 183 of the Criminal Procedure Code clearly states that the court is duty-bound to pass a sentence upon conviction.
He further argues that the status of the accused on bail previous to conviction is different from a status post-conviction.
"If your Lordship intends to allow a stay, additional terms should be imposed," says Sithambaram (below).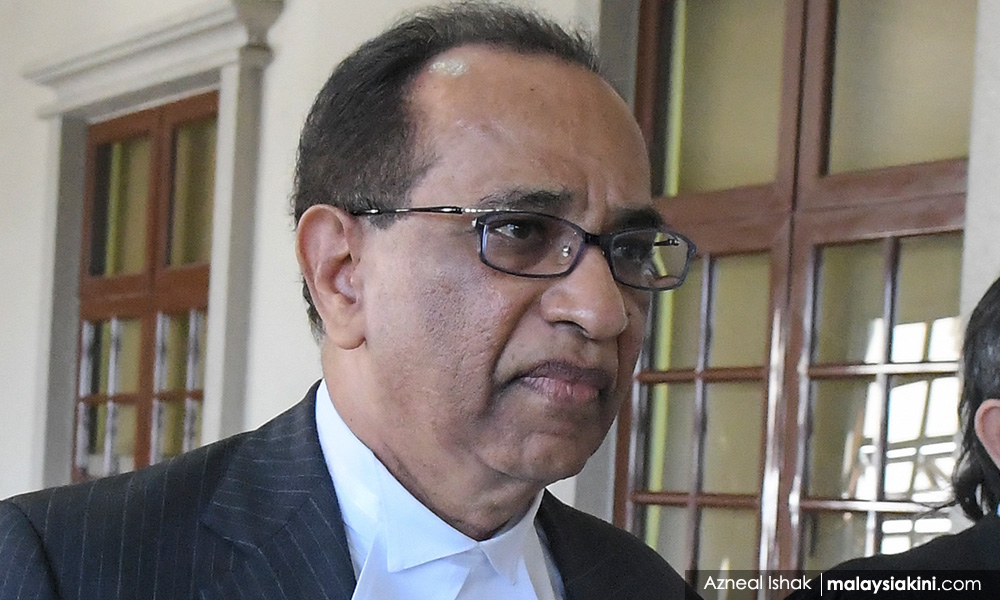 ---
Najib not a flight risk - Shafee
2.45pm - In arguing for a postponed mitigation hearing, defence counsel Shafee Abdullah says his client was not a flight risk and bail should be maintained.
Shafee says Najib has paid RM6 million in bail, his passport has been held and he could not travel by virtue being on the Immigration Department blacklist.
"As a former prime minister, he has a police escort. The police will always police. If he attempts to abscond, they will inform the IGP immediately," submits Shafee.
---
Najib's defence to submit application to postpone mitigation on Monday
2.20pm - Proceedings before the Kuala Lumpur High Court resume this afternoon.
It is set for Najib's lead defence team to further submit their application to postpone the mitigation to Monday.
Mitigation is a procedure involving seeking for the court to impose a lesser sentence on the former prime minister.
Najib was earlier convicted of one count of abuse of power, three counts of criminal breach of trust, and three counts of money laundering involving RM42 million of SRC International funds.
---
Police issue warning to crowd on Covid-19 SOPs
1.10pm - Police issue a warning to Najib's supporters and also media members to adhere to the Covid-19 SOPs.
This comes as a group of Najib supporters started swarming the front gate to air their discontent over the guilty verdicts against the politician earlier today.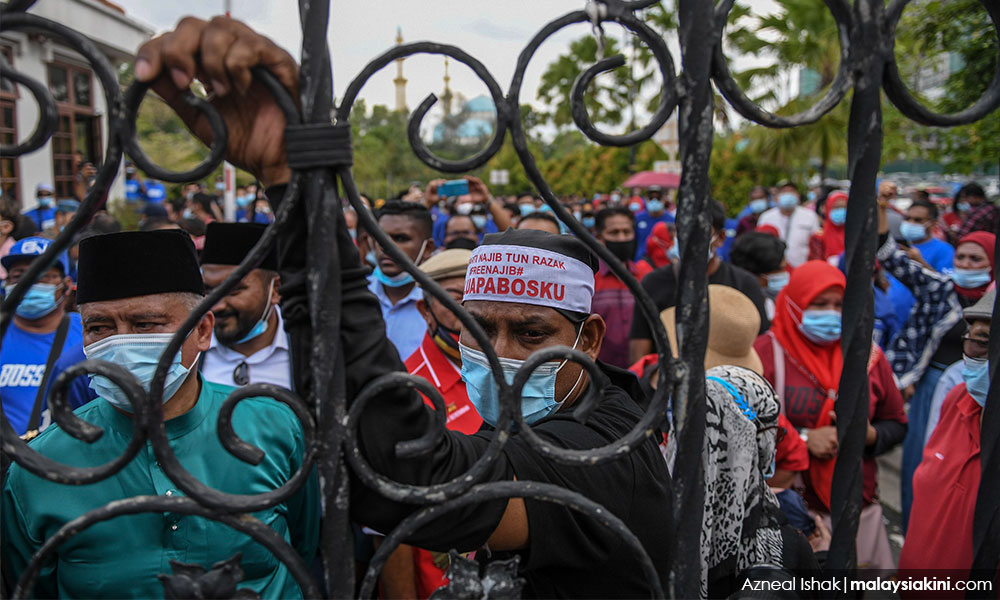 ---
Najib's supporters chant outside court complex
1pm - Some 200 supporters of former prime minister Najib Abdul Razak have started gathering in front of the main entrance of the Kuala Lumpur Courts Complex.
Appearing to be discontent with the Kuala Lumpur High Court's decision against Najib earlier, the supporters started chanting "Hidup Bossku" (long live Bossku) and "Lepaskan Bossku" (free Bossku). Bossku is Najib's popular nickname.
There were also calls by his supporters for the government to dissolve Parliament as they shouted "Bubar, bubar, bubar Parlimen!".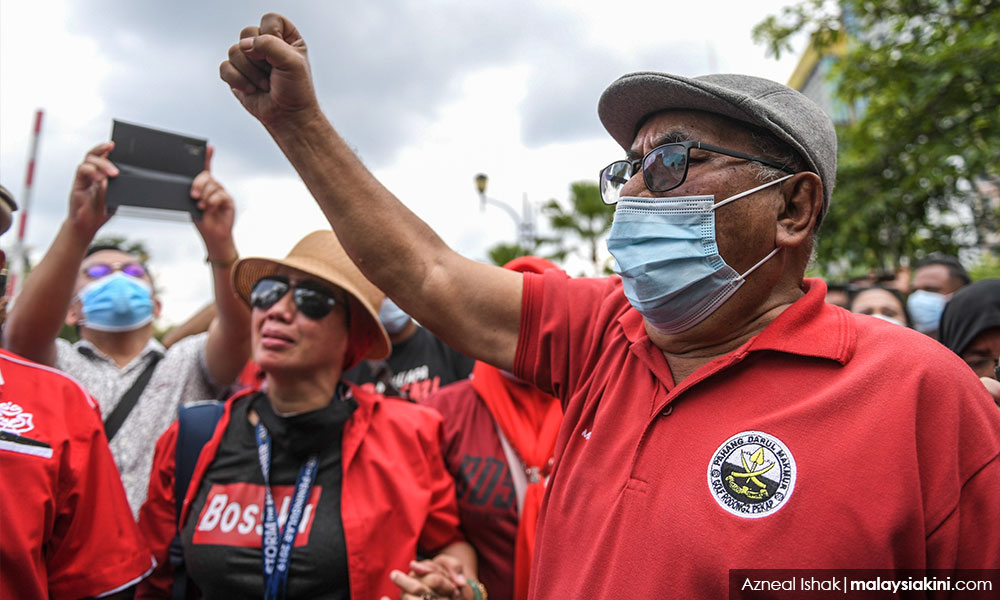 ---
- Mkini