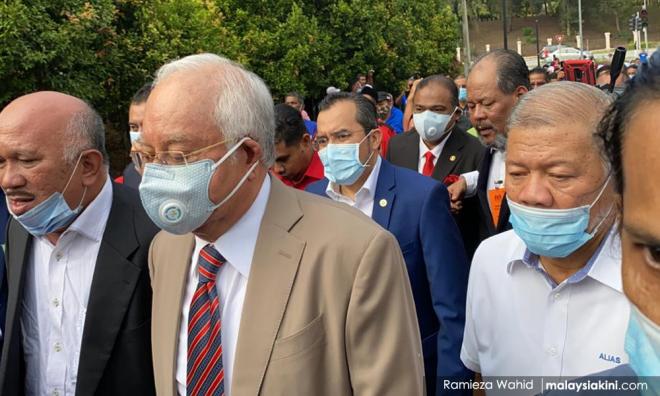 PARLIAMENT
| A brief commotion erupted in the Dewan Rakyat this afternoon when an MP expressed concerns that the House was being exposed to Covid-19 after BN lawmakers attended a rally in support of Najib Abdul Razak this morning.
RSN Rayer (Harapan-Jelutong) took particular aim at Azeez Abdul Rahim (BN-Baling), accusing him of endangering other MPs by being in the House after not wearing a face mask at the rally.
This courted an angry response from Azeez, who said: "I wore a mask! Don't lie to the House!"
Based on photos, Azeez did wear a mask when accompanying Najib to the court this morning.
However, there are other photos and videos after that in which Azeez (below) did not wear a mask.
Besides Azeez, Noh Omar (BN-Tanjung Karang) was also at the rally.
While Noh was mostly spotted wearing a mask, one photo by Malaysia Gazette has him pulling his mask down.
Rayer had raised the issue on the basis of raising a point of order.
However, when Deputy Speaker Azalina Othman Said asked him to state which Standing Order he wanted to cite - as per House rules - the DAP lawmaker only replied that this was in regard to the Covid-19 standard operating procedures.
There was back and forth between him and Azalina on the matter, with the deputy speaker repeatedly telling the MP to raise the matter with the Parliament director-general, who oversaw the implementation of the Covid-19 SOP.
"I am worried about your (Azalina) safety, I'm even worried about your health and your safety," said a dissatisfied Rayer.
"I am worried about everyone's safety" he added.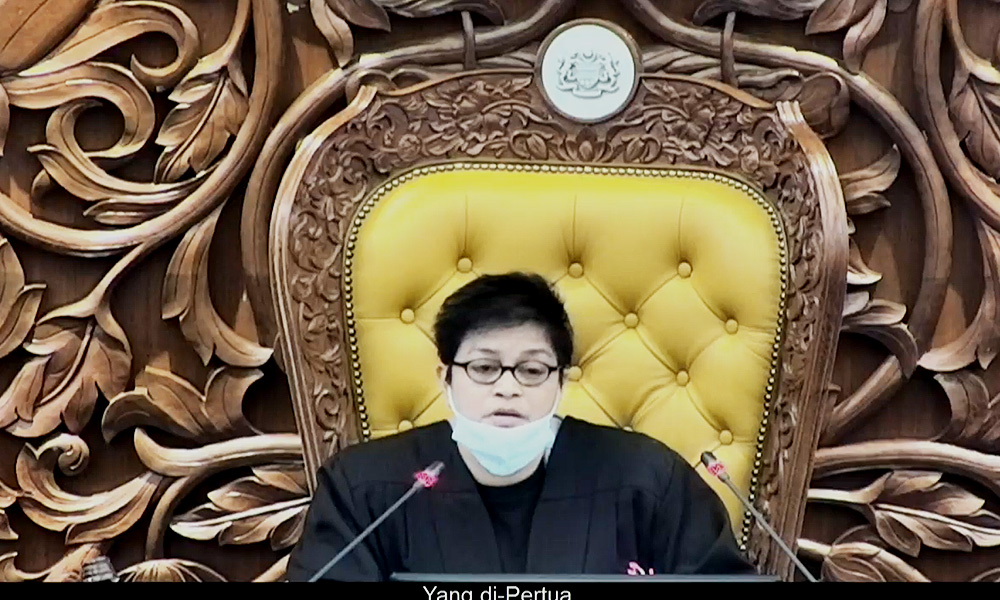 Azalina (photo), however, shut him down saying she made a final decision and ordered the House to continue the debate on the Yang di-Pertuan Agong's address.
The deputy speaker also rejected attempts by Shahidan Kassim (BN-Arau) to raise a different point of order.
Previously, at the height of the pandemic in Malaysia, the Health Ministry had advised those who went outside to immediately shower and change clothes after going to crowded areas such as supermarkets.
It is unclear if Azeez and Noh changed clothes, but they were both wearing the same ties.
Thousands had turned up at the Kuala Lumpur High Court today to show support for Najib, who was receiving a verdict on his SRC International corruption trial.
He was later
found guilty
on all seven charges of abuse of power, criminal breach of trust, and money laundering levelled against him. -Mkini