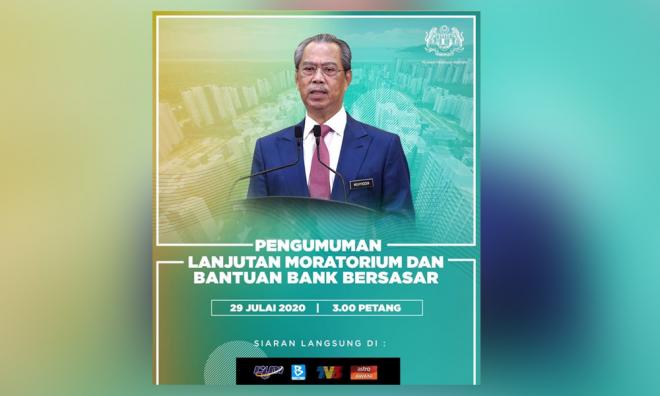 Prime Minister Muhyiddin Yassin will make an announcement on the "extension of the loan moratorium" and "targeted bank assistance".
The announcement will be made via a special televised broadcast at 3pm today.
Taking to social media, the prime minister uploaded a poster which wrote "announcement (on) moratorium extension and targeted bank assistance", without further elaboration.
It is, however, believed to be in relation to the six-month moratorium on bank loans which will end by Sept 30.
Banks that lost major income sources were reportedly incurring a
modification loss
of RM79 billion over the six-month moratorium period from April to September.
Yesterday, Finance Minister Tengku Zafrul Abdul Aziz told the Dewan Rakyat that the decision on the bank loan moratorium would be announced soon.
Banks have given their commitment to continue assisting borrowers and businesses impacted by the economic fallout due to Covid-19, he said.
A total of 7.7 million individual borrowers or 93 percent and over 245,000 small and medium enterprises or 95 percent had benefited from the moratorium.
He said banks suffered a total loss of RM6.4 billion, which affected their capacity in providing new loans totalling some RM79 billion.
There were calls from the business community, including the Federation of Malaysia Manufacturers (FMM) and the Malaysian Trades Union Congress (MTUC), to extend the moratorium on loan repayments by six months.
Former finance minister Lim Guan Eng made a similar
call
as people are not prepared to resume loan repayments in the face of a worsening economy. - Mkini