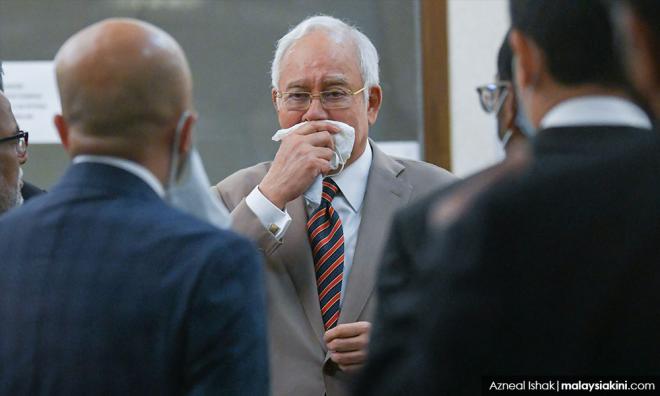 YOURSAY |
'The honourable judge and the prosecution team have brought light to our legal system'.
Straight Citizen: Kuala Lumpur High Court judge Mohd Nazlan Mohd Ghazali is truly a brave Malaysian who isn't persuaded to bend to the powers-that-be. He will forever be remembered in the annals of history of our land for this.
This is a historic day in Malaysia's judiciary system at the High Court level. Let's pray the Court of Appeal and Federal Court will be filled with men and women of integrity who will defend the sanctity of the country against criminals, the corrupt and those who abuse their power.
The Malaysian judiciary in this court was well and alive today. Well done to the team of prosecutors too who put together a water-tight case to convict the most corrupted politician in our land, 'Boss Engkau' - not our 'Bossku'.
Vijay47: Even if the prosecution had lost, lead prosecutor V Sithambaram would have still earned the public's respect for the battle he bravely fought.
For the first time in our history, a prosecutor was taking on a formidable foe and Sithambaram did not flinch or falter.
Facing a former prime minister once discarded then favoured, Sithambaram kept his eye firmly on the ball, quietly going about his business without fanfare or flourish. That he
succeeded
and so brilliantly is a tribute to his doggedness and refusal to be distracted.
His adversary, on the other hand, defence lead counsel Muhammad Shafee Abdullah was given to flamboyance and playing to the gallery to the hilt, perhaps under the misconception that the court, like Shakespeare's world, was a stage.
And if his performance in court did not attract the attention he sought, he was not hesitant to summon a press conference where he regaled all in sneering manner what a lost war the prosecution was waging.
Yet, we can be sure that Sithambaram would not make any claim to accolades however deserving he is of them.
He would be the first to acknowledge that he was the instrument, the driving force being the entire prosecution team led by that steadfast, intrepid and often-maligned then attorney-general Tommy Thomas. To all of them, including judge-turned-prosecutor Gopal Sri Ram, our utmost gratitude for a task superbly executed.
If I were you, Shafee, I would be exceedingly worried. You may have construed the many postponements you earned for the least of reasons as evidence of a judge in awe of you. I doubt it. I am sure judge Collin Lawrence Sequerah is waiting for you.
Open Mind: Congratulations to the people of Malaysia who voted for Pakatan Harapan in GE14. It was the Harapan government that brought those responsible for robbing the country to court.
Today, after so many months, we see justice served and the conviction of the former prime minister for abuse of power, criminal breach of trust and money laundering.
Thanks to the Harapan government, former attorney-general Thomas and the prosecution team who overwhelmingly provided evidence of the crimes.
Mohd Nazlan has made history in the delivery of the verdict. Syabas Malaysia!
BlueShark1548: Indeed, Malaysian legal history was made. The honourable judge and the lead prosecutor Sithambaram and his team have brought light to our legal system and strengthened the foundations of our justice system.
I hope that this would be the renaissance of our justice system and that judges would continue with their commitment to uphold our constitution and justice in Malaysia.
Malaysians have looked forward to this day since Sarawak Report broke the news on 1MDB.
Credit should be given to former prime minister Dr Mahathir Mohamad and former AG for initiating the legal process to charge Najib.
No doubt, our justice system allows Najib to appeal and until Najib exhausts his rights, he would be a free man.
Ferdtan: Yes, this is the good news that many Malaysians are looking forward to. That said, this is only one aspect of the whole political game (if I may say so).
The inescapably big political picture is who wins more following this guilty verdict? Prime Minister Muhyiddin Yassin? Mahathir? Or even the third faction from Umno - Hishammuddin Hussein together with his close ally, Azmin Ali?
I believe that Najib would be allowed bail. He would appeal and that may take time until the next general election (probably soon). Questions:
1. With Najib out, will Bersatu get some concessions from Umno? Or is Muhyiddin preparing his way to rejoin Umno?
2. Was there an agreement for Muhyiddin to rejoin Umno and stay as PM, with Hishammuddin as the deputy? And would Mahathir be given a bigger role as a kingmaker?
The guilty verdict went right for us, but one swallow does not make a summer. We still have a long way to go before we can be sure if this is a simple case of punishment of a crime, rather than just a move to gain political advantage.
Whatever it is, it still cheers us nevertheless.
Quo Vadis Malaysia:
Umno president Ahmad Zahid Hamidi's
case
is even more clear cut in my opinion. So, can we expect a guilty verdict too?
To all the Umno supporters out there, please get it into your skulls that these two (and a few others) are liabilities to your cause. You need to get rid of them if you want to move forward.
BusinessFirst:
Well, the judge is a rarity in many ways. First, his
academic qualifications
are excellent. No dumbing down to get ahead.
Second, his experience in both the private and public sector is extensive. Zaid Ibrahim & Co is an excellent law firm. So he has real-life experience and no doubt this is useful to any judge in weighing evidence.
Now it will probably go on appeal. May the coram be as eminent as Mohd Nazlan. - Mkini