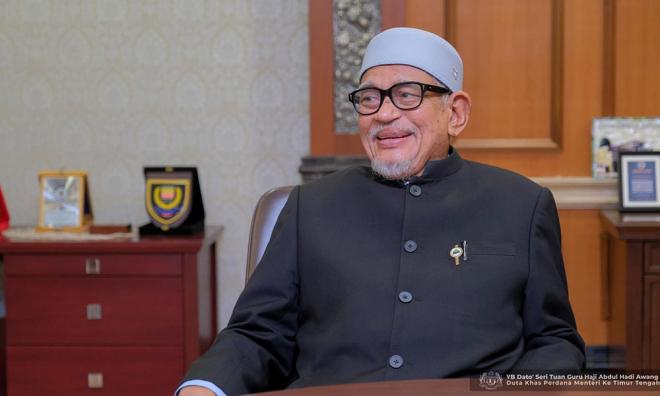 PAS president Abdul Hadi Awang has reaffirmed PAS' commitment to cooperate with Umno in the Muafakat Nasional pact while continuing to strengthen the Perikatan Nasional government.
This came after Umno president Ahmad Zahid Hamidi said the party would make a
"political decision"
following former prime minister Najib Razak's
conviction
yesterday on the criminal charges involving SRC International Sdn Bhd.
In a statement yesterday, Hadi (above) said the Islamic party respects the court process but he believes that Najib would make full use of the legal process to appeal and ensure justice is done.
"PAS takes a compliant attitude with the High Court decision on the case of Najib.
"PAS respects the court process in line with the rule of law upheld by the PN government. We are confident that Najib will take full advantage to obtain justice in court at the next level.
"In any case, PAS expresses our commitment to be with Umno in the Muafakat Nasional, while continuing to strengthen the Perikatan Nasional government," Hadi said.
Najib's supporters were outraged by the 12-year jail sentence meted by the High Court yesterday.
Umno supreme council member Puad Zarkashi posited that Prime Minister Muhyiddin Yassin is
the biggest winner
from Najib's guilty verdict in the RM42 million SRC International trial.
He accused the Bersatu president of harbouring double standards as the government had yet to charge Senior Minister Azmin Ali, who is alleged to have been involved in a sex scandal.
In an immediate response, Muhyiddin said the PN government
always upholds
the rule of law and added that he understood the feelings and sentiments of his comrades about the High Court's verdict on Najib's SRC International trial. - Mkini