JHO LOW CAN GO TO INDIA AND BE A GOOD BOY THERE
'Occasionally, he can also do some charity, like cooking food to feed the poor.'
Anonymous_2679c6e5: It is inconceivable that PM Dr Mahathir Mohamad would thank Indonesian President Joko Widodo (Jokowi) for acceding to the extradition request from Malaysia for Sungai Besar Umno chief Jamal Md Yunos and yet refuse to agree to the extradition request from India for controversial Islamic preacher Zakir Naik.
Please do not stray from our commitment to justice and the rule of law. Otherwise, the seeds of decay will begin to be sown.
Worried Sick: Dr M, first of all let me say we Malaysians are eternally grateful to you for giving us a new government. However, your recent actions do not seem to go down well with many of us.
If the Indonesian president can so quickly grant your wish to send back a Malaysian fugitive hiding in his country, why can't you do the same for a friendly country (India) too?
Please deport Zakir as soon as possible since you believe very much in the rule of law.
BehtahanBN: If I were Malaysian fugitive Jho Low, I'd move to India and be a good boy there. Occasionally, I would also do some charity, like cooking food to feed the poor on the streets.
Anonymous_ad31fa84: Welcome home, Jamal. You have no idea how happy I am to see you back. I hope the rule of law dealt with you like how you dealt with us.
Ferdtan: It is time to look at the police partiality. There are still many officers who are still pro-Umno or afraid of Umno leaders.
Take, for example, the heckling of the attorney-general (AG) Tommy Thomas in the Jalan Duta court complex last week – how come the police were so polite to the Umno protesters disrupting the press conference?
They should have cleared them immediately from the vicinity of the court. We remember how the police treated PKR de facto leader Anwar Ibrahim's supporters at the previous two sodomy trials; some protesters were roughly handed. Why?
It is time for the inspector-general of police (IGP) appointed by the previous BN government to take note. No more differential treatment. All are subject to the same law.
Just Me: Are our borders so porous? People can just go in and out of the country just like that? Jamal, who was under Royal Malaysian Police (PDRM) watch, could easily escape the country just like that?
It is clear that even criminals can use the same route as Jamal. I think the IGP should answer the public on this.
Cogito Ergo Sum: Indeed, what's the point in changing governments when the civil service, including the police, treat the new government as they are the opposition?
The Pakatan Harapan government has to appoint new heads based on efficiency and not on loyalty. Even the rakyat who elected the Harapan government are still being treated as if BN were in power.
6th Generation Immigrant: Every time Jamal's name is mentioned, please do not forget the adjective to describe the noun – the very current Sungai Besar Umno divisional chief – one can never differentiate which is the adjective and which is the noun, they are exact in nature.
Anonymous_f37de788: Welcome back, Sungai Besar Umno chief. How was your trip to the plantation and hair saloon?
By the way, we have prepared a comfortable hotel room for you to stay and take care of your trice daily food needs.
The name of the hotel is very similar to your branch of Sungai Besar. It also has the name 'Sungai' at the front, but the last name is 'Buloh'.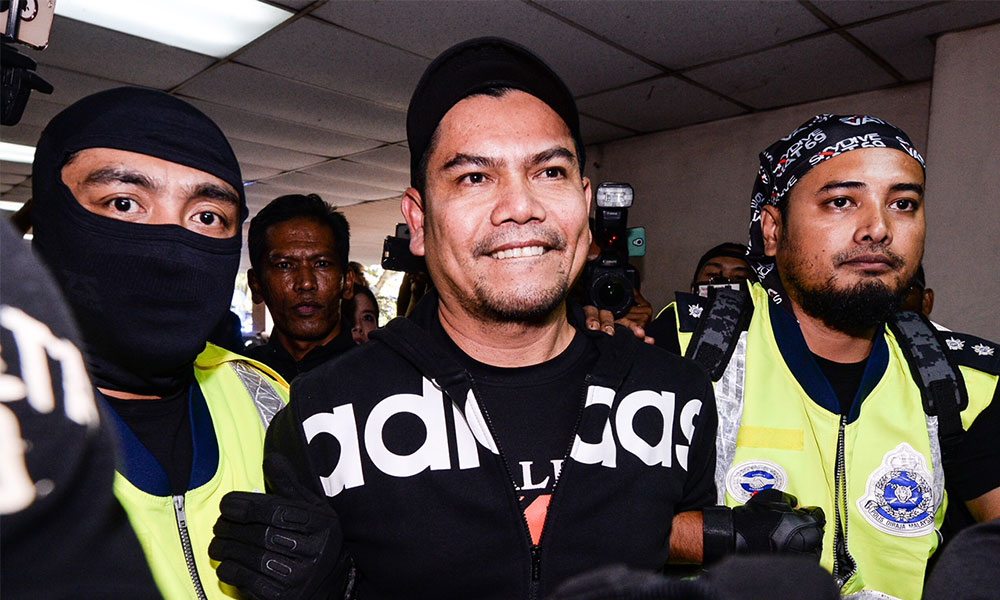 The hotel has some iron grill on the front and you have to wear orange shirts, just to show you are the beloved guest of the hotel.
We have booked you into the "room" for perhaps five years. Jamal, do have a nice stay.
SemangatbaruMsia: If Umno truly and sincerely wishes to rebuild and serve the rakyat, this man should be the first to be expelled from the party.
He is Umno's icon for arrogance, being thuggish, bully, racist, showing stupidity and a disgrace to Malays and all Malaysians. Otherwise, that speaks volumes of Umno.
Curdle: From Wikipedia: "Malaysia has strict gun laws. The Arms Act (1960) requires Malaysian citizens to have a licence for manufacture, import, export, repair, or ownership of firearms.
"A firearm licence can only be granted by the chief police officer of a state. Discharging a firearm in crimes such as extortion, robbery, resisting arrest and house-breaking is punished by the death penalty.
"Exhibiting a firearm for any of the scheduled offences (without discharging) carries a penalty of life imprisonment and caning of not less than six strokes.
"Possession of unlawful firearms carries a sentence of up to fourteen years in prison and caning. While the general public cannot obtain a gun through legal means, a black market for guns does exist."
So how does he (Jamal) come to be in possession of a firearm?
Anonymous_1527925538: We should charge Jamal for all the expenses incurred by both the Indonesian and Malaysian authorities to track down and extradite him.
Roar For Truth: Jamal, please take time in prison to reflect and repent. Come out a better person, useful and productive member of our society.
You have all the abilities and connections, don't waste it. Malaysians are very forgiving.
– M'kini