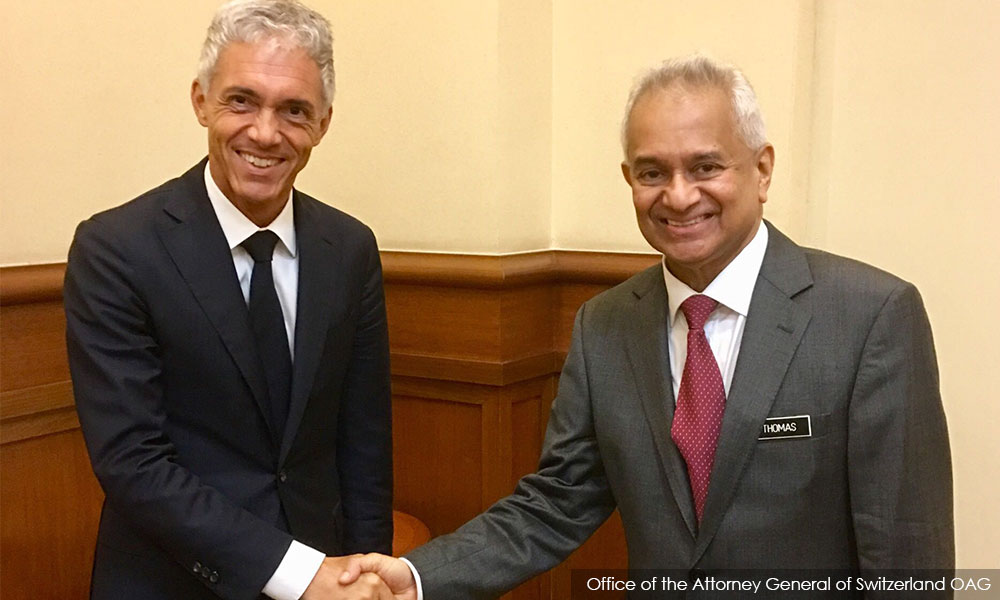 Switzerland is investigating six people on suspicion of money laundering, bribing foreign officials and other offences as part of an investigation into 1MDB, the Swiss attorney general's office said on Tuesday.
Swiss authorities suspect funds raised for economic development projects by 1MDB and a former unit, SRC International, were stolen, the statement said.
"All or part of the financing obtained is alleged to have been used for other purposes, most particularly for the personal enrichment of the persons involved," the statement from attorney-general Michael Lauber's office said.
1MDB is at the centre of money laundering investigations in at least six countries, including Switzerland, Malaysia and the United States.
The US Department of Justice has said an estimated US$4.5 billion was misappropriated from 1MDB, a fund founded by former prime minister Najib Abdul Razak.
At a press conference in Kuala Lumpur after meeting his Malaysian counterpart, Lauber said about US$7 billion in funds originating from 1MDB and SRC had flowed through the global financial system from 2009 to 2015.
"This is just what we saw in our investigations in Switzerland, so a part (of it) most likely went through
Switzerland and other parts went somewhere else," he said.
Lauber said Switzerland has frozen around 400 million Swiss francs (US$404 million) as part of the probe. It will look to return some of the funds to Malaysia once investigations are completed.
Lauber's visit to Malaysia came as investigations in the Southeast Asian country have picked up under the new administration led by former long-term leader Dr Mahathir Mohamad.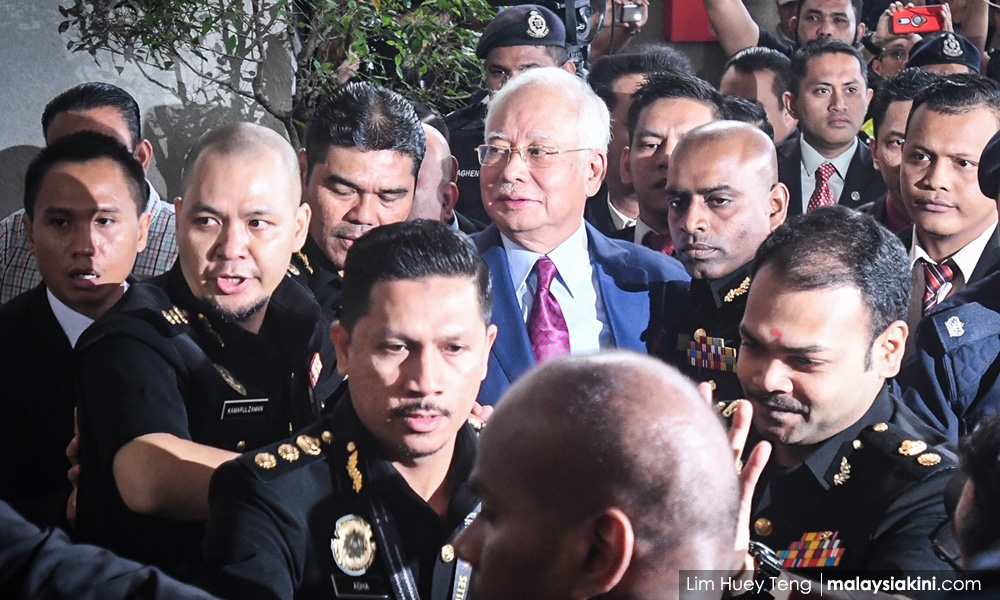 Najib, prime minister until a shock May 9 election loss, was arrested and charged last week by Malaysian authorities with abuse of power and criminal breach of trust in connection with transactions linked to SRC International Sdn Bhd.
Najib pleaded not guilty to all the charges and was released on bail. He has consistently denied any wrongdoing in relation to 1MDB.
Under the Swiss investigation, Najib is not one of the "public officials under accusation," Lauber's office said in the statement.
The six people under investigation by Swiss authorities are two former officials from 1MDB, two former officials from Abu Dhabi sovereign funds and two officials of Saudi energy group PetroSaudi International, the statement said.
The Swiss statement did not identify the individuals or the Abu Dhabi funds. Malaysia's finance ministry, responsible for 1MDB, declined to comment.
PetroSaudi, which ran an energy joint venture with 1MDB from 2009 to 2012, has previously denied any wrongdoing linked to its joint venture and has said none of its officials had been involved in misappropriating any funds.
The Swiss AG's office said two banks – BSI SA Bank and Falcon Private Bank – are suspected of involvement in the 1MDB scandal and investigations into them have been open since 2016.
In 2016, Swiss financial watchdog Finma confiscated funds it said were illicit profits from 1MDB-related deals from the two banks and others. The banks have appealed the ruling.
Separately on Tuesday, the Wall Street Journal reported that former Goldman Sachs banker Tim Leissner was in talks with US prosecutors to potentially plead guilty to criminal charges stemming from an alleged scheme to steal billions of dollars from 1MDB.
Malaysian police on Tuesday said they had asked Macau authorities to detain Malaysian financier Low Taek Jho, who they believe evaded arrest in Hong Kong and escaped via ferry to the nearby island. He has been identified by Malaysia and the United States as a key figure in the 1MDB investigation.
- Reuters