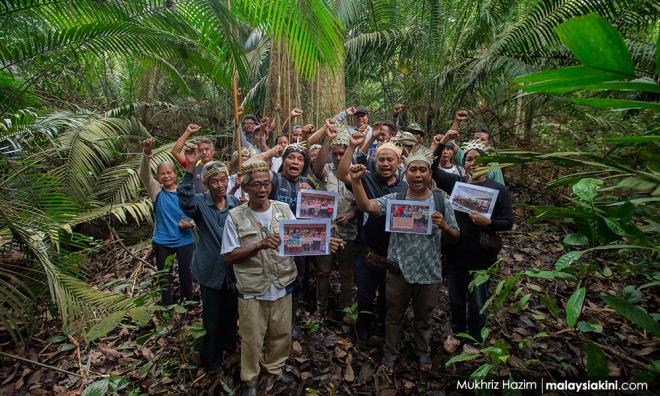 When his friends told him that the Kuala Langat North Forest Reserve will be degazetted, Asih Jehat had a sleepless night.
The father-of-four from Kampung Busut Baru in Kuala Langat said: "I was disappointed. I couldn't sleep. I was worried just thinking about it.
"We (Orang Asli) love our forest. It is our source of income to feed our families."
Asih is originally from Sepang but he and other villagers were moved here to give way to the KL International Airport years ago.
It is here that Asih (photo), who is in his 40s, raised his family. His immediate family members grew up and also became attached to the forest.
He knows every nook and cranny of the forest and could name every species of trees and how one could make them into medicine, hunting tools and handicraft.
Not only do they utilise the forest to make a living, but the Orang Asli also believes their moyang or spirit of their ancestors reside in the forest and protects them.
"If the forest is cleared, there is nothing left for us.
"I plead with the Selangor menteri besar to cancel the plan to degazette the forest. We love our forest," the soft-spoken man told Malaysiakini during a media visit to parts of the forest known as Hutan Pauh, located near Kampung Busut Baru and Kampung Bukit Raja in Kuala Langat today.
The event was organised by a coalition of seven environmental and social NGOs, comprising of the Centre for Orang Asli Concerns, Global Environment Centre (GEC), Grass Malaysia, Persatuan Aktivis Sahabat Alam (Kuasa), Malaysian Nature Society (MNS), Sahabat Alam Malaysia (SAM), and Treat Every Environment Special (TrEES).
Without the forest, Orand Asli children unable to recognise trees
Earlier, a few village headmen or Tok Batin expressed their frustration over the state government's move to degazette the forest.
Bukit Cheeding Tok Batin, Bayet Pipis, said if the forest reserves were destroyed, the next generation of Orang Asli will not know the trees and Orang Asli customs regarding the forest.
"The children will not know what Meranti Bunga or Meranti Bakau (trees) are.
"They will not know anything about trees. The tradition will just go extinct. The elders will not be able to show them how to benefit from the trees," he said.
Meanwhile, Pulau Kempas villager Tonjoi Pipis stressed that without the forest, the Orang Asli will be detached from their daily routines.
"The forest is our main source of activity. Without it, there is no meaning.
"We will not be able to produce herbs or catch fish. Our hunting activities will have to stop," he said.
According to the coalition, Kuala Langat North Forest Reserve is mainly a peat swamp forest which is critical for preserving global biodiversity, provide safe drinking water, minimise flood risk and help address climate change.
GEC director Faizal Parish said the forest provides opportunities for researchers to study about potential medicines.
"Once, in a Borneo state, researchers were studying potential cures for cancer from a set of trees. When they returned, they were gone, and the area was replaced with development.
"They went to look for similar trees elsewhere, but they were not the same.
"Perhaps, the cure for cancer is in this forest. We never know unless we study. So there's a lot of benefits to be reaped from this forest," Faizal said.
Selangor Menteri Besar Amirudin Shari has claimed that the government was proposing to turn the forest reserve into a
mixed-development
zone.
Among others, Amirudin claimed that 40 percent of the land was "degraded" and prone to fires. That was why it was proposed to excise the land as a forest reserve.
Amirudin promised to turn other areas into forest reserves and to maintain 30 percent of land in Selangor as forest reserves.
A report by Singapore's
Straits Times
has suggested that a royalty is among the possible developers of the land. -Mkini