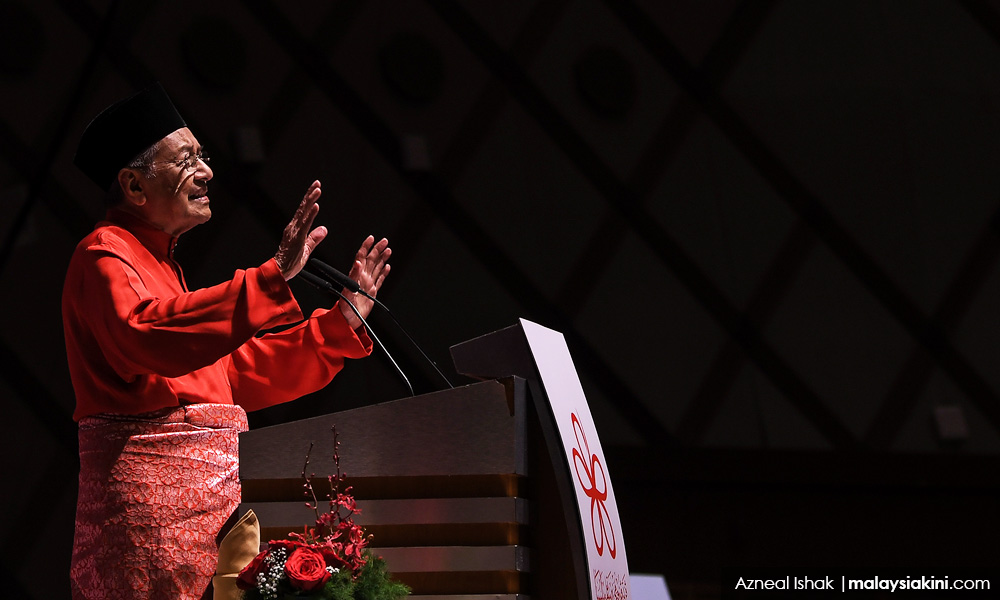 BERSATU AGM
| Prime Minister Dr Mahathir Mohamad has downplayed demands for government contracts and positions during the Bersatu annual general assembly in Putrajaya today.
Mahathir, who is also Bersatu chairperson, said the demands were more to qualified contract bidders complaining that they were being discriminated by the previous government.
"We are against corruption but some of our people are very capable but have been discriminated against during the last government.
"I think now they feel that they can have a chance even if there is a tender for whatever contracts," he told a press conference after the annual general assembly this evening.
He said those vying for contracts will have to go through a tender process.
"There is the MACC, if they do anything wrong, you can be assured that the MACC will descend upon them, doesn't matter what their rankings are," he said.
Pressed if the views aired by delegates were not reflective of Pakatan Harapan's ideals, Mahathir said members can air their views but the party's position will be decided by the leadership.
"The party's stance is determined by the leadership of the party.
"Of course, the delegates and ordinary members can have their say but that doesn't mean it will become the party's stance," he said.
Earlier, Bersatu Youth chief Syed Saddiq Abdul Rahman in his winding-up speech had
criticised
delegates demanding for contracts.
However, Bersatu vice-president Ab Rashid Ab Rahman said it was
stupid not to use
government resources and that the party should strive to win "by hook or by crook".
Rashid had also called on the government to restore BN's previous system of setting up parallel village committees in opposition-held states.
Asked about this, Mahathir said it was believed that opposition-held states were not treating Harapan fairly.
"That is why there was such a proposal but we will think of ways that are fair and in accordance with the law," he said. - Mkini