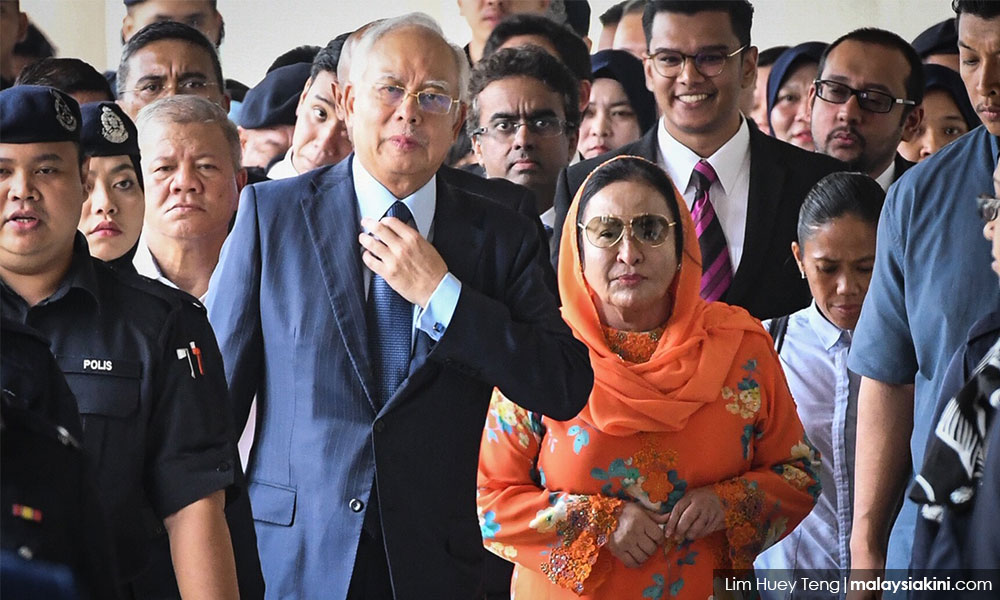 As former prime minister Najib Abdul Razak and his wife Rosmah Mansor filed their defence today to a suit against them filed by carpet businessperson Deepak Jaikishin, the couple's lawyer indicated that they would also file an application to strike out the suit.
This is in regard to Deepak's RM676 million suit against Najib and Rosmah and two other companies for conspiracy and interfering in a property deal that caused his company to suffer huge losses.
Boustead Holdings Sdn Bhd and its subsidiary company, Bakti Development Wira Sdn Bhd, were named as the other two defendants.
The lawyer for Najib and Rosmah, David Mathews, said he had informed the High Court judge in Kuala Lumpur, Justice Azimah Omar, today on the intention of Najib and Rosmah to file the striking-out application.
Mathews said Justice Azimah instructed him to file the striking out application by Jan 7.
"We already filed our clients' defence today. Following that, Justice Azimah fixed Jan 14 for case management," the lawyer told
Malaysiakini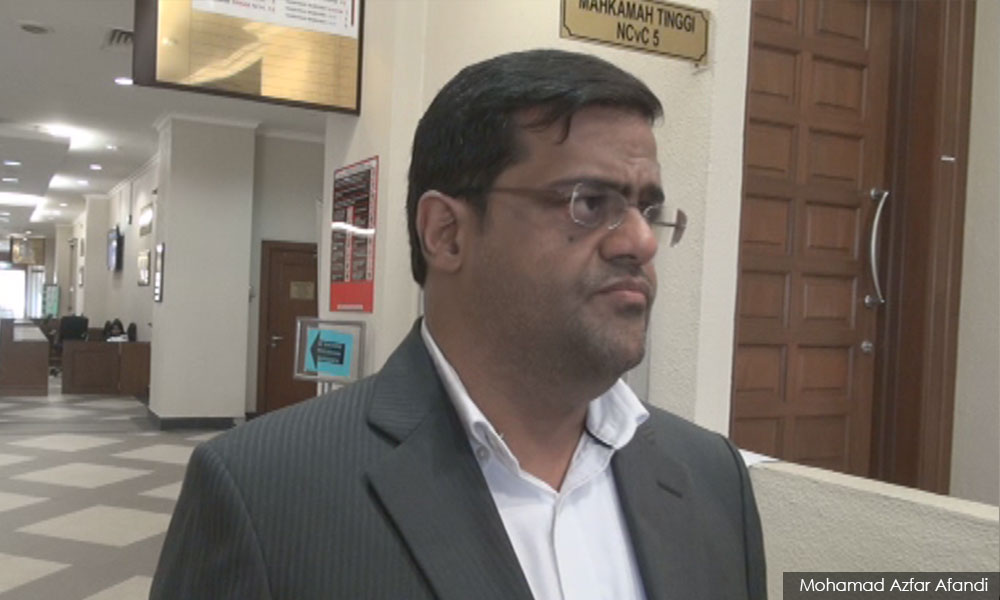 Deepak's (
photo
) lawyer Irzan Irsat told
Malaysiakini
that Boustead Holdings and Bakti Development Wira had also filed a striking-out application against his client's suit.
"Justice Azimah asked us to reply to the striking out application by the two companies by Jan 7," Irzan said.
Boustead and Bakti Wira were represented by lawyer Kenny Chan.
In a suit filed in October this year, Deepak named Najib, Rosmah, Boustead and Bakti Wira as defendants who allegedly
exerted undue influence
on him to purchase three parcels of land near Bukit Raja and then to let go of the land.
The 180-hectare plot of land is said to be the venue for the National Defence Study Centre, which was to be built in 2007.
In Deepak's statement of claim, he alleged that a privatisation agreement was entered on June 8, 2005, with Awan Megah Sdn Bhd to construct the defence centre.
Following the privatisation, Awan Megah offered Astacanggih Sdn Bhd, a company majority-owned by Deepak and in which he is a director, to purchase the land for RM118.57 million and following that, an acquisition agreement was made in 2007.
Following the acquisition, Astacanggih paid RM13 million and issued a bank guarantee for RM72.5 million as land bond for the privatised project.
'Another deal entered in 2010'
Deepak further claimed that the then Selangor Wanita Umno chief, Raja Ropiaah Raja Abdullah, owns Awan Megah and is said to be a proxy of Najib and Rosmah.
However, Raja Ropiaah entered another deal in 2010, to sell the land to GuppyUnip Sdn Bhd, which went against the original agreement made with Astacanggih.
Deepak claimed that Raja Ropiaah was not supposed to sell the land as Awan Megah is under obligation to the deal made earlier with Astacanggih.
As a result, the businessman
filed the suit
against Awan Megah and a hearing was held.
Deepak claimed he was then forced to withdraw his suit against Awan Megah when pressured by the authorities.
The businessperson claimed that it did not end there. He went on to claim that Najib and Rosmah used Lembaga Tabung Angkatan Tentera (LTAT), to acquire the 80 percent shares he held in Astacanggih, using Boustead through its subsidiary Bakti Wira.
Deepak, in the end, claimed he was only paid RM30 million in 2012 for the acquisition of his 80 percent share of Astacanggih, despite the company being now worth more than that following the land acquisition.
He further claimed that while Boustead allegedly acquired his shares and the land was priced at RM14 per square feet, a week later Boustead sold a portion of the land to a listed company for RM60 per square feet.
Following the losses suffered, Deepak is seeking RM600 million in general damages, RM50 million as exemplary damages and RM26 million in aggravated damages. - Mkini