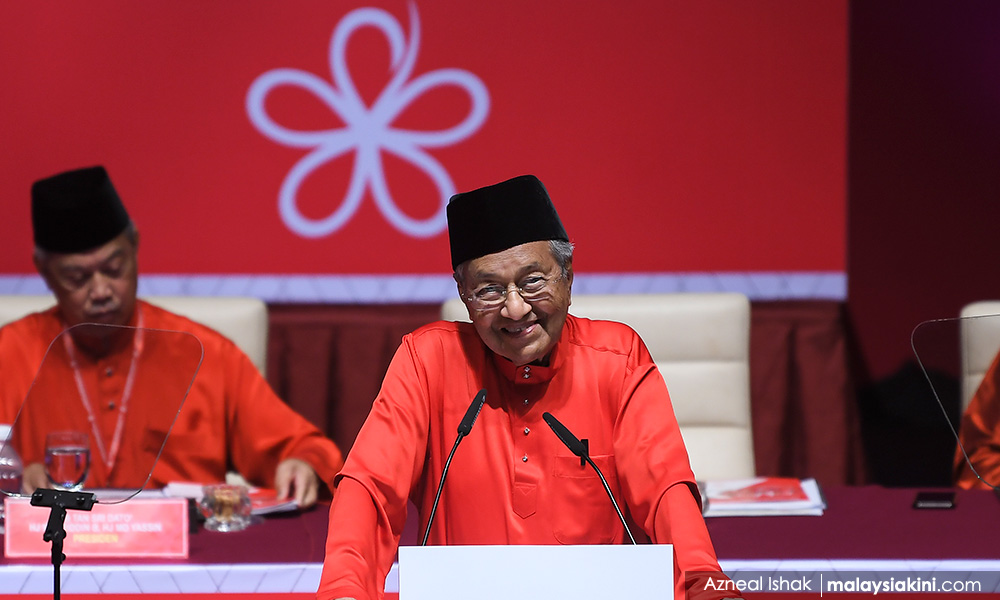 BERSATU AGM
| Prime Minister Dr Mahathir Mohamad has reiterated that he will fulfil the promise to hand over power to PKR president Anwar Ibrahim as agreed to by Pakatan Harapan.
Mahathir said this despite sources indicating that a
motion
was raised at Bersatu's second annual general assembly for him to stay as prime minister until the 15th general election.
"Various people have opinions... they have their own opinions.
"That is their opinion, but (we) must hold on to (our) promise," Mahathir told reporters at Putrajaya International Convention Centre today.
The Bersatu delegates' debate on Mahathir's policy speech was held behind closed doors.
When asked whether the delegates welcomed the motion to keep him in power, the Bersatu chairperson only smiled and said: "How would I know? But many of them stood up."
Mahathir is expected to further address the issue in his final winding-up speech later this afternoon.
Sources present during the debate had told Malaysiakini that the proposal to retain Mahathir as prime minister was raised by Kelantan delegate and Bachok division chief Zulkifli Zakaria.
Mahathir had previously stated that he would hand over power to Anwar within two years of Harapan forming the federal government. - Mkini