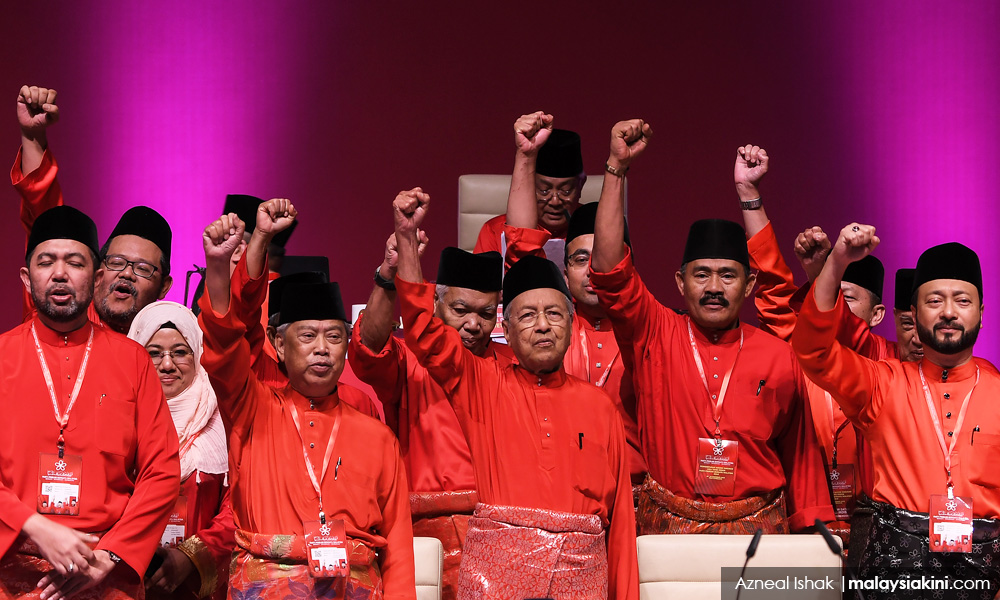 BERSATU AGM
| Dr Mahathir Mohamad today lauded the freedom of speech afforded to delegates at the Bersatu annual general assembly in Putrajaya.
Contrasting his party to Umno, the Bersatu chairperson said delegates were not given instructions to steer clear of any topics, and pointed out that party leaders also found themselves on the receiving end of criticism.
"The speakers were free to speak, not only were ministers and the supreme council members criticised, but so were the delegates themselves.
"This is the freedom we have... it is unlike the other party, where you get gifts and payments not to speak up," he said in an apparent reference to Umno.
In his winding-up speech on the last day of the Bersatu AGM, Mahathir said he hoped that everyone would take the criticisms in their stride.
"We believe that criticism is like a mirror, we need to look into a mirror to see whether we are beautiful or ugly."
Mahathir also noted that preventing delegates from touching on topics that displeased leaders was something that was practised in Umno.
At the AGM, delegates' debates were held behind closed doors, although the subsequent winding-up speeches were public.
Earlier, Bersatu Youth chief Syed Saddiq Abdul Rahman
criticised
delegates who demanded government contracts and positions during the debates.
Bersatu vice-president Ab Rashid Ab Rahman came to the delegates' defence, however, and said refusing to use government resources for the party was "
stupid
."
During Mahathir's speech, he also briefly teared up when recounting Bersatu and Pakatan Harapan's surprise win in the 14th general election.
"Even until the last minute, I was not confident that we would win, but praise be to Allah, we won," he said.
Mahathir noted calls for him to stay on as prime minister for a
full term
,
but
reiterated
that he must abide by his promise to only serve as an interim prime minister – a condition set by Bersatu's Harapan partners, who once saw Mahathir as their chief foe.
"I had to make the sacrifice, I needed to accept the condition because the priority at the time was not to become the prime minister, but to oust the then-prime minister Najib Abdul Razak.
"That was our struggle – we could not do anything else until we got rid of the kleptocrat," he said.
Mahathir was previously criticised for silencing and jailing his critics, many of whom later joined forces with him in a bid to oust Najib.
He said that there was a need to give and take, but stressed that Bersatu would not compromise on its identity as a Malay Muslim party.
"In the country, we (Malays) make up 60 percent of the population, but are split into three to four parties, with each becoming a minority and having to rely on others to win.
"That is not the fault of Umno or PAS, but our own. We are given the opportunity to improve ourselves, but we fight for power and weaken ourselves," he said. - Mkini