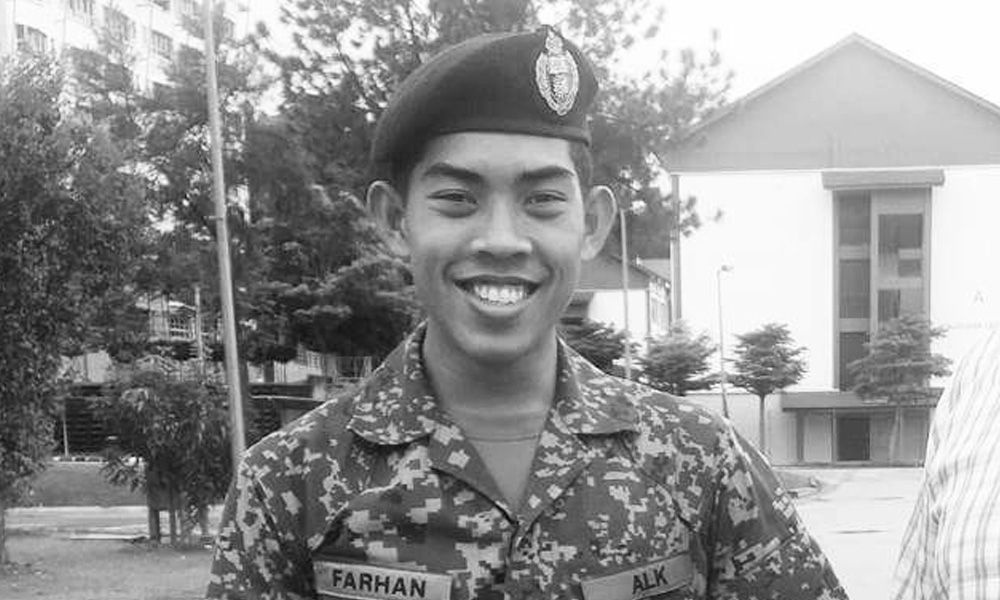 The Kuala Lumpur High Court has called 18 National Defence University of Malaysia (UPNM) students implicated in the murder of cadet officer Zulfarhan Osman Zulkarnain (above) to enter their defence.
Judge Azman Abdullah made this ruling after finding the prosecution has successfully proven a prima facie case at the end of their submission.
"After scrutinising and examining the witness statements to the maximum throughout the prosecution's case, the court is ordering the accused to enter defence," he said.
Another UPNM student Muhammad Akmal Akif Alias, who was charged with voluntarily causing hurt to the victim, was acquitted of all charges.
Six of those called to enter their defence were charged under Section 302 and 109 of the Penal Code for the murder and abetment of the murder of Zulfarhan at the UPNM dormitory between 4.45am and 5.45am on May 22, 2017.
They are Muhammad Akmal Zuhairi Azmal, Muhammad Azamuddin Mad Sofi, Muhammad Najib Mohd Razi, Muhammad Afif Najmudin Azahat, Mohamad Shobirin Sabri and Abdoul Hakeem Mohd Ali, who are all 23 years old.
Section 302 carries the mandatory death sentence upon conviction.
The remaining 12 accused, who are all also aged 23, were charged under Section 330 of the Penal Code read together with Section 34 of the same act.
Section 330 deals with those who voluntarily caused hurt to extort confession or to compel restoration of the property.
If convicted, they may be imprisoned for up to seven years and also liable for a fine.
A total of 29 witnesses were called by the prosecution during the hearing which started on Jan 29, 2018.
After the court's decision ordering the 18 students to enter their defence, Zulfarhan's father Zulkarnain Idros bowed in gratitude (sujud syukur) outside the courtroom.
The defence will start on Oct 2, 2019.
Zulfarhan died at the Serdang Hospital on June 1, 2017. He was believed to have been abused after being accused of stealing his friend's laptop.
He was reported to suffer burns on the chest, arms and legs after allegedly being tortured with a steam iron.
The prosecution was represented by deputy public prosecutor Julia Ibrahim while the accused were represented by Amer Hamzah Arshad, Ranjit Singh Dillon, AG Kalidas, Hazizah Kassim, Mohd Fadly Hashim, Zambri Idrus and Hazman Ahmad. - Mkini