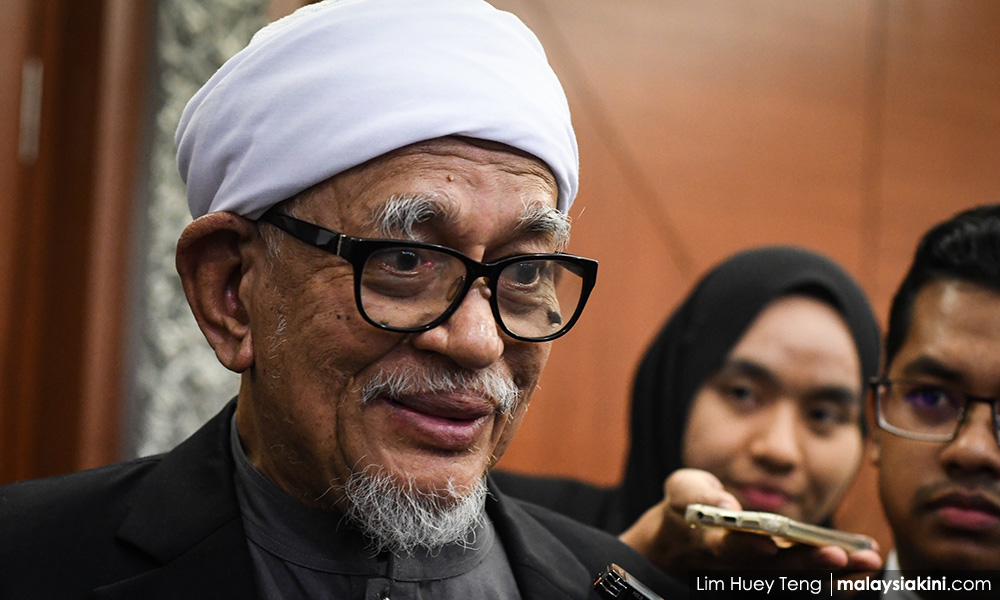 Replacing Dr Mahathir Mohamad as prime minister before the end of his term could plunge the nation into instability, warned PAS vice-president Mohd Amar Abdullah.
Explaining the Islamic party's support for Mahathir to complete his term, he said Pakatan Harapan requires a strong leader to steer a loose coalition.
"So we see Mahathir as the strongest, with his experience and attitude.
"In our view, he is the only one who can control (Harapan) and ensure the nation's stability," he told reporters in Kota Bharu, Kelantan, this afternoon.
Without mentioning names, Mohd Amar said if someone else replaces Mahathir before his term expired, it could prove to be a distaster.
"Others (Mahathir's replacement) may cause an unstable government.
"This will have an impact on politics and the nation's economy. This is our view. We are not merely supporting Mahathir, but looking at various aspects as well," he added.
Hadi: Cannot change PM like changing shoes
Yesterday, PAS president Abdul Hadi Awang employed a footwear analogy to explain the party's stand on this matter.
"If his (Mahathir's) term has not 'matured', how can you replace (the prime minister)? You can't replace him midway?
"The prime ministership is not like wearing shoes, where you can replace them. Let it be until the situation is stable.
"He (Mahathir) has experience and has been the longest-serving PM. So give him a chance, as long as he can carry out his duties," he was quoted as saying by Utusan Online.
Hadi had previously stated that PAS and Umno would work to keep Mahathir as prime minister for the full term.
He said Mahathir's Bersatu must be defended because other parties in Harapan do not have the "characteristics of Islamic leadership."
The statement came amid uncertainty if Mahathir would honour Harapan's consensus to pass the baton to PKR president Anwar Ibrahim before his term ended.
Mahathir initially stated this would be done within two years of taking office, but later revised this to three years.
Hadi's statement was welcomed by PKR deputy president and Economic Affairs Minister Azmin Ali. - Mkini