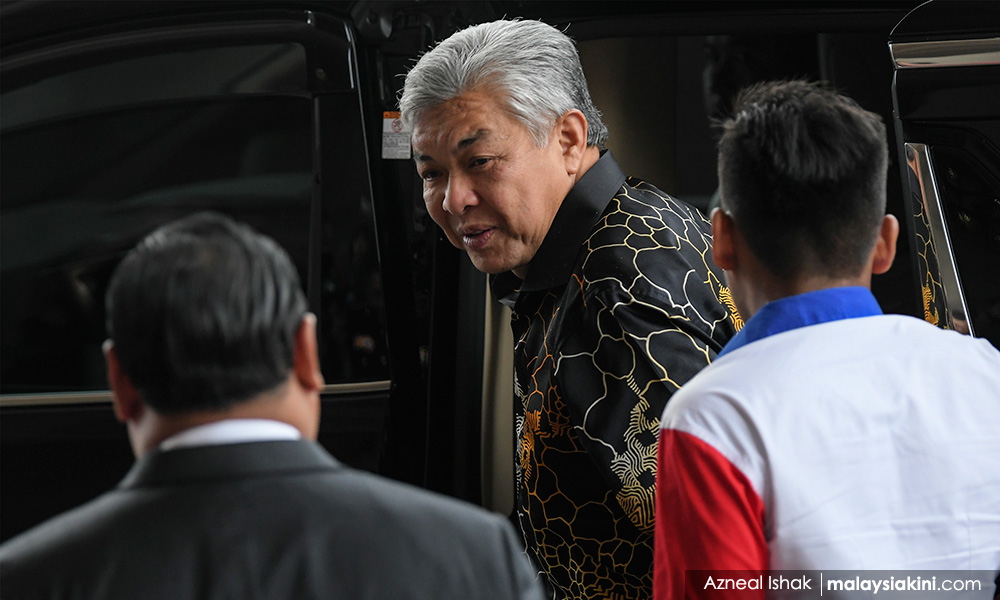 The Kuala Lumpur Sessions Court today decided that Umno president Ahmad Zahid Hamidi's corruption trial would be heard in the Shah Alam Sessions Court instead.
Sessions Court judge Azman Ahmad added that the decision in favour of Zahid's application is made without prejudice.
Azman noted in his ruling that most of the prosecution witnesses were in Shah Alam.
The decision was made after prosecution and defence lawyers filed
conflicting motions
regarding the transfer of Zahid's corruption charges to the Shah Alam Sessions Court.
Zahid was facing seven charges at the Kuala Lumpur Sessions Court for allegedly receiving bribes totalling S$4.24 million (RM12.74 million) from Ultra Kirana Sdn Bhd.
At the same time, he faces another 33 charges at the Shah Alam Sessions court for allegedly receiving RM42.7 million in bribes that are also linked to Ultra Kirana.
Last Friday however, prosecutors filed an application to transfer the 33 charges in Shah Alam to Kuala Lumpur instead.
Zahid's lawyers objected and said they had filed a similar notice on July 15 to transfer the seven cases in Kuala Lumpur to Shah Alam.
On June 26, Zahid had claimed trial at Kuala Lumpur Sessions Court to
seven charges
under Section 16(a)(B) of the MACC Act 2009 and Section 165 of the Penal Code.
If found guilty under Section 24(1) of the MACC Act 2009, he could be jailed up to 20 years, and fined not less than five times the value of the gratification involved in the offence, or RM10,000, whichever is higher.
The next day, Zahid appeared at the Shah Alam court to face charges for
33 more offences
allegedly committed during his tenure as deputy prime minister and home minister between October 2014 and July 2017.
In total, the Bagan Datuk MP currently faces a total of 87 charges – including for alleged criminal breach of trust involving his family-run foundation Yayasan Akal Budi, money laundering, as well as accepting bribes for various projects during his tenure in the Home Ministry.
His trial for CBT and corruption will start on Nov 18 at the Kuala Lumpur High Court. - Mkini