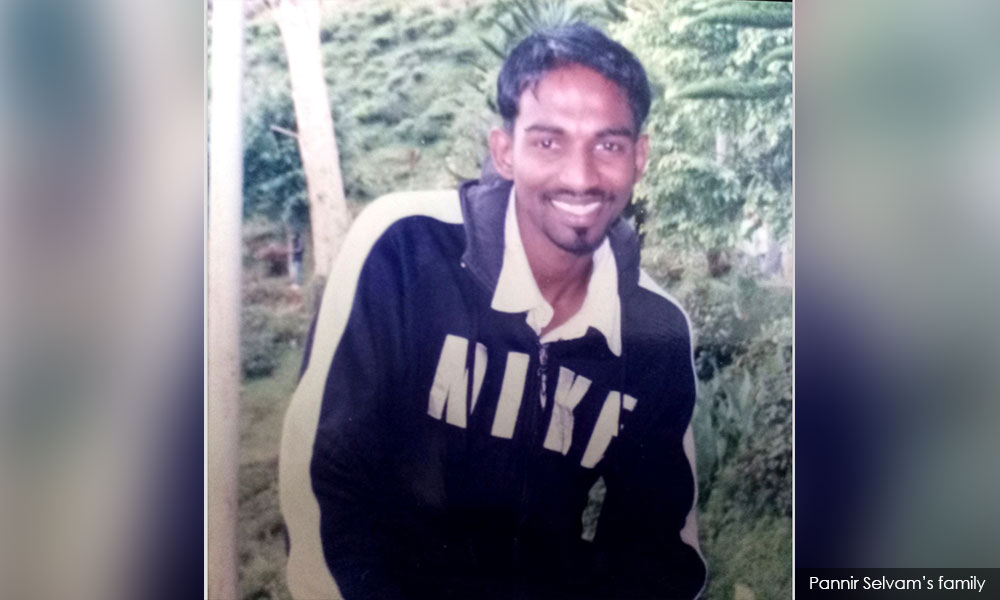 On July 31, 1987, the day I was born, a young parent aged 23 received me in her arms, filled with love and hope for the future.
As a normal lorry driver, who had to work day and night without batting an eye under the hot blazing sun and heavy rain with sleepless nights, my father has never failed to put the food on the table.
My mother is a housewife, but she is everything to us.
We were raised in a strong Christian household and attended every Sunday service without fail. Our growing years were blessed with love and support from the Christian community.
Growing up in a family of six siblings did sometimes result in disagreements breaking out, but we were all close and were there for each other.
What lay ahead?
'Vision 2020' is something that we cannot forget as it was taught to us from the very beginning of our primary school years.
When I was young, I used to think what life would be like in 2020. What kind of person would I be?
I was 9 or 10 years old back then, and I had the ambition of becoming a pilot. I was not sure why I wanted to be a pilot.
Fast forward 20 years later, I am 31 years old, and writing this letter as a condemned prisoner on death row in Singapore's Changi Prison for trafficking 51.48g of heroin.
On May 2, 2017, I was sentenced to death, and in February 2018 my appeal to reduce my sentence was dismissed.
On Nov 3, 2018, I was baptised in the prison by pastor Tan Boon Teck. I was given a new name in Christ – Paul Silas.
I felt blessed, and my heart blossomed with joy that came from God's salvation. I was still praying to God to help me to get the certificate of cooperation from the deputy public prosecutor, which will reduce my death sentence.
There is a practice in prison, if we want to write to the courts, the attorney-general or lawyers, that we will have to request for Form B, as well as state the reason why we want to write to any of these parties.
Then we wait a few days to get the approval from the OC or superintendent. Thus, the prison and its officers would be well aware that I want to write to the attorney-general and the courts.
But before I could do anything, on the morning of May 17, death and its emissaries came for me.
The knock of the prison officers on my cell door woke me up. Around seven officers stood in front of my cell.
Once I saw them, I knew why they were here. Whenever they want to execute someone they would gather together like this, as this has been their practice.
I stood up and walked to the door, and the superintendent informed me that my clemency petition has been rejected by the Singapore president, and they were going to take my life away next Friday, on May 24.
The other prison officers solemnly stood there and waited from my reaction.
At that moment, a lot was racing through my mind. All my hopes, passions, desires, faith and everything else died at that moment. I prayed to God, asking Him "is this how it all should end?"
I kept asking myself how I am going to overcome this. I had been strong for my family. But I don't know how I would prepare my family to go through this hard time with me, and after that, without me.
I have to bury my dreams and desire to help others because it is not in my hands anymore.
After that, I just focused on preparing my family, writing letters to all my siblings, and preparing myself for my court hearing. Every word that I wrote to my family felt so important and carried so much weight at that moment, and I have to choose carefully how I am going to put these down, but I could not find my words nor the will to do so.
The whole of Friday, I kept praying, preparing myself on how to speak to my family. I was sleepless that night. My heart has never felt so heavy and I could barely close my eyes.
The next day, my family was there to visit me. Their faces dull and eyes red from crying, I could tell that they were confused, scared, unsettled and disappointed.
I told myself to be strong for them. The first thing we did was pray for about 10 minutes. I led the prayer. We were all still in shock, the first two hours was very difficult and tough. We started to break the silence by expressing ourselves.
The visit on Sunday was much better. We composed ourselves and started sharing all our memories together. We laughed, we cried, we sang songs and praised God.
We shared biblical scriptures with each other, and at the same time we were planning the submission of my affidavit and planned to engage any lawyers that could help out.
As the following Monday was a public holiday, my family found it difficult to engage any lawyers to file my application. It was a long weekend and some lawyers we tried to engage were out of the country.
When I wanted to file my motion to the court on Tuesday, my family arranged for a commissioner of oaths to see me that afternoon.
Jeannette flew from Indonesia to Singapore that afternoon and came immediately to see me upon touchdown from the airport, as we had passed her details to the prison on Monday.
We faced a lot of trouble from Monday until Thursday. From document delays, room availability, photocopy issues, access to legal documents, to not letting my Malaysian lawyers see me, among the many other dramas that the Changi Prison management stirred up.
Ever since I got news of my execution, I was physically and mentally distraught. For the first four days after, I lost my appetite to eat and was sleeping less than three hours each night.
Sadly, we did not manage to find any lawyers, so I had to represent myself at the Court of Appeal on Thursday.
On the night of Wednesday, May 22, 2019, I was writing until 3am to prepare myself to address the court.
My request to access my Malaysian lawyer N Surendran was denied by Changi Prison without a single valid reason. If I could have met him, he could at the very least just guide me on how I could have prepared myself.
The time I spent with my mum and dad was heart-breaking and sad. That moment I realised how I should have valued the time I had with them. It was really hard to put it in words what we exactly we felt.
At 2.30pm on May 23, 2019, with a heavy heart, I stepped into the Court of Appeal to represent myself.
On my way from the prison to the court, I was praying in the van. "God I only have you now, please listen to my prayer."
The moment I stepped into the court my legs were trembling. I have to do this now, or I will never get this chance again. I was not in the right frame of mind, so I steadied myself and braced for the worst.
God is great! The moment I was sitting at the dock, I saw two young lawyers coming in and walking towards me.
When I saw them, I had a sense of relief and knew that I had lawyers now to represent me.
Too Xing Ji talked to me, sought my approval for them to act as my lawyers. The burden in my heart was lifted.
Too and Lee Ji En appealed for me with their best effort. They were very humble and dedicated. They even risked their career to save my life, even though I am just a stranger.
There were around six to seven lawyers there that were trying to help me. They got together and made suggestions, and tried to find better grounds for me to appeal. What had happened that day was a miracle from God.
Around 4.05pm, the court ordered a rare stay of execution.
I am very grateful to the lawyers and the judges for that. The lawyers came to me and said that, "You are not going to be hanged tomorrow. We will come and see you."
I held his hand and said, "Thank you, I can't really express my gratitude to you."
That night I was still sleepless, wondering about the series of events that led me here.
On May 24, I am still alive. I did my prayers as usual, and the moment I opened our daily bread book, the first verse of I saw was 'God saved my life'.
After a series of efforts taken to obtain the certificate of cooperation from the public prosecutors, my request was still denied and refused.
This certificate will save my life from the gallows. I am humbly requesting to everyone who reads this to save my life and give me a second chance.
I don't know if I deserve to live, but I do know that I don't deserve to die, for everything and everyone around me, for the future, and for others that might be in the same predicament as I am in now.
---
P PANNIR SELVAM is a Malaysian citizen on death row in Singapore. - Mkini