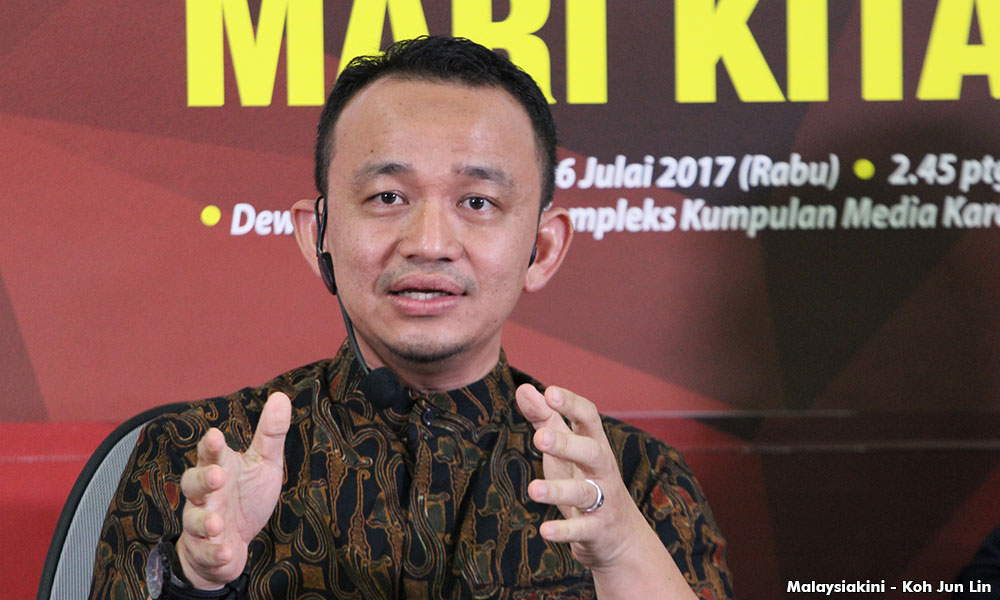 Pakatan Harapan would need a "women's tsunami" in order to win the 14th general election, according to International Islamic University Malaysia assistant professor Maszlee Malik.
He said that during the previous general elections, 52 percent of eligible voters were women, and 70 percent of them had voted for BN.
"So if Pakatan Harapan wants a tsunami, it is not only a 'Malay tsunami' that is called for but also 'women's tsunami'," he told a forum organised by Sinar Harianin Shah Alam today.
He said this voting bloc are often the ones looking after household affairs, and therefore are the most sensitive to increases in prices of groceries, fuel, and other necessities.
However, he said Harapan is not doing enough to woo female voters.
As an example, he said only 30 percent of Bersatu's members are women, and most of them are in its Puteri wing.
Meanwhile, another panellist, and Universiti Utara Malaysia professor Mohd Azizuddin Mohd Sani said youths are a key voting bloc too.
He said 70 percent of voters in the 14
th
general election will be below 40 years old, and BN is already engaging this bloc through its TN50 dialogue sessions.
In the meantime, Harapan is still new and trying to get the coalition in order, and its next steps are unclear, he noted.
Another panellist, Institute for Democracy and Economic Affairs (Ideas) CEO Wan Saiful Wan Jan, remarked that Parti Pribumi Bersatu Malaysia (Bersatu) is a "very interesting party".
He said out of Bersatu's nearly 200,000 members, 55 percent are below 35 years old. This means Bersatu is made predominantly of youths, and yet, its leadership is dominated by old men.
"Why a party of youths does not put forward the voice of youths and position them as future leaders? There are candidates if they are given the chance," he said.
Maszlee suggested that this is because Bersatu inherited Umno's culture of political patronage, and is positioning itself as a substitute for Umno.
He explained that the only way to sway Umno's core supporters is Umno's own formula of political patronage, or "tragedies" such as former deputy prime minister Anwar Ibrahim's 'black-eye incident' in 1998.
"This happened in 1990. (Umno splinter party) Semangat 46 had the same DNA (as Umno), and the result on the Malay electorate was beyond expectations.
"Between 1969 and 1990, there was a 'Malay tsunami' that allowed Semangat 46 to convert nearly 15 percent of the Malay electorate at the time […]
"We were a feudal society that had just changed. We have not matured yet. Whoever can use Umno's formula, they can convert Umno voters," he said.
Mohd Azizuddin concurred, saying that BN's emphasis on a personal approach to engaging voters had been crucial in ensuring their support.
He said BN politicians, particularly in rural areas, would regularly attend community events such as weddings and funerals of their constituents.
"They would even cry together (with the constituents) if someone passed away. The 'touching politics' is so intense that they find it difficult to cut ties with Umno, and this continues to this day," he said.
He said among Harapan component parties, only Bersatu is doing this – again owing to its Umno roots.
However, he warned that Bersatu is also dangerous to the coalition because its Bumiputra agenda and patronage is at odds with the multiculturism promoted by its partners.
"I think this might raise questions. What is their agenda in the future? Some Bersatu leaders and supporters told me that they want to topple (Prime Minister Najib Abdul Razak's) leadership and then rejoin Umno.
"Is this the type of politics promoted by Bersatu and Harapan? The connection (between them) is very loose," he said. - Mkini