The world's longest-ruling coalition and the longest bull market could be facing a pivotal moment. Malaysia is set to hold a general election by mid-2018 but there are whispers a vote could be called sooner, between the third quarter and fourth quarter of 2017, setting up a showdown between Prime Minister Najib Razak and his opponents.
Najib, 64, heads the Barisan Nasional coalition that has ruled since independence in 1957. Though he faced street protests and corruption scandals in 2015, he has arguably prevailed over one of the toughest periods in his four-decade political career, owing to a fractious opposition and support from vote-rich provinces.
Securing a stronger mandate in a new election—with 222 parliamentary seats at stake—could help him push reforms to move Malaysia closer to becoming a developed nation and improve its finances. For the opposition grouping, it is a chance to topple a regime they allege is graft-ridden and which they say is dividing citizens through racial and religious politics.
What to Watch
Investors will be keeping a close eye on any threats to stability in Malaysia—home to the world's longest-running bull market. The FTSE Bursa Malaysia KLCI Index has more than doubled from 2008 lows and hasn't fallen into a bear market since then.
"Absolutely we are cautious. Definitely there's a possibility that markets would weaken post-elections," says Geoffrey Ng of Fortress Capital Asset Management Sdn. He added that "overall the mood is still positive for the stock market," with "politicking" between the ruling coalition and opposition unlikely to interfere with the market's momentum.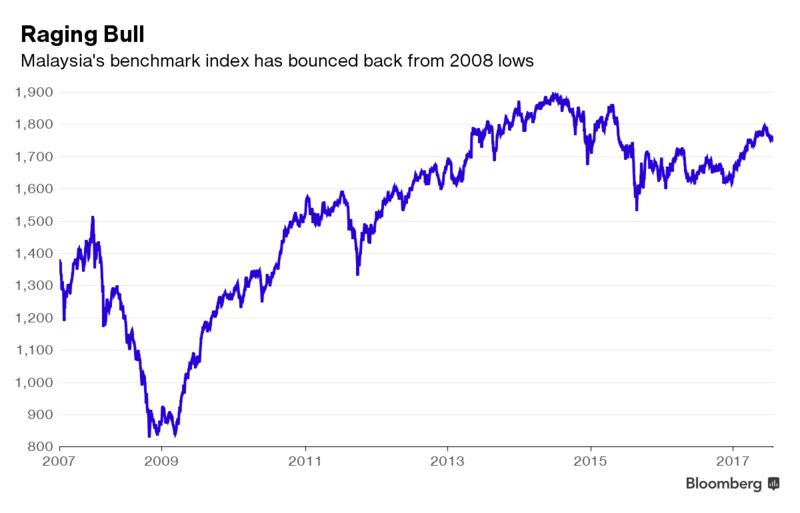 Voters, meanwhile, have been worried about rising costs. Inflation reached an eight-year high in March before easing in the months that followed, while consumer sentiment has languished below the level of optimism since mid-2014. Ordinary voters are worried that the dollar is not stretching as far as it used to, Trade Minister Mustapa Mohamed said in May, and there remains widespread unhappiness over a consumption tax implemented two years ago.
Besides attempts to address rising living costs, the government is focusing on tackling the issues of affordable housing and youth unemployment. For voters, ethnic and political discord trail far behind economic concerns, according to the Merdeka Center for Opinion Research.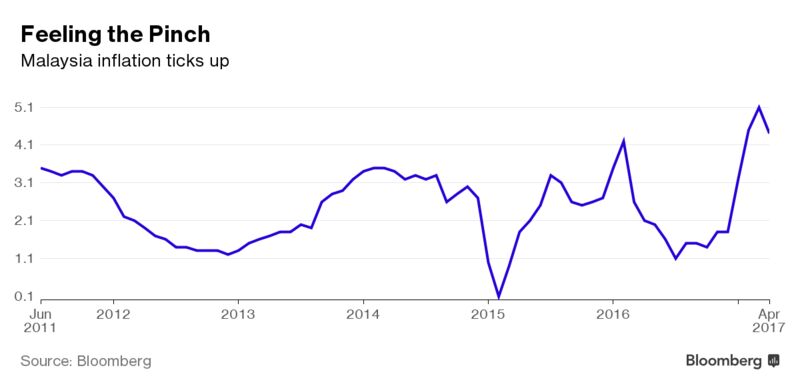 Battle lines will also be drawn across states. The opposition has struggled to make a serious dent in Barisan Nasional's rural support bases to which Najib has pledged billions of dollars for infrastructure. One such stronghold is Sarawak state, which the ruling party has dominated since 1963. Since he came to power in 2009, Najib has nurtured ties with the state, visiting Sarawak more times than his five predecessors combined.
Oil-rich Sabah and Sarawak states are considered a "fixed deposit" of votes for the coalition, delivering about a third of parliamentary seats for Barisan Nasional in the 2013 federal election. Najib could have lost power that year if not for these states. His party in 2013 also regained control of the poor, northwestern state of Kedah, which made headlines last year when the son of Najib's chief detractor, Mahathir Mohamad, was ousted as chief minister.
The opposition coalition, meanwhile, has controlled Malaysia's most populous state, Selangor, and the popular tourist hub of Penang since 2008. Selangor, where federal capital Kuala Lumpur is located, accounted for more than a quarter of the country's GDP in 2015 while Penang accounted for 6.6 percent.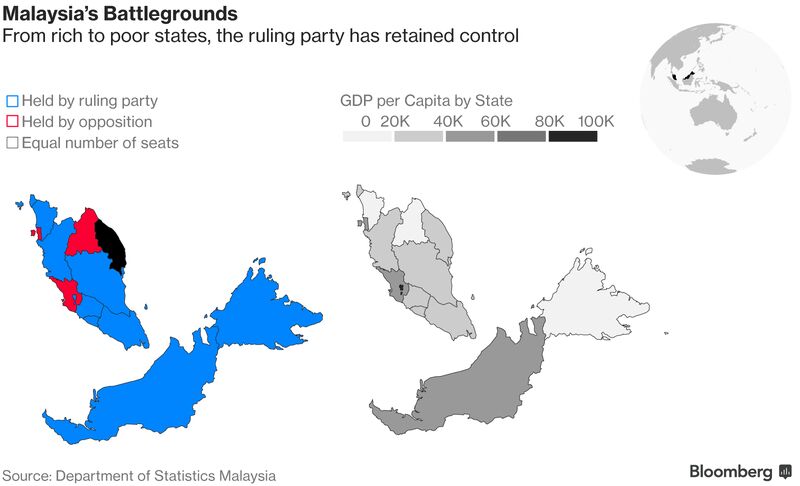 Still, the opposition—which has pushed for freedom of speech and checks on abuses of power—has struggled in recent years in Selangor amid disagreements on governance, putting it at risk of losing its hold on the state in the next election.
One of the opposition parties, the Pan-Malaysian Islamic Party, wrested Kelantan state from Barisan Nasional's grip in 1990. It introduced Islamic principles and banned nightclubs and snooker parlors after winning control.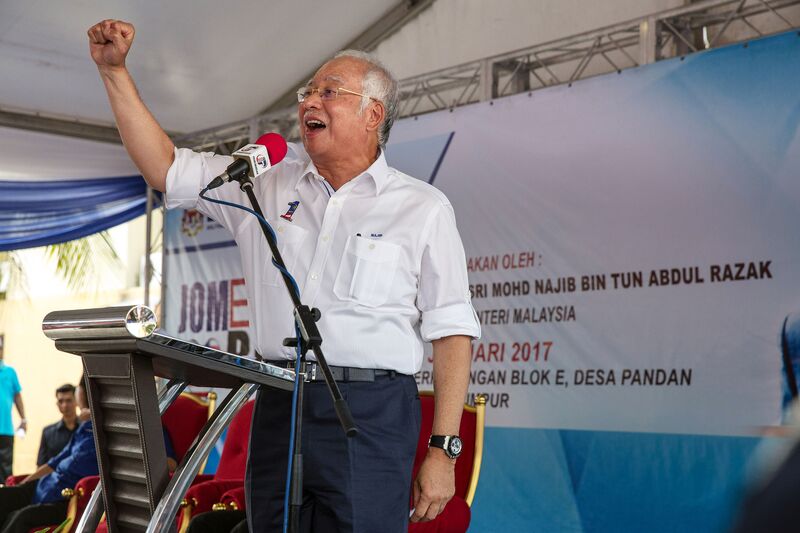 Prime Minister Najib Razak.
He was appointed in 2009 after his predecessor stepped down and then won an election in 2013. He is president of the United Malays National Organization, one of the 13 parties forming Barisan Nasional. UMNO deployed populist policies years before Europe and the U.S. caught on, including spending billions annually on cash handouts and other aid for lower-income Malaysians. He has largely weathered a scandal over billions of dollars allegedly stolen from
1MDB, the state investment fund
he set up in 2009 and which is now the subject of a number of foreign probes from the U.S. to Switzerland. Najib has denied wrongdoing.
Deputy Prime Minister Ahmad Zahid Hamidi. He was appointed when Najib dumped former deputy Muhyiddin Yassin in July 2015 for undermining him during the 1MDB scandal. Zahid, 64, also controls the powerful Ministry of Home Affairs and was a defense minister. He is UMNO's acting deputy president.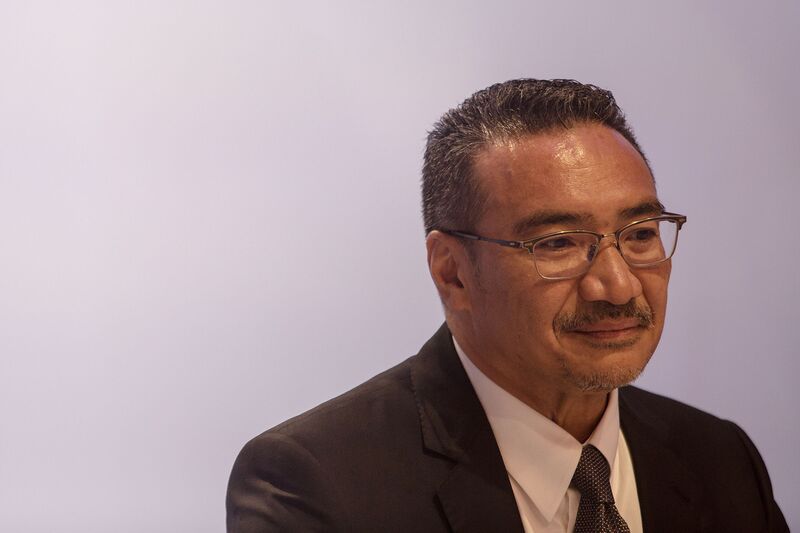 Hishammuddin Hussein. Najib's cousin, the son of a former prime minister, was thrust into the spotlight when Malaysia Airlines Flight 370 disappeared during his tenure as transport minister. The 55-year-old is now defense minister and was recently appointed Minister with Special Functions, whose duties have yet to be defined.
Khairy Jamaluddin. The youngest minister in Najib's Cabinet, at 41, is spearheading a national transformation program, with a roadmap up to 2050. The son-in-law of a former prime minister, Khairy also heads UMNO's youth division, a position seen as a path to becoming party leader in the future. He is among Malaysia's most popular politicians on social media.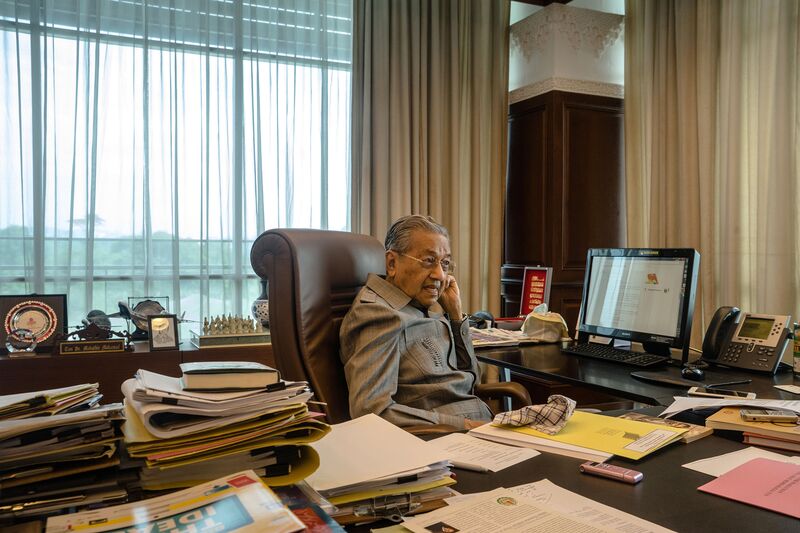 Mahathir Mohamad. The 92-year-old opposition party leader and one-time mentor of Najib has been on a campaign to topple the premier for more than two years. Mahathir, once so dominant in Malaysian politics that he was referred to as "Dr. M," has struggled to gain traction for his new party, Bersatu, which is trying to win over UMNO's base of ethnic Malays.
Anwar Ibrahim.
Jailed in 2014 for sodomy, Anwar Ibrahim, 69, continues to wield influence on his People's Justice Party from behind bars. His imprisonment hastened the implosion of the opposition coalition which he had almost single-handedly held together for years despite policy differences. His supporters are still pushing for Anwar to be prime minister should the opposition win the election and if they again seek to overturn his conviction. He
has allied with sworn enemy Mahathir
, who first put him in prison almost two decades ago, in a bid to oust Najib.
BLOOMBERG