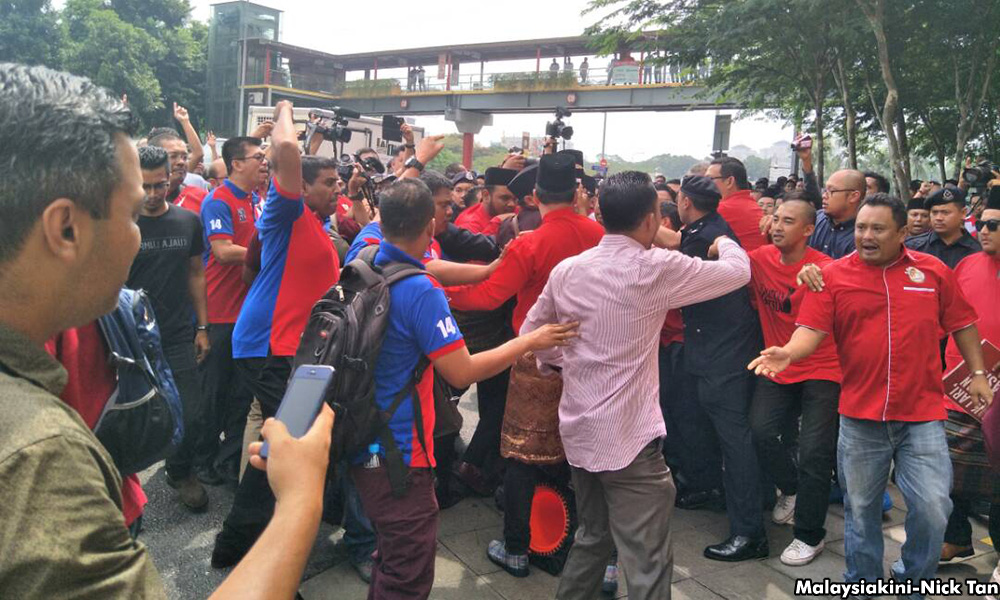 Tempers flared when some 100 Umno Youth members confronted a Parti Pribumi Bersatu Malaysia (Bersatu) Youth wing delegation at the Putra World Trade Centre (PWTC) in Kuala Lumpur this afternoon.
The Bersatu Youth delegation wanted to submit an invitation to Prime Minister Najib Abdul Razak to attend the "Nothing to Hide 2.0" forum to debate with their chairperson Dr Mahathir Mohamad.
However, the Umno Youth members prevented the Bersatu Youth delegation comprising some 30 members from entering the iconic building, which is also the Umno headquarters.
This resulted in the two groups shoving each other and trading insults.
Bersatu Youth exco member Ashraf Mustaqim Badrul Munir alleged that he was punched during the incident.
Umno Youth are 'real men'
The police ordered both groups to disperse at about 4pm, resulting in Umno Youth members returning to PWTC while Bersatu Youth members left for the Dang Wangi district police headquarters to lodge a report.
Umno Youth exco Armand Azha Hanifah later praised his members and labelled as "real men" who had successfully defended the party's headquarters.
"I am proud, I am so happy to see the determination of Umno Youths.
"We have clearly shown earlier, (they) could not even cross the road. They did not even dare to take one step forward. Today we have shown who are the real men.
"Just with our spirit, they have backed down. We have yet to even beat the 'battle drums'. If we did, hundred of thousands (more) Umno Youth members will rise to defend the dignity of our religion," he charged.
In an immediate reaction, Bersatu youth chief Syed Saddiq Syed Abdul Rahman told reporters that the reaction by Umno Youth has only exposed the party's fear to fight with facts during the planned debate.
"The culture of thuggery is inseparable from Umno... That is why I believe they are so afraid to respond with facts, they are so afraid to debate.
"They will always respond with 'punches' and verbal trades, but not with facts that could allow the rakyat to evaluate who is right and who is wrong," he told reporters when met after a Pakatan Harapan Youth press conference at Parti Amanah Negara's headquarters in Kuala Lumpur.
Dang Wangi police chief Mohd Sukri Kaman in a statement later confirmed the face off but said the situation was under control after about 15 minutes.
"The police is still investigating the incident," said Shukri, adding that no notice for any gathering was received under the Peaceful Assembly Act 2012. -Mkini