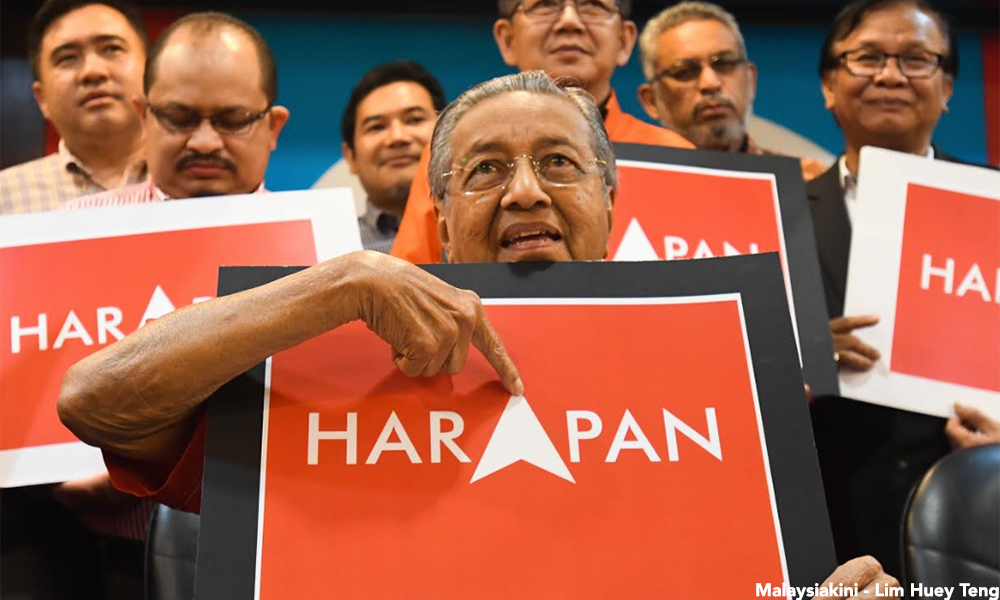 The Registrar of Societies (ROS) has instructed Pakatan Harapan to amend its logo, said the coalition's chairperson Dr Mahathir Mohamad.
He told this to reporters after submitting an application to register the coalition with the ROS headquarters in Putrajaya this morning.
"They (the ROS) raised some issues about the logo and the symbol.
"They said the logo was not suitable because it did not give the full name of the coalition.
"They want us to use the full 'Pakatan Harapan', as currently it's just 'Harapan'," he said.
He added that Harapan will re-submit the application with the necessary amendments in two days.
Mahathir said they would have little problem in resubmitting their forms with the revised logo.
"We already have an idea (what do do). When we first applied online we had already received some indication of the problem and we have already thought about it and have ideas," he said.
He added changing design elements of the logo were not a problem, but both words of the name had to be present.
The opposition front has had a series of hurdles before arriving at its final logo, unveiled this month.
Former law minister Zaid Ibrahim on Wednesday speculated Harapan would encounter difficulties getting itself registered, based on his failed attempt at doing the same for the former coalition Pakatan Rakyat.
Meanwhile speaking about Harapan's office holders, Mahathir said at this point ROS has not required the information.
"We do not need to fill in the posts (in the application).
"ROS has no objections (concerning this), and we hope they will approve the application," he said. - Mkini