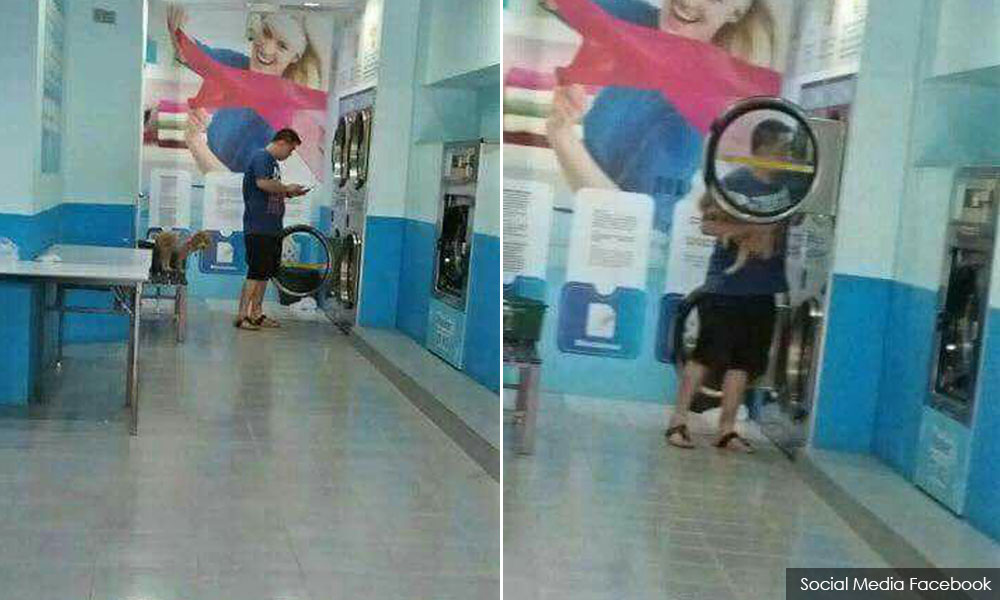 Ikatan Muslimin Malaysia (Isma) has published photographs of a man with a dog in a laundrette, which the movement claims, is among the concerns of Muslims with regard to the cleanliness of such establishments.
The movement's website Ismaweb said the photographs were furnished by a netizen in light of the controversy over a laundrette which catered exclusively for Muslims in Johor.
"The photographs show a man bringing his pet dog into a laundrette. He is seen cradling the dog as he placed clothes in the washing machine.
"As he waited for the clothes to be washed, the man put the dog on a chair," read the article.
A dog's saliva and its wet fur are considered ritually unclean in Islam, and items that come in contact with either must be ritually cleaned.
Ismaweb said the netizen, who sent the photographs, argued that such actions necessitate the setting up of laundrettes for Muslims.
"He also asked if the particular laundrette needs to be subjected to 'samak' (ritual cleaning) once the photographs become viral," it added.
However, there were no details as to where and when the photographs were taken.
The Muslims-only laundrette owner in Johor had apologised and opened his doors to customers of all faiths after being
rebuked
by the state's ruler Sultan Ibrahim Sultan Iskandar.
Malaysians have been divided over the issue, with some denouncing it as blatant discrimination, while others defending the laundrette's policy on the grounds of religion.
In a related development, The Star reported on the existence of another "Muslims only" laundrette operating in Perlis.
When the daily called a handphone number listed at the shop, a man answered that the exclusive service was for the "comfort" of Muslims and urged non-Muslims to use other laundrettes.
He also stressed that the issue should not be turned into a controversy.
However, The Star said Perlis Mufti Asri Zainal Abidin, a vocal critic against such establishments, said the state would not condone such segregation.
"I have received an instruction from Tuanku (the Raja Muda of Perlis) to investigate the matter and we will do it right away," he was quoted as saying.
The newspaper's online portal, The Star Online, later reported that the launderette owner had decided to extend his shop's services to non-Muslims, following a visit by Asri and the Raja Muda of Perlis, Tuanku Syed Faizuddin Putra Jamalullail, to the shop, on Thursday night.
Asri told the portal via a WhatsApp message that the owner agreed to cover the Muslims only" signage after "family-like" discussions and explanation.- Mkini