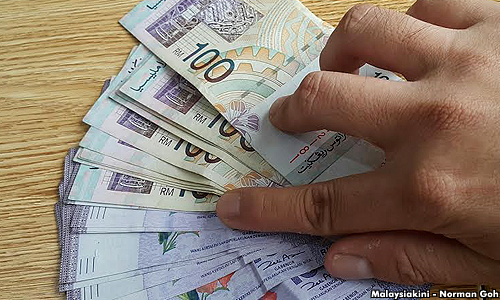 The recent reports on the economic well-being of Malaysia, trumpeted by the ruling coalition BN, are nothing more than cosmetic affairs. Substantial change is negligible.
The 5.7 percent GDP growth in the first half of this year and the 23rd position in the World Economic Forum's (WEF) Global Competitiveness Report 2017-2018 are quoted as evidence of the country's progress.
These reports by themselves do not represent reality. Worse, they are being exploited to manipulate our actual experience, to convince us that all is well while persistent problems swell.
To get a better grasp of reality, these reports must be read alongside others. One may begin with the rising cost of living.
The average inflation rate for the first six months of 2017 is 4.1 percent. Compared to the same period last year (2.6 percent), this is an increase of 58 percent.
The estimated inflation rate will be between three to four percent for this year, which is high among our neighbours: Singapore (1.1 percent), Brunei (-0.1 percent), and Thailand (1.4 percent).
Hence, inflation is referred to as the fourth most problematic factor for doing business in Malaysia by the World Economic Forum's Global Competitiveness Report.
The devaluation of the ringgit is worrying. On 13 January 2014, the exchange rate of US$1 was RM3.26. The same day this year, it was RM4.46. Within a year, the value of our currency, in relation to the US dollar, was reduced by 37 percent.
Following that, the trajectory of our gross national income per capita, that reflects the average income per Malaysian, is badly affected.
The Economic Planning Unit's "The Malaysian Economy in Figures 2017" report states that the Malaysian average income of US$10,644 in 2014 was reduced to US$9,242 (2015), then to US$9,102 (2016), and at US$8,906 this year.
That means, if we exclude salary increments, we are on average paid 16 percent lesser now for the same amount of work we did three years ago!
Salary increments must be no lesser than 16 percent over four years to at least be stagnant. If inflation is accounted for, we need more than that.
GDP growth and competitive rank, by themselves, cannot be measures of economic and social wellbeing. Things are not cheaper. Rather, it has become more expensive to live in Malaysia.
A recent poll conducted by Watan, a youth voter registration NGO, and Merdeka Center on youths aged between 21 to 30 corresponds to these data. More than half of those surveyed, that is 56 percent, remarked that their financial situation had worsened, and 86 percent deemed that the average wage was low.
GDP growth and competitive rank have not been shown to benefit the average Malaysian. There is clearly a huge gap in the system. The present government has failed to translate productivity growth and competitive edge to the people's advantage.
Increased production and reduced red tape for foreign investors are not indicators of the public's increased disposable income and consumption. GDP growth and competitiveness, by themselves, are irrelevant to the locals' standard of living.
Sadly, the ruling government seems contented with mere cosmetic actions, exhibiting neither innovative nor serious efforts to fix the systemic gap.- Mkini