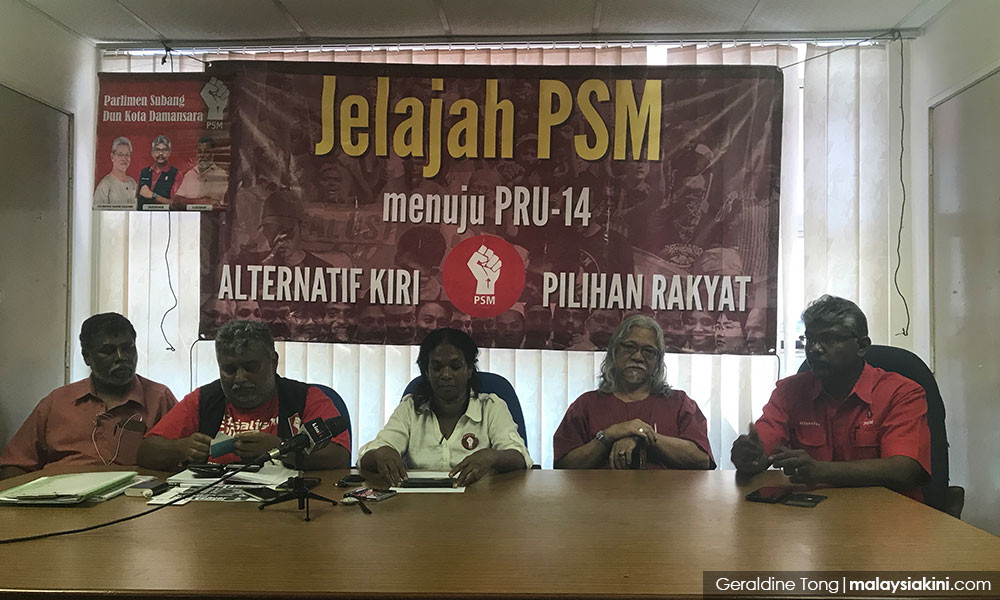 Parti Sosialis Malaysia (PSM) is set on a collision course with Pakatan Harapan over three parliamentary seats in Selangor – Subang, Hulu Selangor and Hulu Langat – in the upcoming 14th general election (14GE).
However, PSM central committee member S Arutchelvam said they would encourage people to vote for Harapan in all other seats.
"PSM stood (in Subang) before (current Subang MP) R Sivarasa. So we are just taking back our seats.
"We are only standing in three percent of the seats.
"In the remaining 97 percent of seats, we do urge the rakyat to vote for Pakatan Harapan candidates, unless the candidate is problematic," Arutchelvam said in a press conference at PSM's Kota Damansara service centre today.
The socialist party will also contest in four state seats in Selangor - Kota Damansara, Semenyih, Port Klang and Sri Muda, he said.
It is also considering allowing two individuals, who are not from PSM, to contest in the Paya Jaras and Bukit Lanjan state seats under the PSM banner, he added.
However, he said, they would only announce the candidates at a later date.
Wherever PSM has decided to place a candidate, Arutchelvam said, it is because the party believes it has a better candidate.
In Subang specifically, he pointed out, PSM has been working in the area for a very long time.
"PSM has done a lot more work and a lot of people are quite disappointed with what is happening in Harapan and also in Subang.
"For us, we will stand back in the seat we used to stand in before, and we think we have a better candidate. We think the best candidate should be allowed to stand," Arutchelvam said.
PSM central committee member V Selvam said the party's chairperson, Dr Mohd Nasir Hashim, had intended to contest the Subang seat in 1999.
But when PKR fielded their own candidate in Subang then, Nasir withdrew his candidacy on nomination day, out of "goodwill and solidarity", he said.
'We were betrayed at Kota Damansara'
"Maybe Sivarasa can do the same thing, withdraw and let us go (contest for Subang parliamentary seat).
"Because, in the last election, we were betrayed at Kota Damansara. So for them to clear their sins, one way is to allow PSM to contest (in Subang)," Arutchelvam quipped.
Nasir won the Kota Damansara state seat in 2008. He lost the seat in 2013, while contesting under PKR's banner, but was suddenly confronted with an opponent from PAS, who was PKR's partner in Pakatan Rakyat at that time.
Arutchelvam believes that this multi-cornered fight in Kota Damansara then caused the votes to split, ultimately handing Kota Damansara to the BN candidate.
He also concurred with PKR vice-president Rafizi Ramli, who had said that politicians should not be appointed to government-linked companies (GLCs).
While this does not apply to Sivarasa alone, Arutchelvam pointed out that the current Subang MP holds positions in GLCs in Selangor.
"I would propose that maybe Sivarasa can sit in GLCs, but let us do the political work on the ground," he said.
Meanwhile, PSM secretary-general A Sivarajan said that they are not out to undermine other politicians, but they merely handle issues differently.
"It is not to say that this politician did not solve issues, so we can solve them.
"It is just different ways of doing it," Sivarajan said.- Mkini