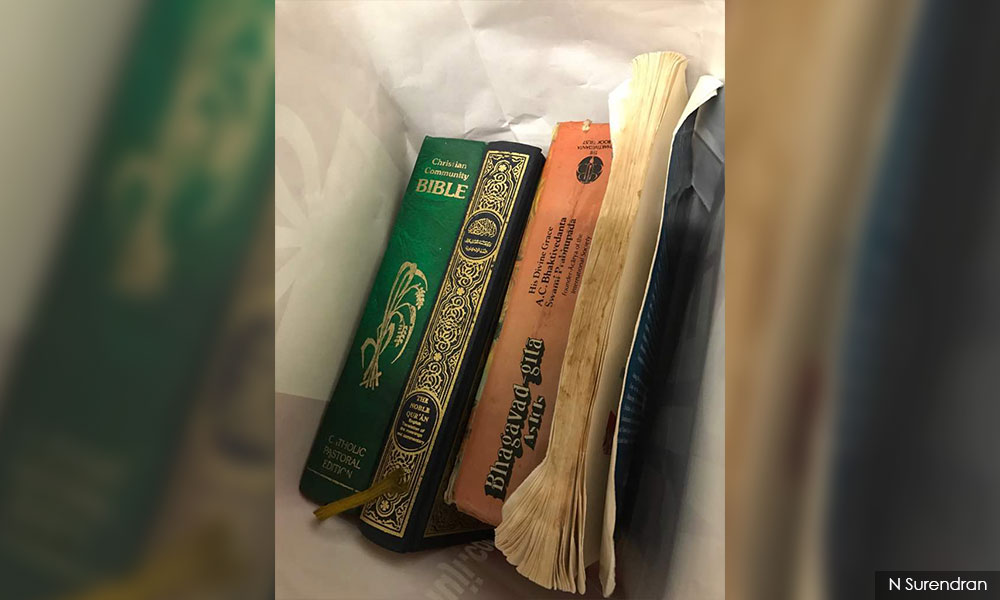 Following the surprise move to withdraw his appeal this morning, PKR vice-president Tian Chua will have to spend the next month in Kajang Prison.
According to his lawyer N Surendran, the Batu MP would pore over religious books as well as learn Sanskrit and Latin during this period.
A photograph provided by the lawyer showed four books – the Quran, Bible, Bhagavad Gita and another, the title of which was not visible.
Surendran said Tian Chua is particularly interested in learning the primary liturgical language of Hinduism through the Bhagavad Gita.
"Tian Chua said he would take these books and read all of them when he is in prison. However, he did not say much beyond that, particularly why he chose these books.
"He told me of his plan to learn languages, including Latin and Sanskrit," Surendran added.
He also said Tian Chua did not appear perturbed of the prospect of spending the four weeks behind bars.
"He looked cheerful, he was chatting with us about all sorts of things while waiting for the prison van to arrive," he said.
Surendran, who is also from PKR and the MP for Padang Serai, disclosed that Tian Chua also pledged to execute his duties as an elected lawmaker, even from prison.
"He said that he would be observing the next Parliament session (which commences on Oct 23) and would give instructions on issues in his constituency," he said.
"He may miss the 2018 Budget tabling on Oct 27, but Tian Chua will be able to attend the sitting (which is slated to end on Nov 30)," he said.
Surendran said Tian Chua would also attempt to submit parliamentary questions to the August House from prison.
In April 2012, Chua was convicted by the Sessions Court under the Protected Areas and Places Act 1959 for refusing an order to leave the Pulapol complex on Jalan Semarak on April 29, 2012, a day after being arrested during the Bersih 3 rally in Kuala Lumpur.
He was sentenced to a one-month jail term and fined RM1,000. He paid the fine, but his appeal to the High Court was dismissed in November last year.
After withdrawing his appeal at the Court of Appeal this morning and discharging his counsel, Tian Chua delivered a strongly-worded
speech
in court, in which he called the charge an "absurdity."- Mkini