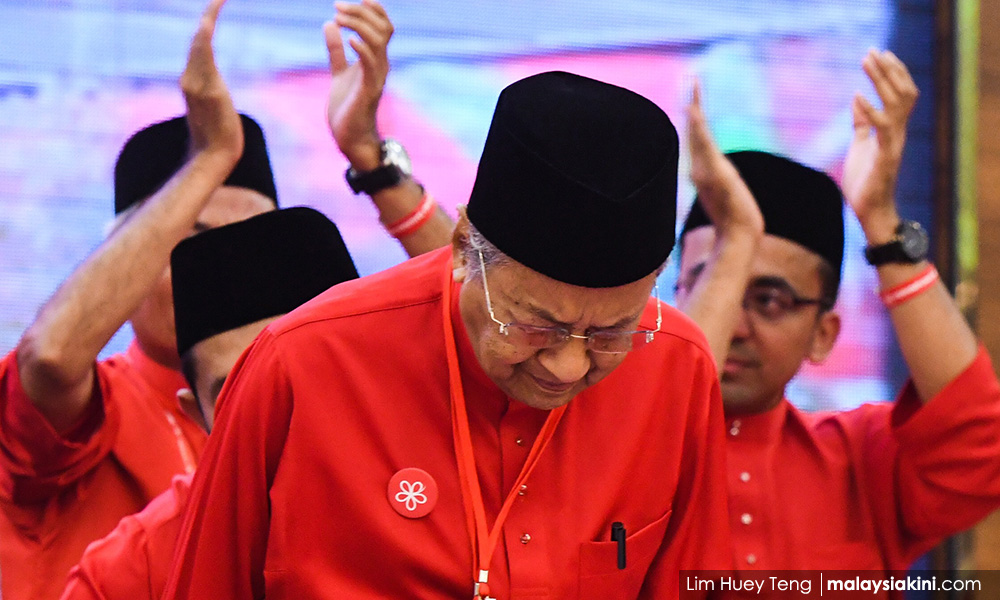 Hours after issuing an
apology
for the mistakes he made throughout his political career, Bersatu chairperson Dr Mahathir Mohamad said his apology was merely part of Malay custom.
"I am a Malay. The is Malay custom to apologise often because we don't know where we might have done wrong. That's customary, and as a Malay we should be humble.
"After we speak or done something, we apologise because there is the possibility that what we did is wrong in somebody's opinion. That is all," he told reporters today when asked why he decided to make an apology.
He was speaking at a press conference in Shah Alam today after concluding Bersatu's first annual general meeting.
During his opening speech this morning, Mahathir expressed an apology for any mistakes he may have made in his speech and throughout his political career.
"I, like any other human being, can't be alone in making mistakes not just today, but throughout my involvement in politics.
"I apologise for any mistakes I had made all this while," he had said.
However, Mahathir did not point to any particular incident that he was apologising for. Several civil society groups and politicians had been demanding Mahathir to apologise for the authoritarian rule during his 22-year premiership.
These include the Memali Incident in 1985, Operasi Lalang in 1987, the 1988 judicial crisis, the for sacking his then protégé Anwar Ibrahim.
When asked immediately after his speech when whether the apology also applied to Anwar, Mahathir merely said told reporters, "You can translate it to anything you want."
Meanwhile at the press conference after today's meeting had concluded, the former prime minister was asked if today's apology was meant to placate those who had been demanding him to apologise.
He replied: "As I have said, it is our custom to apologise for whatever wrongdoings people say I have been doing.
"Whether I admit I have done wrong or not is a different matter. What is important is you must always be humble, and when you talk, you apologise should you hurt the feelings of anybody."

- Mkini