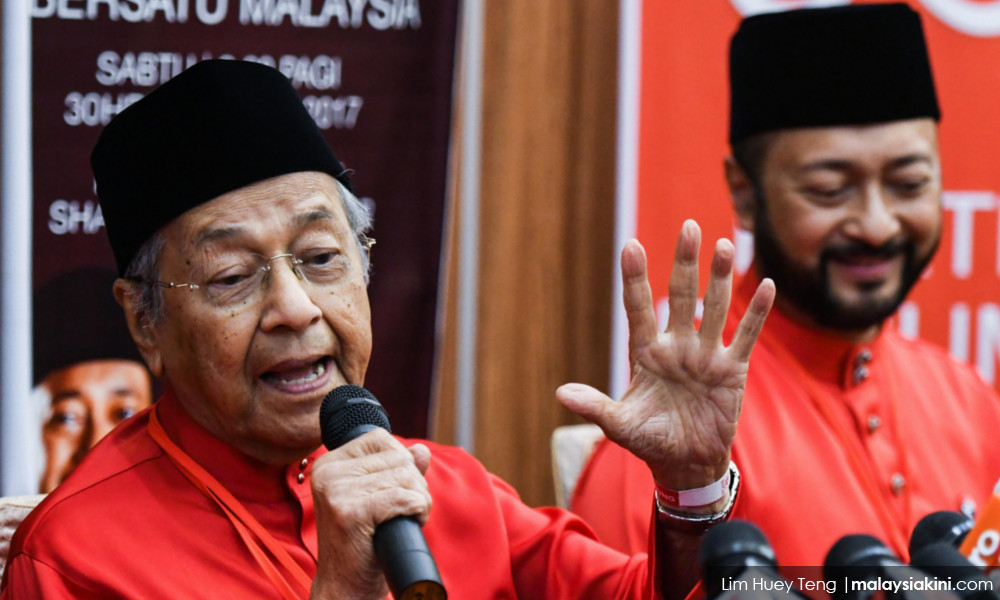 Bersatu's strategists are considering its party president Dr Mahathir Mohamad's former constituency of Kubang Pasu as a possible place where the former premier could make a comeback as a parliamentarian.
Mahathir said he had been told that Kubang Pasu is where he stands a good chance of winning the upcoming general election, along with Langkawi and Putrajaya.
He said this when asked at press conference in Shah Alam today whether he would contest in the election, since his party is lobbying to place him as interim prime minister if Pakatan Harapan wins the election.
He replied, "Yes. It's a very major question. I may contest in three different constituencies.
"They are telling me that I have a good chance of winning in Langkawi, Kubang Pasu, and Putrajaya. So be ready for that," he said.
Mahathir was Kubang Pasu MP since the constituency was created in 1974, and served until 2004. He was also Kota Star Selatan MP from 1964 to 1969, but the constituency had been dissolved in the 1974 redelineation exercise.
Mahathir, who had already served 22 years as prime minister, had previously indicated that he is
willing
to take the post for a second time "if people are desperate and cannot find anybody else (for the post)".
Meanwhile, Bersatu vice president Mukhriz Mahathir said his father, Mahathir, is seen as the best person to take up the post.
He said a person of vast experience is needed to tackle the various problems that Malaysia faces, such as corruption, poor national image, poor exchange rate of the Ringgit, high national debts, and weakened institutions.
"To resolve the problems that I have listed, the country needs someone who is experienced and has an excellent track record of resolving serious crises, who is sincere in fighting for the people and not for personal interests.
"Bersatu does not want the prime minister post for glamour or for fun, but Bersatu demands the prime minister post because our chairperson Mahathir is seen as the most qualified, the most experienced, in extracted Malaysia from the troubles it faces," he said in wrapping up the meeting.
He said that while the people would certainly like Harapan's manifesto, they would also like to know who would be in charge of implementing it.
"And everywhere, the rakyat wants Tun Dr Mahathir Mohamad," he said, to riotous applause from the delegates.

-Mkini