News reports that Chinese school (SJKC) pupils are not keen to learn Bahasa Malaysia has sparked controversy and Chinese education groups held a press conference this morning to clarify the matter.
They also made a police report based on this issue.
According to them, the news articles had misled the readers, with some of them criticising the Chinese for not being patriotic and they even called for the closing down of Chinese vernacular schools.
The article titled "SJKC pupils not keen to learn BM" was published in New Straits Times on Jan 18, while the group's Malay edition, Berita Harian, published on the same day the report titled "Murid SJKC tak minat subjek Bahasa Melayu?"
Malaysian Chinese Language Council (MCLC) chairperson Eddie Heng accused the NST reporter of misleading the public, by arbitrarily concluding "SJKC pupils not keen to learn BM", based merely on the narrative of two teachers.
The teachers were sharing difficulties met by SJKC students in learning the Malay language, he said.
Heng also questioned the authenticity of the two news articles, as the students interviewed had the same names as the key characters in the "Romance of the Three Kingdoms", which are Guan Yu and Zhang Fei.
'No response from the media'
According to Heng, the council had written to the media for clarification, but received no response.
The council then made a police report at the Sentul District police station on Jan 21 and requested the police to investigate the issue under the Sedition Act.
However, Heng clarified that they had no intention to press charges against the reporters involved but to remind the related media to be aware of the seriousness of the issue and to correct the earlier articles.
"(The power of) prosecution lies in the hands of the police, not us. We are not pressing charges for prosecution. We just want awareness of the party to take note of the seriousness of the damage done and to make a publication to correct the earlier articles. This is our whole objective.
"Unless (the police) investigation shows that there are some ultimate motives in sensationalising the issue, to create public disorder and so on, that we leave it to the police," Heng added.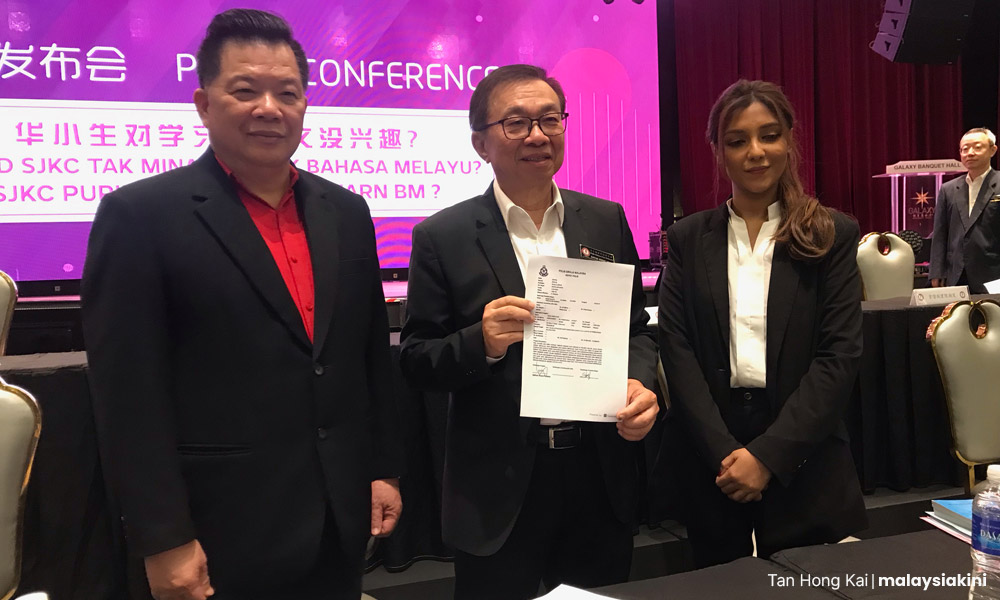 The legal advisor of the MCLC, Uma Gunaseelan, said both the news articles are considered seditious, going by Section 3(1)(e) of the Sedition Act, which is an offence under both Section 4 of the Sedition Act and Section 124I of the Penal Code.
According to Uma, the police investigation is ongoing, and an update is expected to be given by this week.
Heng said that Chinese education groups and SJKC teachers had worked hard to improve their students' command of the Malay language, including organising after-school tuition and activities to encourage students to speak in Malay.
He noted that these efforts had paid off as the average passing mark of SJKC students in the Malay language subject for SPM had exceeded 90 percent in recent years.
In recent years, Heng added, the council with the Ministry of Education and Dewan Bahasa dan Pustaka had also promoted courses for SJKC teachers in order to enhance their skills in teaching the Malay language. - Mkini