A group of labourers hailing from Cameron Highlands has sent a memorandum to Prime Minister Anwar Ibrahim to include its long-standing housing problem in Budget 2023.
The workers, consisting of those living in poverty, gathered near the Prime Minister's Office in Putrajaya this morning where they were represented by PSM to hand in the memorandum.
There were at least 40 people present, including young families and senior citizens.
According to the group, a People's Housing Project (PPR) near Jalan Ringlet in Cameron Highlands had been in a state of limbo since 2017 as the finances for its construction had yet to be approved.
"In Cameron Highlands, there are only two PPR compounds, one in Tanah Rata and the other in Brinchang. The last PPR flat was built in the 1970s, nearly 50 years ago," PSM secretary-general Sivarajan Arumugam said during a press conference.
He added that a new PPR construction had already been approved by the Local Government Development Ministry in 2019 but it required budget allocations from the Finance Ministry.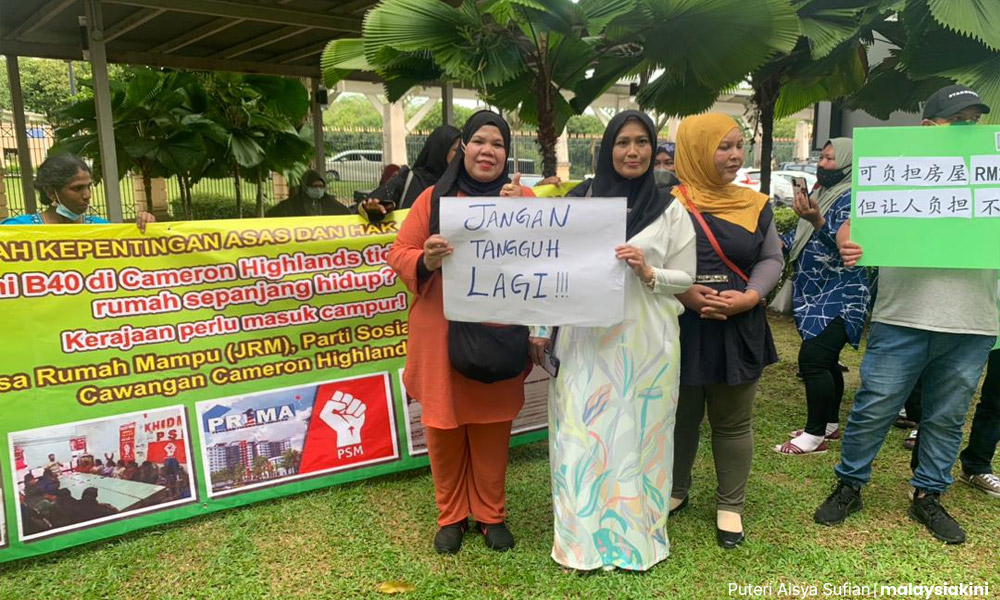 The group tried to request aid from the Finance Ministry to approve the construction, though it has yet to receive any formal response from the ministry since then.
"They came all the way from Cameron Highlands to Putrajaya to ask the prime minister, especially since he is also the finance minister, to add their demands in the coming budget," he said.
After their demonstration at the Prime Minister's Office, the group then sent an additional memorandum to Local Government Development Minister Nga Kor Ming.
However, a PSM member revealed on Twitter that the group was made to wait outside of the ministry's headquarters for more than an hour before Nga's political secretary Chiong Yoke Kong came out to receive the documents.
Chiong was also the former state assemblyperson for Tanah Rata.
'PR1MA is still too expensive'
Sivarajan recalled that in 2020, after the labourers had spent three years asking for the flats to be built, the Pahang government proposed that they should live in PR1MA homes.
The PR1MA Innovative Home Financing Scheme is a buyer-friendly initiative to allow young, lower and middle-income households to own homes at affordable rates without hefty loans.
This scheme only applies to houses developed by PR1MA.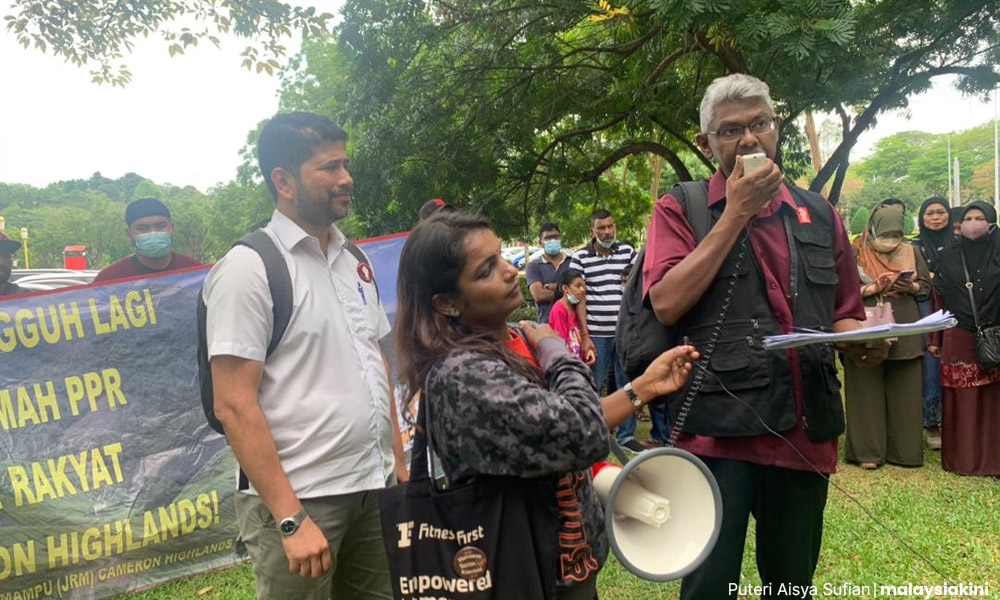 Sivarajan pointed out that in Pahang, newly-built Semi-D houses cost RM150,000 at most. However, low-cost flats specifically in Cameron Highlands cost RM200,000.
"So, when the state government proposed this to the labourers, they felt like the government was a bit out of touch with the 'true B40s', as they called it.
"Did the government think plantation workers easily have RM200,000 lying around?
"They just want the flats. Even if they can't own it, they just want a safe home with affordable rent," Sivarajan said.
Earning only minimum wage
A majority of those who turned up in Putrajaya were plantation workers and manual labourers who merely earn minimum wage.
It was said that at least 1,000 people in Cameron Highlands are in need of proper homes but due to the rising living costs, especially in the district, a majority of them resorted to building homes in unlicensed locations.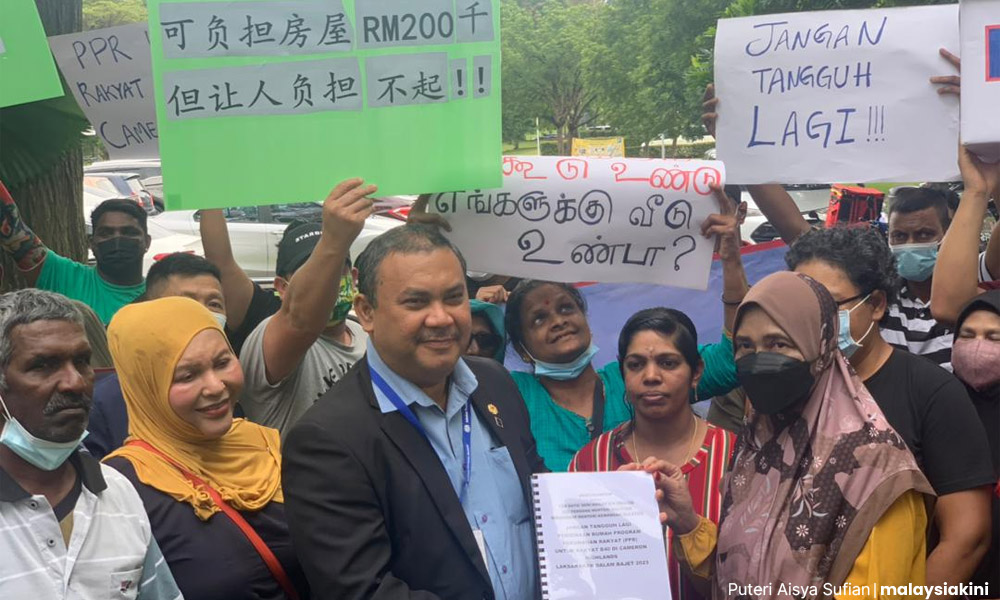 One of them, a woman who wishes to only be known as Sharifah, said that she has been working at a plantation near Brinchang for the past 30 years.
She said that she is now living in the plantation itself in a self-made house without property or housing permits.
Sharifah said that the plantation owner gave the workers permission to build their homes; however, they still do not feel comfortable or safe in the location.
"Without any permits or licensing, it's hard for us to get water or electricity easily and our homes are not protected.
"We have high exposure to landslides and possibly even floods. It's also difficult for firefighters and the police to reach our homes in case of emergencies.
"Many of the people here today share my burden and all we're asking is for another PPR to be built - we just want a safe home," Sharifah said.
She also pointed out that the housing market for lower-income families was very competitive.
She said that any time a unit becomes available at one of the existing PPR flats in Cameron Highlands, almost every B40 household looking for homes will scramble for it.
"I hope the prime minister will see our memorandum because we have been asking for the flats for so long. It's better to create more homes for us than let us fight against each other," she added.
On Feb 24, the budget for 2023 will be reintroduced to Parliament.
Anwar previously reportedly stated that Budget 2023 will not be constrained by the proposals made by the previous administration.
The revised Budget 2023 figures, he said, will nonetheless take into account the suggestions made in the previous budget. - Mkini