More than 15,000 eateries nationwide will start serving affordable meals for the hardcore poor group at RM5 a meal, Domestic Trade and Cost of Living Minister Salahuddin Ayub announced today.
This came as the eatery operators joined the "Menu Rahmah", a cheap meal programme promoted by the ministry.
While launching the Menu Rahmah at the Mydin Hypermarket in Subang Jaya, Selangor (photo, above), Salahuddin said what his ministry initially wanted was a plate of rice with chicken or fish and vegetables.
"But the eateries operators were so creative that they come up with chicken rice, nasi paprik, rojak, roti john and fried keow teow," he told a press conference today.
"But, whatever they are selling, the food is not more than RM5," he said.
"We proposed that the Menu Rahmah be priced at RM5. This is the most reasonable price as we conducted a study on the raw materials. I understand that the operators made some sacrifices (with that price).
"As of now, we have 12,000 mamak eateries, 800 members under the Malaysian Indian Restaurant Owners Association (Primas) and 500 eateries operators under Tomyam Operators Association in Kuala Lumpur and Mydin outlets nationwide.
"This has not involved the engagement with the Chinese food operators yet," Salahuddin added.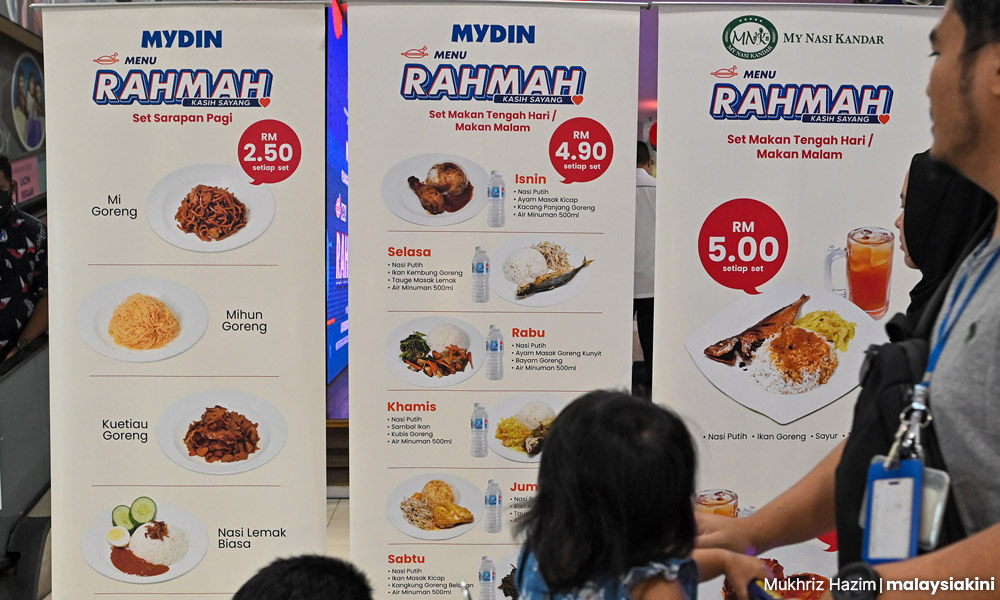 Apart from Primas, the government also engaged the Malaysian Muslim Restaurant Owners Association (Presma) and Malaysia Singapore Coffee Shop Proprietors General Association (MCSPGA) in the Menu Rahmah initiative.
While noting the government so far has no plan to provide subsidies to reduce the burden of the operators of these eateries, Salahuddin said the government may come up with incentives for those involved in the Menu Rahmah.
The Menu Rahmah is no stranger to the people, particularly for those who enjoyed the affordable menu under the Najib Razak administration, during which Menu Rakyat 1Malaysia (MR1M) was offered at an affordable price of RM4 in July 2011.
MR1M quietly discontinued
It was reported that the MR1M was quietly discontinued by some restaurant operators in 2014 as the cheap meal programme was not viable due to rising costs.
"They can tell us. We have our association. If they can afford it, they can still continue. But I once operated a restaurant, (so I know). They still have some margin, it is just they compromise some of their welfare. We will monitor and we will always listen to the eatery associations and discuss with them from time to time.
"So far, we requested RM5 and that is doable. There are nearly 127,000 hardcore poor nationwide," Salahuddin said.
To a question, the minister said he believed that the higher income earners would not take things for granted and abuse the programme that is meant for the hardcore poor.
This is because the higher income earners have other choices, he added. - Mkini