About 100 representatives from Malay-Muslim NGOs today held a protest against Malaysia's commitment to ratify the UN International Convention on the Elimination of All Forms of Racial Discrimination (Icerd).
Chanting calls for Muslims and Malays to unite against alleged attempts to threaten the sovereignty of race and religion, the group's representatives gathered about a kilometre away from Parliament's main gate.
"To hell with Icerd! Down with Icerd! We reject Icerd!" chanted the crowd as they lifted placards with similar messages warning against alleged attempts to sacrifice the nation's sovereignty through ratification of the UN human rights convention.
The group also brought along a coffin that according to them symbolised the "death" of Malay-Muslims in the country.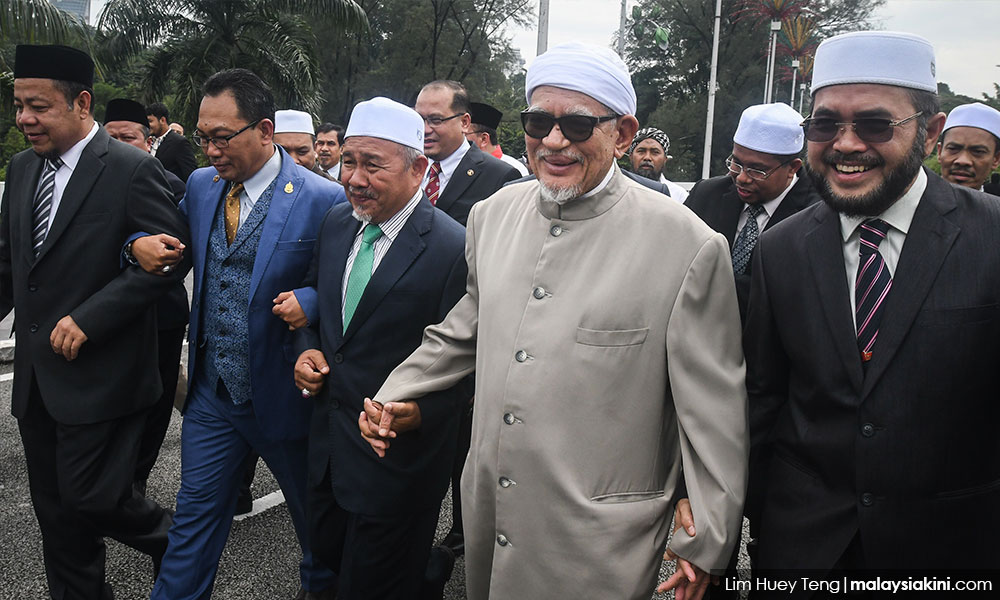 At about 11am, the group was met by top PAS leaders including party president Abdul Hadi Awang, deputy president Tuan Ibrahim Tuan Man and central committee member Nik Abduh Nik Abdul Aziz – who accompanied the group's representatives into the Parliament building to submit a memorandum to the government.
Also seen were several Umno Youth grassroots members.
Among the Malay-Muslim NGOs involved in the protest were Muafakat, Isma, Gamis, PPIM and Perkid. – MKINI
Dr M: Gov't to discuss ratifying Icerd with all races first
The government will seek to discuss the International Convention on the Elimination of All Forms of Racial Discrimination (Icerd) with all races in the country before ratifying the treaty, said Prime Minister Dr Mahathir Mohamad.
The premier told reporters today that he had stated previously that adopting the convention would not be an easy task, as Malaysia is a multiracial country.
"We will sign it after we discuss (the matter) with all the races in Malaysia.
"I have mentioned in my speech (before this) that this (Icerd) would not be easy to be implemented in Malaysia because in Malaysia we have multiple races…everyone is sensitive towards certain issues."
He was answering a reporter's question after launching the National Policy on Industry 4.0 at the Ministry of International Trade and Industry (MITI) Tower in Kuala Lumpur.
The reporter had asked for Putrajaya's stand on Icerd and whether it would ratify the convention by next year.
Icerd recently became a hotly debated issue after de facto National Unity Minister P Waythamoorthy said the government would ratify it in the first quarter of 2019.
This had created uproar among several groups, including
Umno Youth
, who said that Icerd contradicted the Federal Constitution in terms of bumiputeras' special rights and would sideline the Council of Rulers.
MKINI