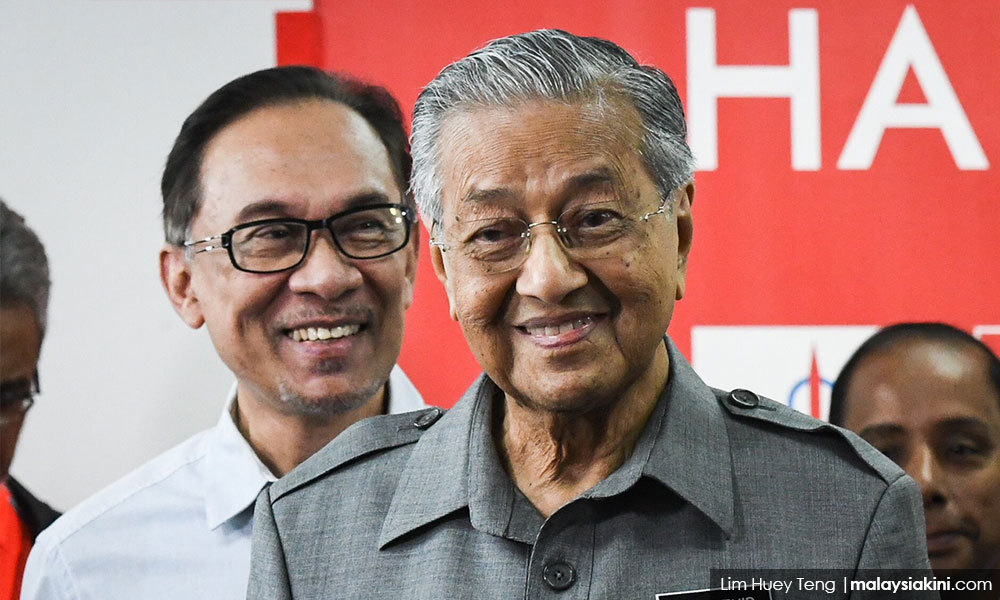 In downplaying rumours of internal attempts to thwart his rise to be the eight prime minister, PKR president-elect Anwar Ibrahim today declared he has no reasons to doubt Harapan's promise which was among friends.
Commenting on Umno secretary-general Annuar Musa's remark earlier today of alleged attempts by Bersatu to court the party's lawmakers, he merely thanked the Ketereh MP for his concern.
"I am thankful for his concern. But I personally do not think so," said Anwar on Annuar's claim that Bersatu's alleged attempt was intended to strengthen the party's position against PKR in Harapan.
"This (rumour) is the media's interpretation. Those that believe there is a larger intrigue, a conspiracy that was repeated from 1998," he added, alluding to his sacking as deputy prime minister by Dr Mahathir Mohamad, who was then the fourth prime minister of a BN government.
"That is the media's interpretation. I have no reasons to doubt Harapan's agreement among friends," Anwar said at the Parliament.
Even prior to Anwar's release from prison earlier this year, Harapan had pledged to appoint him as the eighth prime minister to succeed Mahathir.
Anwar further said it was also pointless for other quarters to pit him and other Harapan leaders against Mahathir.
"He has made it clear that he wants total confidence among the leaders in the coalition, which is very reassuring to me.
"Because reforms would only be effective and meaningful if the entire leadership wants to battle against corruption and if we have that sort of consensus in our leadership, that would be effective.
"But if they (leaders) start sliding, this is, of course, our concern. Because then we will face problems," he said.
On Bersatu supreme council member A Kadir Jasin's claim that up to
40 Umno MPs
are rumoured to join the party, Anwar said the final decision should be subjected to approval from Harapan leaders, and that the lawmakers should first serve as independents.
"One of the considerations that should be taken into account is whether or not it is fair to the voters who voted Harapan and not Umno in the elections. But this is a democratic country.
"So I think there is this option (to jump ship). But I think it needs to be discussed... whether do we compromise on our principles and other issues," he added.
The Harapan presidential council is also expected to
discuss
the issue at its meeting this Saturday. - Mkini