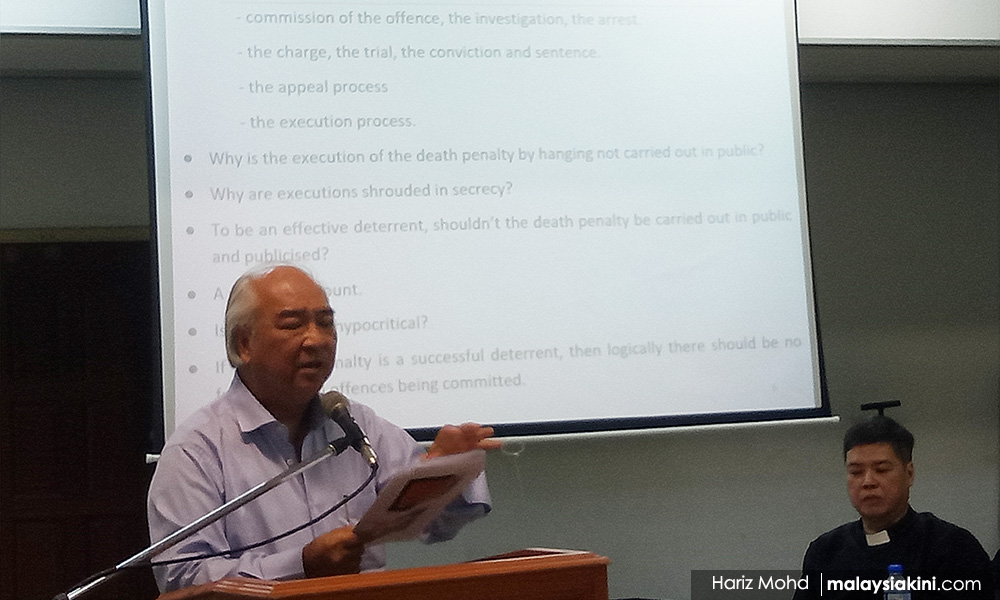 The death penalty does not serve as a deterrent to crime as its execution is shrouded in secrecy, said retired Appellate Court judge Mah Weng Kwai.
Speaking at a forum on the abolishment of capital punishment last night, he said the public cannot make an informed decision that would prevent them from committing crimes when they do not have information on the punishment.
"Why is the execution of the death penalty by hanging not carried out in public? Why are executions shrouded in secrecy? To be an effective deterrent, shouldn't it be carried out in public and publicised?"
"Why I am asking these questions about publicity and so on? To those who are in favour of the death penalty, if you were asked if you would like to see a public hanging in Dataran Merdeka perhaps, what would be your answer?
"I am sure some would say that it is very uncivilised, inhumane, question about human rights, and so on. Yet at the same time, the very same people, say we must have the death penalty to punish those who commit murder, but do it in prison where nobody can see.
"Aren't we having a double standard?" Mah said, adding that news reports on the execution of death by hanging are also rarely publicised.
Mah, who is a currently a human rights commissioner, said this while addressing a 100-strong crowd at the 'Death Penalty - Is It a Deterrent?' forum organised by St Ignatius Church and Kuala Lumpur Catholic Lawyers Society, last night.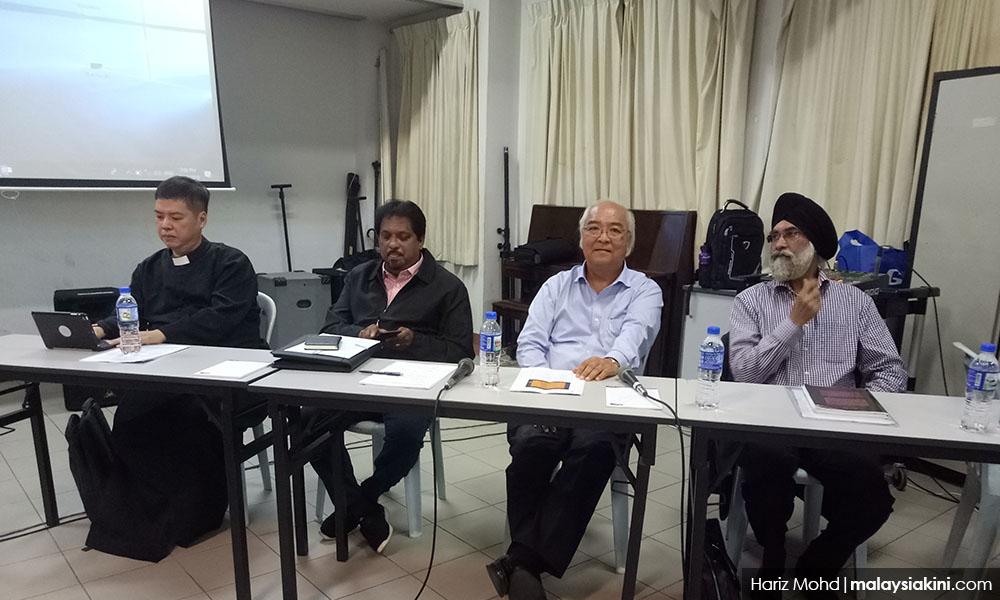 Instead of focusing on punishment, Mah said what the country should be doing instead, is prevent crimes from happening.
He recalled his experience during his early days as a Magistrate, where he witnessed two brothers, who were convicted of murdering a police officer in Jalan Chow Kit, in 1983, were hung.
The brothers were handcuffed and had white hoods covering their faces, as prison officers escorted them to the execution room at the Pudu prison. The noose was then placed around the brothers' necks, before the executioner pulled a lever, which caused the platform below the convicts' legs to open up, causing in them to be hung from their necks.
"It was the loudest 'bang' I heard in my life. But despite the loud bang, it was total silence from them (the brothers)," Mah recalled the execution.
The brothers' bodies, however, were not removed immediately, Mah said, adding that they were left hanging for about half an hour, before a doctor certified that they were medically dead.
"I then had to sign it (to endorse) that it (the execution) was carried out lawfully. But was it ever known to the press, the public?
"So what good is it to say that it (the death penalty) will serve as a deterrent, when there is no information (given) to the public, for them to make an informed decision?"
Mah also told the forum that under Malaysian laws, there are 14 types of offences which carried the mandatory death penalty, while 14 others carry the discretionary death sentence.
The forum was held to discuss the federal government's plan to abolish the death penalty, which was part of Pakatan Harapan's manifesto for the 14th general election.
Three other speakers in the panel were retired Session Court judge Jagjit Singh, Reverend Michael Chua of Jesus Caritas Church, and Prematilaka Serisena of Sasana Abhiwurdhi Wardana Buddhist society. - Mkini