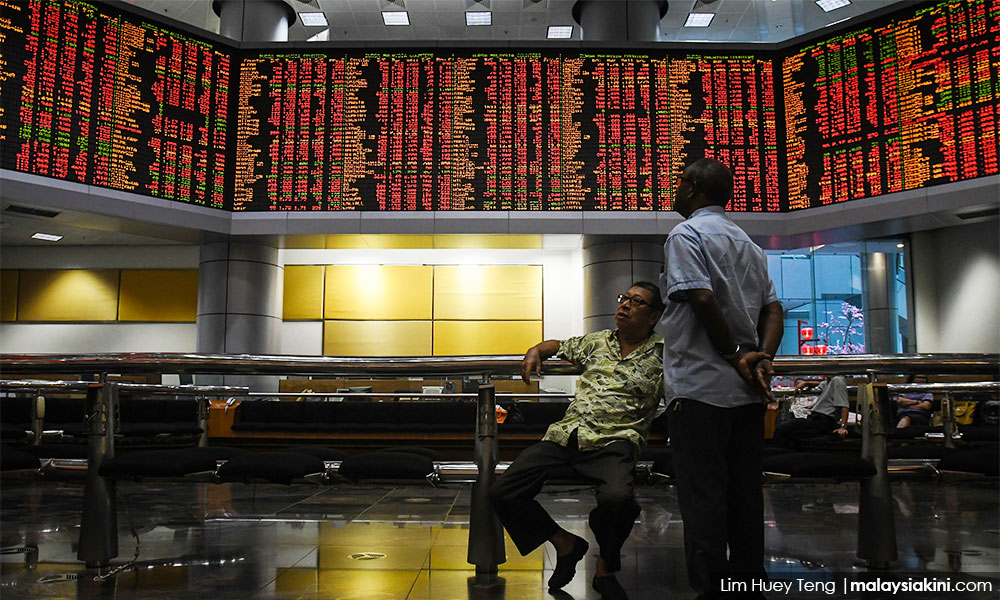 Bursa Malaysia closed firmer today as investors continued to express their confidence in the integrity of the government's assurances in revitalising the nation's economy, dealers said.
At the close, the benchmark FTSE Bursa Malaysia KLCI (FBM KLCI) rose 21.34 points to 1,740.62 from Wednesday's close of 1,719.28.
The index opened 12.37 points higher at 1,731.65 and moved between 1,725.16 and 1,754.44 throughout the day.
Finance Minister Lim Guan Eng, at a press conference earlier today, gave his assurance that the federal government would review, defer and renegotiate at least RM10 billion worth of identified high-priced projects.
Among other positive news absorbed by market players were the zero-rated goods and services tax on June 1 and reintroduction of sales and service tax on Sept 1 would "return" approximately RM17 billion back to Malaysians, as well as the stabilisation of RON95 and diesel that would save Malaysians RM3 billion, as announced by Lim.
Putra Business School's Business Development senior lecturer and manager Ahmed Razman Abdul Latiff told Bernama that the index probably has been oversold due to overreaction towards the government's announcement on the cancellation of several major infrastructure projects, as the market started to see the emergence of bargain hunters.
Among heavyweights, Maybank perked nine sen to RM9.66, TNB rose 26 sen to RM14.40, Petronas Chemicals gained six sen to RM8.05, while CIMB was flat at RM5.90 and Public Bank shed 12 sen to RM23.86.
Among the actives, MyEG rose 12.5 sen to 89 sen, YTL Power, YTL Corp and Top Glove Corp improved two sen each to 82 sen, 95 sen and RM10.26, respectively.
Meanwhile, Sapura Energy eased 3.5 sen to 55 sen.
Market breadth was positive with gainers outpacing losers 582 to 409, with 572 counters unchanged, 371 untraded and 54 others suspended.
Volume fell to 4.65 billion units valued at RM9.26 billion from yesterday's 3.6 billion units, valued at RM4.45 billion.
The FBM Emas Index increased 130.52 points to 12,128.94, the FBM Ace improved 24.51 points to 4,998.96 and the FBMT 100 Index went up 135.07 points to 11,946.77.
The FBM Emas Shariah Index edged up 149.83 points to 12,175.97 and the FBM 70 was 122.83 points higher at 14,316.99.
Sector-wise, the Finance Index gained 135.41 points to 17,324.23, the Industrial Index bagged 78.39 points to 3,131.28 and the Plantation Index climbed 16.17 points to 7,771.87.
The Main Market volume increased to 3.69 billion shares worth RM9.11 billion from Wednesday's 2.28 billion shares worth RM4.27 billion.
Warrants volume declined to 754.39 million units valued at RM120.04 million from Wednesday's 911.19 million units valued at RM133.7 million.
Volume on the ACE Market trimmed to 207 million shares worth RM36.15 million from 404.25 million shares, worth RM49.09 million previously.
Consumer products accounted for 84.47 million shares traded on the Main Market, industrial products (394.85 million), construction (219.96 million), trade and services (2.17 billion), technology (93.46 million), infrastructure (179.2 million), SPAC (1.67 million), finance (228.63 million), hotels (4.91 million), properties (199.19 million), plantations (102.11 million), mining (74,500), REITs (14.63 million), and closed/fund (6,300).
- Bernama